Martin Edwards was born in Knutsford, Cheshire and moved to Liverpool after qualifying as a solicitor in 1980. He published his first legal article at the age of 25 and his first textbook at 27. He became a partner at Liverpool based law firm Mace & Jones in 1984 and now lives in Lymm with his wife and 2 children. His published works include fiction centreing on the fictitious Liverpool solicitor and amateur detective, Harry Devlin. The first of which, All the Lonely People, was for the best first crime novel of the year. The latest, The First Cut is the Deepest, was released in late 1999. Martin Edwards has edited crime anthologies and reviewed a wide variety of crime fiction.
---
The Coffin Trail? Set in the Lake District? Why?
Well, after eight crime novels with an urban setting, it was time for a change. All writers need to keep fresh and it makes sense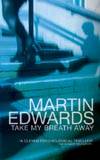 to stretch further. Try something different, take a few risks. Liverpool lawyer Harry Devlin featured in my first seven books, but for the time being, he's catching up with his paperwork. With Take My Breath Away, I kept the legal setting, but moved the action to London for a stand-alone novel of psychological suspense. Over the past couple of years, though, the urge to begin a new series has nagged away at me. I wanted to explore a different part of England. Different characters, a different type of crime writing.
Most of my life, I've lived in the country. But hardly ever have I written stories with a rural setting. It was only while editing the CWA's anthology for 2003, Green For Danger: crime in the countryside, that the full potential of England's green and pleasant for the crime writer was brought home to me. As Sherlock Holmes famously said in 'The Copper Beeches': 'the lowest and vilest alleys in London do not present a more dreadful record of sin than does the smiling and beautiful countryside…look at these lonely houses…think of the deeds of hellish cruelty, the hidden wickedness which may go on, year in, year out, in such places.' CWA members sent me some wonderfully vivid tales - one of them, Ann Cleeves' 'Games for Winter' has already been optioned for film. And as I wrote 'Melusine', a story prompted by the horrors of the foot-and-mouth funeral pyres, I realised how much I would relish the opportunity to transport my crime writing career away from the mean streets of Merseyside (much as I love them!) and into the dramatic landscape of the Lake District.
The more I travelled around the Lakes, the more I talked to people there, the more I wondered at the fact that this is one of the few major areas in this country that has not featured in a crime series. Astonishingly, neither the Lake District nor Cumbria even earn a mention in Scene of the Crime, by Julian Earwaker and Kathleen Becker, a wide-ranging study of the locations and landmarks - some of them rather unlikely - that have inspired British mystery fiction. Not that the Lakes have lacked literary figures. Never mind Wordsworth and Beatrix Potter, think of Coleridge, De Quincey, Ruskin, Hugh Walpole, Norman Nicholson, Melvyn Bragg, Postman Pat... But the crime novels that have been set in Cumbria are few and far between. Even Reg Hill - nowadays a resident of the lovely coastal village Ravenglass - whose first written, although second-published, book Fell of Dark benefited from an authentic Lakeland backdrop, has favoured Yorkshire as the locale for his major novels.
I'd visited the Lake District many times over the years, but quickly I learned how little, in truth, I'd reached the heart of it by staying a few nights in places like Windermere and Grasmere. I'd long admired the place, but gradually I fell in love with it. It's an area of startling, hidden depths, and I'm not just talking about Wast Water. Of course, the Lake District is England's 'most hyped scenic area' as The Rough Guide says. It's a small place, just 30 miles across, but utterly stunning in its sheer diversity. Even today, even with tourism at the heart of the region's economy, parts of it are unexpectedly remote. Long before tourism, long even before the Lancashire mills were built, it was a place of industry and the scars of the past at places like the Coppermines Valley near Coniston are still visible today.
By a happy coincidence, David Shelley, editorial director of Allison & Busby, was keen for me to create a new series and to set it somewhere different. He was instantly supportive when I suggested the Lake District as a possible locale. I had the idea of a historian downshifting to the Lakes, ostensibly to 'live the dream', but in reality to uncover the secrets of his own past. I wanted, also, to create a strong female character to share the lead. I'd enjoyed completing the late Bill Knox's Thane and Moss novel The Lazarus Widow and decided it was time to have a go at developing a police officer of my own. A woman with her own secrets, a woman who is put in charge of a 'cold case review team'.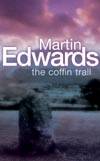 In the US, Barbara Peters of Poisoned Pen Press was just as enthusiastic as David, even on the basis of a rather skimpy synopsis. What better encouragement could I have?
Research completed, I started work in earnest on The Coffin Trail. Writing it felt like a wholly different experience from writing the Harry Devlin books, or writing Take My Breath Away. But it felt good. No - actually, it felt better than that. It felt like the most exciting venture I've embarked on so far in my writing career so far. So much so that it would be a crime not to start work on a follow-up soon!
---
The Coffin Trail is published by Allison & Busby, £18.99, hardback
Take My Breath Away is published by Allison & Busby, £5.99 paperback

Bibliography
Crime on the Move (The Do Not Press 2004)
The Coffin Trail (Allison & Busby 2004)
Green for Danger (The Do Not Press 2003
Take My Breath Away (Allison& Busby 2002)
Where Do You Find Your Ideas? (Countrywise 2001)
Scenes of Crime (Constable 2000)
The First Cut is the Deepest (Hodder & Stoughton 1999)
Past Crimes 3 (Severn House 1996)
The Devil in Disguise (Hodder & Stoughton 1998)
Perfectly Criminal 2 (Severn House 1998)
The Devil in Disguise (Hodder & Stoughton 1998)
Perfectly Criminal (Severn 1998)
Eve of Destruction (Piatkus 1996)
Northern Blood 2 (Flambard Press 1995)
Yesterday's Papers (Piatkus 1994)
I Remember You (Piatkus 1993)
Northern Blood (Collins Crime 1992)
Suspicious Minds (Piatkus 1992)
All the Lonely People (Piatkus 1991)