| | |
| --- | --- |
| | Bitter Lemon Press |
A new imprint dedicated to crime writing from abroad was launched in London in January. An unusual event in a publishing environment that seems to be consolidating down to four or five mega houses and three retail chains. And focused on foreign literature to boot? Fewer readers, book chains not keen on independent publishers, a deluge of new books published every week, a suspicion of authors with exotic names: not the most auspicious circumstances. Yet Bitter Lemon Press was born, encouraged by the success of writers published elsewhere such as Perez-Reverte and Mankell, who have begun to breakdown the icy reception historically accorded to foreign crime literature.
Bitter Lemon Press was founded by three partners, one French and two Swiss, and in a first phase will concentrate on literary crime and romans noirs. The list includes talented authors from Europe and Latin America who, up to now, have been little known in the English-speaking world. The aim is to publish entertaining and gripping novels that expose the dark side of foreign places. These are meant to be books for one's travels, whether virtual or real, written with a strong sense of place by local authors. Crime often seems to be an urban pastime so that the bustling life of cities like Mexico City, Paris and Havana is central to the list.
The first four titles have been well received in the UK (Bitter Lemon Press will launch in the US in September). They have all sold well in their home market and have often been the recipients of prestigious crime writing awards.
Published so far this year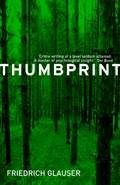 Thumbprint (£8.99) by Friedrich Glauser.This is the novel in which Glauser, the Swiss Simenon, introduces Sergeant Studer. Studer is confronted with a suspect, a murder confession and a clear motive. An open and shut case? But nothing is what it seems. The glassy façade of Switzerland's tidy villages and manicured forests is soon splintered. Diagnosed a schizophrenic, addicted to morphine and opium, Glauser spent the greater part of his life in psychiatric wards, insane asylums and prison. From bitter experience Glauser has painted a portrait of Switzerland you will never see in a travel brochure. On publication, the Sunday Telegraph said "It's a fine example of the craft of detective writing in a period which fans will regard as the golden age of crime fiction."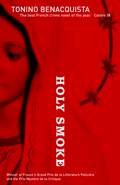 Holy Smoke (£8.99) by Tonino Benacquista. "An iconoclastic chronicle of small-time crooks and desperate capers, with added Gallic and Italian flair. Wonderful fun." said the Guardian. Some favours simply cannot be refused. Italian immigrant in Paris Tonio Polsinelli agrees to write a love letter for his friend Dario, a low-rent gigolo. When Dario is murdered, Tonio finds he has been left a vineyard near Naples. The wine is undrinkable but an elaborate scam has been set up. The smell of easy money attracts the attentions of the Mafia and the Vatican. Mafiosi aren't choir boys, and monsignors can be very much like Mafiosi.
The Russian Passenger (£9.99) by Günter Ohnemus.The opening paragraph sets the tone: "At fifty the good Buddhist takes to the road, leaving all his belongings behind. His sole possession is a begging bowl.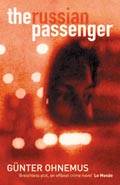 That's fine. That's how it should be. The problem was, there were four million dollars in my begging bowl and the mafia were after me. It was their money. They wanted it back, and they also wanted the girl, the woman who was with me: Sonia Kovalevskaya." This is the story of Harry Willemer, a taxi driver and his passenger, an ex-KGB agent and wife of a Russian mafioso. In an atmosphere of intense paranoia The Russian Passenger follows their flight from the hit-men sent to recover the cash. Well received by the press this is a novel begging to be turned into a film. "There's much to enjoy in this sharp, pacy slice of German noir .Harry's tale of grief and flight packs an emotional punch rare in a thriller", said the Independent. The Coventry Evening Telegraph was enthusiastic: "…the Russian Passenger is gripping and claustrophobic. Compelling to the end, it's another success from the Bitter Lemon Press which is fast becoming one of the best publishers of crime fiction around."
Bitter Lemon hopes to publish a number of noir novels by the Argentine author Rolo Diez beginning in May with Tequila Blue (£8.99)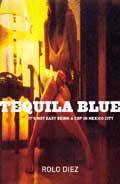 which takes place in Mexico City, where Diez has been living since fleeing from the Argentine junta in 1974. It is a sexy, tightly written novel laced with black humour. Its hero is Carlito, a polygamous police detective. Faced with a broken-down penniless police department, he resorts to arms dealing, extortion and money laundering to finance the pursuit of justice. "Both a scathing and picaresque comedy, a biting and spicy concoction. Just like tequila." said Le Monde. Shots liked it as well: "Tequila Blue is stylishly told with brutal honesty. It is also a savagely droll satire on life in Mexico. Certainly a book to read not only for its insight as to how to survive in Mexico but also for the sexy crime adventure that it ultimately is."
The rest of the list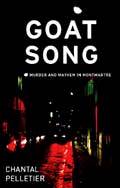 Other titles for this year include Goat Song (July) by Chantal Pelletier which won the prestigious 'Grand Prix du roman noir' of Cognac. The sordidness of present-day Montmartre comes to life in this tale of a double murder at the Moulin Rouge. Inspector Maurice Laice, continuously plagued by the kiss-and-tell stories of his lesbian boss, features in three other Pelletier novels. The Snowman by Jörg Fauser is to be published in September. It is a cocaine-fuelled tale of paranoia in which the luckless hero happens on two kilos of Peruvian flake and desperately seeks to peddle it for the fortune that has always eluded him. This witty and ironic novel is considered a classic of European literary crime.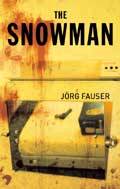 In 2005 there will be the second of our Inspector Studer series, this one set in an insane asylum in Bern in the 1920s, an environment the author knew well from personal experience. Other titles for 2005 include a debut crime novel, Accidental Witness by Gianrico Carofiglio. This legal thriller written by a young Italian judge has won a number of prizes and that provides an insight into the workings of an Italian judicial process plagued by racism and illegal immigration. Black Ice by Hans-Werner Kettenbach is set in a post-war Germany of economic boom, a world of Turkish 'guest workers', dingy brothels and small-town hypocrisy, a noir thriller that relies on the slow, unrelenting unravelling of a 'perfect crime'. With the publication of Masks in June of 2005, Bitter Lemon Press will introduce the Havana based Cuban author Leonardo Padura to English-speaking readers. A body is found in a Havana park. A young man dressed in a beautiful red evening dress, strangled, with two one peso coins rammed up his rectum. Mario Conde, a Havana police investigator, is in charge of the investigation in this haunting, suffocating tale.
Reviews by Shots Magazine of the first four books are available on this website (Book Reviews) and we hope readers who have enjoyed the books will spread the word to other crime aficionados. Our own website (www.bitterlemonpress.com ) has more information on all the 2004 titles
---