This is weird.
As I write this, Blood Eagle is hitting bookstore shelves. It is the strangest feeling: I have effectively been working as a full-time novelist for the last year and a half, my second book has been delivered and my third is currently under way. Added to this I have secured publishing deals for Blood Eagle and its sequels in sixteen countries worldwide. Yet the first novel in the Jan Fabel series of thrillers is only now released for sale. Something with which I have lived so long as a concept is now, finally, a concrete reality. I can go into bookshops, open the back cover, point to my photograph and shout; 'That's me, that is!'. Unfortunately this usually results in me being ejected by security personnel, but I try not to let it detract from the experience.
The point is that the public will at last be able to meet Hauptkommissar Jan Fabel of the Hamburg murder squad. All I have to do now is wait to see how British crime readers react to Blood Eagle. Specifically to how they will react to a crime novel set in contemporary Germany, with a post-war generation German as the hero.
Blood Eagle is, I admit, a very dark book. The central storyline is that of a maniac recreating the ancient Viking ritual of human sacrifice, in which the still breathing lungs are ripped from the body of the victim, then thrown over the shoulders to form the wings with which the sacrifice could fly to Odin. Added to this is the menacing background of a shadowy criminal gang, made up of former members of an elite Soviet special force, which is taking over Hamburg's underworld with bloody efficiency.
When I sat down to write Blood Eagle, I laid out a few rules for myself. The first was to hook the reader within the first ten pages, and then to keep a relentless pace up to keep the reader wanting to keep turning pages. The next rule was to achieve all this without compromising on the quality of the writing style: I wanted to have the reader stand there with me both in the streets of Hamburg and in the Hell being created by a tortured and sick mind (by which I mean the mind of my serial killer, not mine!).
So why did I choose to write a crime novel set in Germany?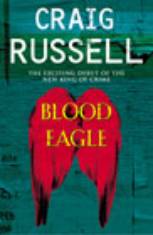 The short answer is that the Jan Fabel series allowed me to pour all of my interests, enthusiasms and obsessions into a story. It also allowed me to explore new territory, literally, for a crime thriller.
I am not a great believer in genres. I feel that a good read is a good read, whatever its subject matter or style. What I also believe, however, is that at any given time, one particular genre becomes the focus for creative challenge and opportunity for a writer. I believe that this is crime fiction's time. Today's crime readers are more demanding than at any time before. They demand a higher literary quality, they demand to be provoked and challenged, and they are continually seeking something new and different. They are looking for you to stretch them as readers and yourself as a writer. Added to that, the current crime fiction readership are a pretty intelligent bunch: that means, as a writer, if you insult that intelligence, or if you give them anything less than your best, you fall flat on your face.
It was a challenge that I couldn't resist.
When I set about conceiving a series of crime novels, I was focused on delivering something that was different and thought-provoking. I wanted to take the crime readership somewhere they had never before been, and immerse them in a different culture and environment. Germany, particularly northern Germany, is perhaps the least 'foreign' for Britons of all continental European locations: yet it can be very different. This allowed me, as a writer, the opportunity to make the English-speaking reader feel at home, then, by suddenly reminding them that they were in a place they didn't really understand fully, disorient them, adding a layer of menace.
Added to the creative challenge of creating an authentic, contemporary 'sense of place', was the fact that , despite Germany's proximity to us both geographically and culturally, there is a lack of any depth of knowledge or understanding about contemporary Germany and Germans. Of all the European nationalities, our view of the Germans is the most resolutely stereotyped, particularly in fiction. All one has to do is to look at the screen portrayals of Germans. It's as if actors research a rôle by watching The Great Escape, the Germans episode of Fawlty Towers, and the complete series of "'Allo, 'Allo".
Our view of Germany still seems to begin and end with Nazism and the Second World War. For Germans, too, the monumental evil of Nazism and the atrocities committed in their name continues to cast a shadow over their culture. But even this, in itself, provided me with a new perspective to explore: a liberal, contemporary German looking at his rôle as a policeman in a society where that rôle has been tarnished. In the course of Blood Eagle, Fabel has to face up to his nation's past, while encountering new evils conjured up in the name of some misguided sense of race or identity. Fabel's experiences throughout Blood Eagle cause him continually to question what it means to be a German, to be a policeman, and where the line is drawn between the rôle of a policeman and that of a soldier.
But before I could explore any of these themes, I had to get well and truly into Fabel's head. I already knew Germany well. Over the years I have made many close German friends, and I was able to use my knowledge of the German character as a basis for all the main figures in the Fabel series. But the fact is that Germany, culturally, politically and even linguistically is probably an even more varied nation than the UK. I made Fabel a Frisian, meaning his native language is as close to Old English and Dutch as it is to modern High German. It is also very close to the old dialect of Fife, in the East of Scotland, where I grew up. This meant that I could identify very closely with Fabel in terms of culture, identity and personality. I then had to set about immersing myself, as much as possible, in Fabel's world. I visit Germany every year, at least once a year. I never learned German at school, nor studied it at university, so I have two-and-a-half hours intensive one-to-one tutoring each week, as well as having taken several formal courses. I have German television at home, and watch at least an hour each day (if you have ever watched German television, you know this is a sign of true dedication), to keep up with what's happening. Added to that, most of my research material tends to be in German.
All of the research I do is to ensure that the British reader is offered as true a portrayal as possible - and Blood Eagle was written with a UK audience in mind. What I wasn't prepared for was the immensely positive reaction I got from the German publishing community. To be published in Germany at all was, for me, a great compliment. To have so many German publishers bid for the book was a personal triumph - it was as if Blood Eagle had been given a stamp of authenticity.
So who is Jan Fabel?
He is a Frisian. An East Frisian to be exact. That, in itself, gives him a very particular identity. Frisia spans the Dutch-German border, and Fabel just happens to have been born a German citizen. A few miles south, and he would have had Dutch nationality. In either case, he would have spoken the same language Frysk, rather than either Dutch or German and would still call himself a Frisian before anything else. Frysk is probably the closest living language to Old English. It was from these shores that the Angles and Saxons crossed the North Sea to conquer Celtic Britain. Again the choice was deliberate: an attempt to build a cultural/linguistic bridge and therefore an empathy with Fabel as a protagonist. Added to this is the fact that his mother is a Scot, and he spent some of his youth being educated in England.
The name Fabel is found in North Germany, mainly in Hamburg, as well as in Denmark and the Netherlands. It is also German for 'fable' and each of the stories have a resonance that is either historical or mythological. Fabel is an accidental policeman, diverted from his career path as a historian by the murder of his girlfriend when he was a student in the 1970s. Added to his unique cultural mix, his academic background gives him a unique perspective.
Fabel is a Kriminalhauptkommissar - roughly equivalent to a Detective Superintendent - in the Mordkommission or Murder Squad of the Hamburg police. Like me, Fabel loves Hamburg, but often has consciously to separate the city he loves and lives in from the city he polices. I chose Hamburg as a setting because it is a city of such enormous contrasts. It is a beautiful city, and Germany's richest, yet Hamburg's fame, or noteriety, comes from its Sündige Meile - the 'sinful mile' of the Reeperbahn. I am fascinated, excited and sometimes fearful of the new Europe that is evolving with such speed around us. Hamburg is at the heart of the new Europe and offers a vibrant, mercurial and often menacing background for a crime thriller.
In Blood Eagle, Fabel investigates a series of murders in which a gruesome ancient Viking sacrificial ritual is replicated. Fabel has to learn about and understand the background and significance of the ritual to understand what is motivating the killer. Added to this, a gang war is about to erupt on Hamburg's streets. Blood Eagle gave me an opportunity to explore many of the problems facing Germany and Europe. It also allowed me to develop new forms of menace. In Brother Grimm, due for publication on the 3rd March next year, Fabel has to hunt a serial killer who is tapping into the most sinister parts of our psychology and cultural references. Brother Grimm explores the dark origins, and true meaning, of the fairy tale. Red Franz, the third in the series, on which I am currently working, explores the power of fear. Fabel once more finds himself revisiting the world of German domestic terrorism, as well as trying to track down a prolific and violent revenge killer. I suppose what I am trying to add to the crime story through the Jan Fabel series, is a 'cultural depth', with a specific focus on Europe.