I have been an avid reader of the work of Roger Jon Ellory as he is a damned fine storyteller, mixing the events of the past to show how they reverberate to the present. His debut was Candlemoth - an interesting and passionate tale of friendship set against the backdrop of America from the nineteen fifties right up to date, and viewed through the bars of a death-row cell. He followed this up with an evocative tale of love, life and struggle, set against war-time Europe and present day gang-land New York, viewed this time from between the shelves of a secondhand bookshop - Ghostheart.
I find it hard to genre-classify Ellory, because all his published work, despite fitting the category definition we call crime-fiction, also fits the general-fiction bracket; but, then again we can only write what we write, and Ellory is a damned fine writer. Shots interviewed him last year, and on the eve of publication of his latest novel - A Quiet Vendetta - We decided to ask Roger to tell us how he came about to write this epic tale of gangsters and the fallout from their violent lives.
It was between the completion of my third novel and a meeting to discuss its editorial changes that I started writing A Quiet Vendetta. Back in early 2004 I had completed Burying Goliath, the intended third publication to follow Candlemoth and Ghostheart. The deadline for a delivered manuscript was March 31st, and the first draft of Goliath had already been forwarded to my editor.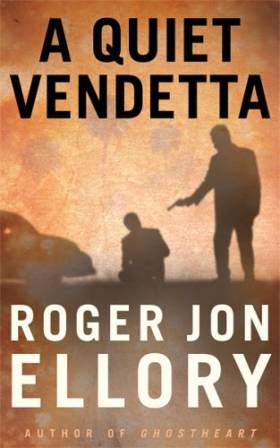 On 26th March I went down to London to see him. We discussed some modifications and alterations, and once done he asked what I was currently working on. I told him that I had started a Mafia epic. He expressed interest and asked me to outline the plot. I had a disc with me, a back-up of the first 40,000 words, and he asked if he could take a copy. If I remember rightly it was a Friday, late in the day, and I then left London thinking no more of it. On the evening of Sunday, two days later, my editor called me at home and told me that he'd read the first 40,000 words of the script, which at the time bore the working title This Thing Of Ours (the literal translation of Cosa Nostra). His exact words, as best as I can recall, were 'To hell with it, I wanna do this one as number three instead'. Thus Burying Goliath was consigned to the desk drawer, and I was given eight weeks to complete 'the Mafia epic'. It was actually finished in about six weeks, winding up somewhere in the region of 200,000 words, and then we spent a month or so working the second draft back and forth until we were all happy with it.
From This Thing Of Ours it became Cosa Nostra and finally took the title A Quiet Vendetta. It's a bigger book than the previous two, far grander in subject matter and scope. And though it does bear some resemblance in structure to Ghostheart, the way in which two separate narratives run concurrently, it is there that the similarities stop. Vendetta spans seventy years and ten different cities - from L.A. to New York, Chicago to New Orleans, and out to Havana, Cuba. It centres on the life of a Cuban called Ernesto Perez, born in Louisiana of Cuban-American parentage, who then returns to Havana with his father after the death of his mother. Soon engaged in criminal acts on the edges of the organized crime underworld in fifties Havana, he winds up in the employ of the Mafia. He returns with them to Florida after the death of his father, and there - in essence - his life really begins. Running alongside the story of Perez's life is a present-day Federal investigation into the kidnapping of the daughter of the Governor of Louisiana, and the way in which Perez is directly involved in this crime. Perez - now almost seventy years old - literally hands himself in to the authorities, freely admitting to the girl's kidnap, and makes a deal with them. If he is given ample opportunity to tell them everything about his life, then - and only then - will he admit to the girl's whereabouts. The narratives run parallel. As each aspect of Perez's life is revealed, the Federal investigators understand a little more of why the girl has been taken. And that, as far as plot is concerned, is quite enough!
Vendetta is not The Godfather, nor Goodfellas, it isn't a book about the Mafia per se. Vendetta is the story of a man's life, and how that life connected with the lives, and ultimately the deaths, of so many others, those close to him and those on the outskirts. It is an inside look at the conflict between duty and responsibility, between the brutal reality of violence and murder and the expectations of a family. It is a book about a man who kills people for a living, and then returns home to a wife and children as if such a contradiction is entirely natural. It is a book that encompasses the historical scope of America from the thirties to the present day, and yet does not specifically concentrate on those events that created headlines. Moreover, it deals with how the significant events of that period influenced and affected the life of Ernesto Perez, and the decisions he made as a result.
The book is violent, passionate, necessarily brutal; it deals with love, honour, integrity, trust; it pitches a single man against a very vicious and unrelenting reality, and yet recognises that the reality he faces has been almost exclusively created by himself.
It was written with the intention of losing a reader utterly in someone else's life, and - reaching the end - to make the reader feel as if they'd been immersed in something that would not be easily forgotten. That, ultimately, was the purpose - to write a book that stayed with the reader for a long time, and gave a realistic insight into the mind and method of a truly dangerous man. Atmospheric, intense, involving, almost uncomfortable in places, Vendetta - I believe - is quite different from the vast majority of crime thrillers.
© 2005 Roger Jon Ellory