Mike Stotter reports on the Theakston Old Peculiar Harrogate Crime Writing Festival 2005
Yes, I admit to being a Harrogate virgin. This is my first time at the Festival and must say from the word go, that I thoroughly enjoyed myself, Over the next few pages I hope to give you a personal view of what went on (well, not all of it otherwise I'd have to kill you – I mean, how do you explain Simon Kernick and Richard Burke demonstrating their varied forms of Kung Fu/Aikido in the bar at three o'clock in the morning? See what I mean? There was a lot of drinking (er socialising) at the bar as there normally is on such events. The public mingled with the authors, and the authors … well, mingled. It's not going to be a blow by blow account. The Cedar Court was an excellent venue where events took place in two main rooms, so there was no running around between panels and hardly a clash to be had.
This was Val McDermid's last year as the organiser in charge before handing over to Mark Billingham for 2006. And she did us proud. You just had to be there to see her arrive dressed as a spider woman to the strains of Pulp Fiction on the arm of Mark Billingham at the late night quiz. Failing that, look at the photos!
Shots must thanks the organisers of the festival in arranging rooms for interviews and the press passes.
So without further ado, let's get on with it.
Theakston's Old Peculier Crime Novel of the Year winner announced
Crime writing fans have spent 12 weeks casting thousands of votes to select rising star, Mark Billingham and his novel Lazy Bones as the first ever winner of the Theakston's Old Peculier Crime Novel of the Year, the only crime literary award to be voted for by the general public. 
Mark beat off strong competition to claim the coveted prize with fellow short listed authors. He pipped to the post a host of other leading names in crime writing including, Simon Kernick, Val McDermid, Ian Rankin, Minette Walters, Andrew Taylor, Reginald Hill and Alexander McCall Smith.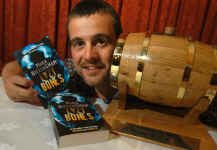 In the winning novel Lazy Bones, Detective Inspector Tom Thorne is back investigating the murder of a recently released rapist, a suspected revenge killing. When another convicted rapist is also found murdered, Thorne is tasked with connecting the victims in order to solve the case of a cruelly calculative vigilante's bloody justice. 
Of his win, Mark Billingham said, "I am absolutely delighted to be the winner of the first Theakston's Old Crime Novel of the Year. Theakston's, Ottakar's and the Harrogate Crime Writing Festival have all been hugely supportive and I am incredibly proud to have beaten so many great writers. I am really thrilled that so many people voted."
As the winner, Mark received £3,000 and a handmade, engraved beer barrel at the opening ceremony of the Theakston's Old Peculier Harrogate Crime Writing Festival presented by sponsor Simon Theakston. 
"It gives me great pleasure to be sponsor of this prestigious literary award. We offer our congratulations to Mark and his novel Lazy Bones and hope that our association with the award will be a long and successful one" said Executive Director, Simon Theakston. 
The original long-list of 20 novels was made up of British authors published for the first time in paperback in 2004. Sponsored by Theakston's Old Peculier and promoted throughout the UK in Ottakar's Bookstores, the thousands of votes were cast at Ottakar's 132 stores nationwide and also online at www.harrogate-festival.org.uk/crime.
The Theakston's Old Peculier Harrogate Crime Writing Festival, a celebration of crime and detective literature, is now in its third year and attracts a large and enthusiastic audience from around the world.
Festival Director, William Culver Dodds, said; "We are thrilled to announce Mark Billingham as the winner of the first ever Theakston's Old Peculier Crime Novel of the Year. The response from the public has been fantastic and is reflected in the number of votes received. We congratulate him on his win, it is well deserved and we eagerly await the next instalment of the series."
Download Harrogate Crime Writing Festival Audio Files
This page is the home of audio recordings from 2005 Theakston's Old Peculier Harrogate Crime Writing Festival. These files are available for download with the gracious permission of the Festival.
All rights and copyrights are retained by original rights holder.
It's always impossible to get to every event at the Festival but for the first time we are able to let you download selected panels in audio form. They are all in mp3 format. I'm very grateful to Sandra Einarson, who recorded the sessions, and given us permission to link to her site: http://www.spinetinglermag.com/Harrogate.htm
ALEXANDER McCALL SMITH
http://www.spinetinglermag.com/downloads/AlexanderMcCallSmith.mp3
RETURN OF THE CONSPIRACY THEORY NOVEL
http://www.spinetinglermag.com/downloads/ConspiracyTheoryNovel.mp3
MICHAEL CONNELLY in conversation with MARK LAWSON
http://www.spinetinglermag.com/downloads/MichaelConnelly.mp3
RUTH RENDELL
http://www.spinetinglermag.com/downloads/RuthRendell.mp3
SEX AND VIOLENCE
http://www.spinetinglermag.com/downloads/SexandViolence.mp3
WHERE DID THEY GO WRONG?
http://www.spinetinglermag.com/downloads/WhereDidTheyGoWrong.mp3
And so to next year …
Names & Dates for 2006 Released
Acclaimed as the biggest event of its kind in Europe we already have lined up P.D. James, George Pelecanos, Ian Rankin, Mark Billingham, Martina Cole and Val McDermid. 
Bookings are already being taken for the 2006 Theakston's Old Peculier Harrogate Crime Writing Festival running from the  20-23 July in the beautiful Victorian Spa resort of Harrogate, Yorkshire.
Accommodation at The Cedar Court Hotel and many events in 2005 sold out, so don't miss out next July!  Make your Weekend Package reservation for 2006 NOW by requesting a reservation booking form.  Email us at: crime@harrogate-festival.org.uk
Want to know what you missed in 2005? click here