2005 looks like a pivotal year for Chris Simms as he publishes his third crime novel 'Killing the Beasts', but this time he has a new agent as well as leaving Random House for Orion Publishing. This highly polished study of madness and murder shows how well Simms' talent is maturing after his previous work 'Outside the White Lines' [2002] and 'Pecking Order' [2003], which were also cracking studies into madness and mental disintegration.
Having finished 'Killing The Beasts' last weekend, I wondered what twisted thoughts lay behind this macabre insight into madness, so I called Chris up and asked him, and he kindly provided this interesting insight into his writing process. As I said in my review - If you've not read Simms before, this is a great starting point to enter his world of madness, but be aware, like the drugs that it features, Simms' writing is equally as addictive [and probably as dangerous!] - Ali Karim
What lay behind Killing the Beasts © 2005 Chris Simms
'It's often been said that a novel comes about when two or more disparate ideas suddenly fuse together.' This was certainly true for 'Killing the Beasts'.
Early in 2002 I'd been following news reports in Manchester about criminal gangs inserting hooks through people's letterboxes to 'fish' car keys from hallway tables. Mercedes, BMW, Porsches - you can guess the types of car - were disappearing from throughout the wealthy suburbs of Wilmslow, Altrincham and Alderley Edge. I though it would make a topical type of crime.
At the same time this spate of crimes was occurring, Manchester was building up for the Commonwealth Games coming to town. There was a great sense of anticipation as the city underwent a quite spectacular transformation. Tens of millions had been spent on massive building projects. Apart from the world-class sporting facilities and numerous hotels, restaurants and shops, there was a variety of public buildings opening for business - including Imperial War Museum North, Manchester Art Gallery and Urbis (museum of the city). And all in the space of just a few months.
The city's transport links were also being updated, including the £55 million revamp of Piccadilly rail terminal. Lastly, huge swathes of the city centre pavements were being re-laid with beautiful Spanish limestone. In the nick of time everything was ready for the opening ceremony at the end of July.
But, as I walked round the city, I noticed the first blemishes beginning to appear. Chewing gum. White marks were starting to spread across the previously spotless pavements. As the Games progressed, the stuff seemed to be multiplying. Despite everyone's hopes, Manchester couldn't quite shrug off its reputation as Britain's dirty city. Once the Commonwealth Games ended and the litter-clearing teams disappeared, the problem just got worse. So I had a great backdrop for my story, all I needed now was my protagonist.
I find creating a 'hero' a bit tricky. Inevitably he's a bit of an alter ego, righting the wrongs you're powerless to correct. But I was very wary of whisky-swilling, jazz-loving clichés. Write what you know about is what you're told. So I decided to make my protagonist three years my junior and going through the same stages in life. As a result DI Jon Spicer is in his early thirties and getting to the point of starting a family. The other similarity is that he plays rugby. But unlike me, he's used as a hatchet man - there to take-out opposition playmakers anyway he can. Believe me, every team has at least one, and they usually play in the back row. This propensity for violence is a crucial part of his character - and one that allows me to have him administering some cartilage-crunching justice of his own when circumstances permit.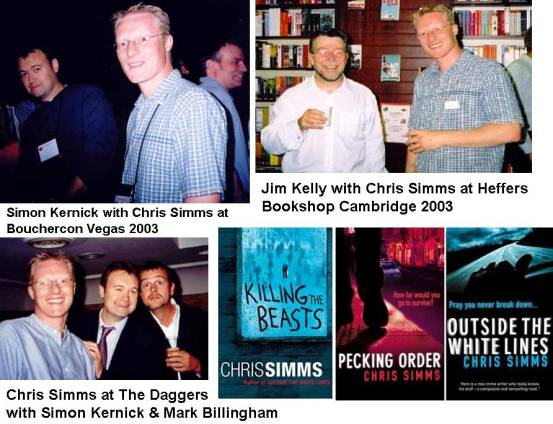 'Killing the Beasts' is a dark novel. It explores themes of obsession, mental disintegration and madness. When the synopsis was shown to Orion they offered me a deal, expressing their desire to see it as the start of a DI Spicer series that uses Manchester and all its glorious contradictions as an additional character in the story. I had no problem with that - I've lived just outside Manchester for eight years and its clash of the gleaming and modern (Urbis, Selfridges, Harvey Nichols, Lowry Centre, Imperial War Museum) and the decaying and dilapidated (Great Ancoats, the Northern Quarter, numerous mills, factories and warehouses) is fascinating. I have a character state at one point that, behind the shiny façade, 'you're never far from dereliction in Manchester'. This statement is true from a geographical and psychological perspective. The idea of there only being a few steps between an ordinary person and one with his sense of reality in tatters is a powerful one. Look around Manchester and it's usually not hard to spot these lost souls shuffling the streets. I decided to examine this process, drawing a parallel between the respectable front of Manchester during the Commonwealth Games and the slow re-emergence of its grim side once the cameras had gone and the months drifted into autumn.
Having said this, the pace isn't tortuously slow. I keep things fast and furious by cutting between characters and using flashbacks to chart why their respective courses are on an inevitable collision. There are splashes of violence, but maybe not quite as graphic as those in my previous novels.
Where 'Killing the Beasts' is different to those books is the fact that it's a whodunit, rather than a whydunit. The atmosphere lets you know early on that things are building to a nasty climax - what you can't work out is who is going to be killed by whom. And as the final scenes unfold watch out - there's one final twist that will take you completely by surprise.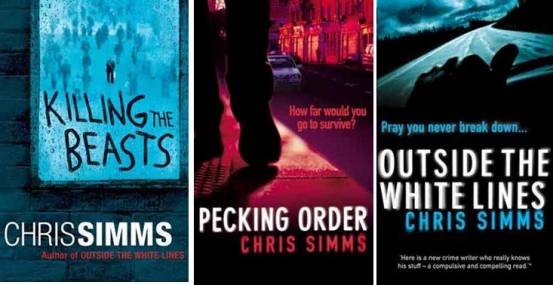 For more information on the world of Chris Simms:-

Chris Simms Talks to Shots #21 [2004] :-

archive.shotsmag.co.uk/shots21/intvus_21/csimms.html
And Chris's website :-

www.chrissimms.info