In the spring of 2006, I was asked by editor David Stuart Davies if, as a Sherlock Holmes enthusiast, I would like to contribute a pastiche to a collection he was intending to publish as part of Wordsworth's Tales of Mystery and The Supernatural series. At the time my writing was strictly confined to contemporary crime fiction and I wasn't sure if I wanted to take the plunge back a hundred years or more. Practical considerations soon took over however, as it was my first opportunity to appear in a mass market paperback that was being stocked by the chain bookstores. Once I decided to do it, my long-standing interest in modern history and historical crime fiction made the task less daunting. I'd already devoured the Sherlock Holmes Canon, most of Poe, the Richard Hannay quintet, Patrick O'Brian, Flashman, Captain Alatriste, the Erast Fandorin detective stories, and the Leibermann Papers, amongst many others.
While researching the short story, I found a reference to the strange will of Cecil John Rhodes, the British Empire equivalent of Bill Gates. He died in April 1902, just before the end of the Boer War, which I knew as the first taste of modern warfare for the British Army. Although I spent many years in South Africa, I knew very little about Rhodes, so I turned my attention to his life and death. When I discovered that the richest man in the Empire had a will that wasn't just idiosyncratic, but actually sinister, I realised I was onto something much more substantial than the concept for a short story.
You know those Rhodes Scholarships? Yes, well there's actually a real-life conspiracy theory behind them – and it sort-of happened as well. You'll have to read The Architect of Murder to find out what I'm talking about. Of course, writing in the twenty-first century, the first thing I did was Google and Wikipedia Rhodes' will to see if anyone else had written the story. I found one: a science fiction novella by John Crowley called Great Work of Time. Even though it was out of print, I tracked down a copy and read it. It was sufficiently different to what I had in mind, so I wrote the short story for David, The Adventure of the Long Man, and began serious research on the novel.
The switch from contemporary to historical crime fiction was easier than I'd expected, and two of the problems I'd so far had with my writing simply disappeared.
One of the criticisms of my work thus far was that my hardboiled approach was better suited to American settings than the British ones with which I'm familiar. I'd considered writing thrillers or Noir instead, but while I enjoy both of these subgenres, my main interest was – and still is – the murder mystery. I realised I could get away with much more of the action and violence associated with hardboiled detective fiction in 1902 London than 2007 London. The Holmes stories themselves are a perfect example: often relegated to the cosy mystery classification, they deal with mutilation, drug abuse, kidnapping, torture, child murderers, organised crime, assassination, and almost everything else one might expect to find in Hammett, Chandler, Parker, and Crais. The London of The Architect of Murder is a violent and nasty place beneath the veneer of gentility, and when I write about the mean streets of Westminster I'm not exaggerating: Devil's Acre, one of the most dangerous slums in the city, was a couple of minutes walk from Westminster Abbey.
Another problem solved was the possibility of real-life events catching up with, or overwhelming a plot. To take an unrelated example, the premise for my second novella, The Secret Service, is that al-Qaeda have recruited Caucasian agents in order to have a better chance of penetrating NATO security forces. The idea was suggested to me when I read about the connection between the Stasi and the PLO during the Cold War and – as far as I knew – hadn't been used before. While I was still writing the story (in December 2005, I think), I read a report of al-Qaeda recruiting Croatians for exactly that purpose. I finished the novella, but I lost the originality I'd hoped to achieve. By setting the new novel in 1902, however, the problem went away. Not only did I know what happened next, I could actually tailor my story to fit in with the events, and thus preserve the thread of historical realism.
There were other benefits of turning back the clock, which I only appreciated once I started writing. Most importantly, I was able to tell a story while maintaining the suspension of disbelief. To take contemporary Britain as an example: since the reforms following murder of Stephen Lawrence in 1993, all homicides are investigated by squads of thirty-plus specialist detectives, and there is no way a private detective would be allowed to conduct his or her own enquiries at the same time. The private eye, so essential to hardboiled crime fiction, is no longer a realistic investigator of serious crime. Furthermore, police procedurals must now cater for huge squads of detectives, and the author must find a convincing way of cheating, in order to focus on a few of these individuals and tell the story in a way that will entertain readers. Graham Hurley and Mark Billingham do this particularly well. There are no such concerns with historical detection. In the Edwardian period, amateurs roamed with few constraints, and serious inquiries were often conducted by one – or a small team of – police detectives, especially if they were of a sensitive nature.
Another huge hurdle which disappeared was the CSI-DNA phenomenon. I read somewhere recently that the only way to commit a murder undetected is to cover oneself head-to-toe in plastic and then burn the plastic afterwards, which seems pretty accurate given the ability of crime scene investigators to extract DNA from all sorts of trace evidence. This is a problem for an author, unless he or she is writing a novel with a CSI as the lead character. I find it interesting that the detective story (including adaptations on screen) seems to have moved from the dominance of amateurs like Dupin, Holmes, and Poirot through the police procedural to the a new era of the scientist as detective, ala Patricia Cornwell, Kathy Reichs, Jefferson Bass, and of course the huge success of the CSI TV series.
Again, all of this is a problem for an author wanting to write outside the new subgenre. How do we keep the reader guessing without having murderers walking the streets in plastic suits? Robert Crais and Sean Chercover have managed to keep the traditional private eye tale alive extremely well, but the difficulty of the task grows with every advance in what Holmes called 'the science of deduction'. Once again, all these problems disappear when going back to 1902. Crime scene and trace evidence work varied greatly across the different police forces of the Empire, and even within police forces.
Am I saying it's easier to write a historical detective story?
I don't think so. I research all my stories, whether contemporary or historical, novel or short story length, but there can be no doubt that historical settings are more research intensive. Bernard Cornwell shared his expertise and experience in an essay where he wrote that one can never do too much research, but should only do the absolute minimum required for a story. He was quite correct, because one could spend years researching any historical period – and probably enjoy every day of it – without actually writing the novel.
While I've made every effort to accurately represent the place and people of 1902 London, I am first and foremost a storyteller, telling what I hope is an entertaining and credible tale. I also hope that readers unfamiliar with the period will discover some interesting facts about Edwardian England, but if they want to learn what it was like to live there, then they'll do better to pick up one of the excellent non-fiction books I used for my research. The Architect of Murder is a murder mystery which takes place in history, not a reference book.
What I hadn't considered was the contentious nature of history itself. For example, I couldn't persuade my editor that a Scottish gentleman of the time would refer to himself as 'Scotch' rather than 'Scots'. He was convinced that the word was an insult outside of use with regard to foodstuffs like whisky, beef, and eggs. I had, however, taken the terminology from the work of an Edwardian Scottish writer. Two of my proof-readers picked up on this point as well, and I decided that my editor was right: even though I knew the term was used at the time, the majority of contemporary readers would see it as a mistake, or laziness on my part. So, 'Scotch' became 'Scots'.
Several emails and letters were also exchanged over the song now best known as Land of Hope and Glory, by Elgar and Benson. I had a different version, called the Coronation Ode being sung by the crowds during the coronation procession of King Edward VII (on Saturday the 9th August 1902) and was told by a proof reader that the Coronation Ode was first performed on the 2nd October 1902 at the Sheffield Festival. Seeing as I'd taken my description of the songs being sung from the diary of someone who was actually present, I decided to argue this time. The tangle was eventually unravelled and the song stayed. On the one hand, I was glad that the proof reader obvious knew the period; on the other, it seemed a lot of effort for such a minor point.
My first love is still the hardboiled detective story, followed closely by the realistic police procedural, but I had a hell of a time in 1902 London, and I think the disadvantages of going back in time were outweighed by the advantages. I enjoyed writing about real-life characters like William Melville, who later went on to found MI5, and is considered a possible candidate for Fleming's 'M'. If you read the novel, you'll hear 'Q' mentioned as well, and there are appearances by a few of the celebrities and personalities of the time. I won't give any others away because my goal is that at the end of the novel readers might want to look up was real and who was fictional.
As an amateur historian, I like to think of The Architect of Murder as something which could easily have happened, something which fits perfectly with the march of history and with the real-life events of the time. It not only could have happened, but in a way, it did happen. The story is about Rhodes' will, and the eventual fruition of that will – the scholarships – was a victory from beyond the grave. How much of a victory? Read the book and find out.
Editor's note: since Rafe submitted this article, The Architect of Murder has sold out in its first print run. If you would like to see it back in print, contact Robert Hale publishers or Rafe at his website http://www.rafemcgregor.co.uk/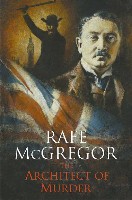 THE ARCHITECT OF MURDER was published by
Robert Hale in February, 2009