The Last Straight Face is a hard-hitting, hard-boiled British crime novel from two experts in the field.
In begins one morning in Manchester. A career criminal leaves Strangeways prison after eighteen months inside for a crime he didn't commit. But his life on the outside has changed forever: his nephew has been murdered and his wife and children have disappeared. Someone's out to get him.
It seems he's got more enemies than he realised, on both sides of the law. And as the stakes get higher, he sees his life boils down to just one thing. Revenge.
SHOTS asked Bruce Kennedy Jones and Eric Allison, the authors of The Last Straight Face, to tell us how their first book came to be written. This is what they sent us. As it's so close to deadline, we'll have to use it… sadly.
1. They started The Last Straight Face while Allison was in prison. There was the little matter of a million quid going missing from a bank account somewhere and the fuzz weren't overly pleased. Allison went down for it and spent some time inside. Visits were reserved for Allison's family at first, so Jones got into the jail by pretending to do a story about a new project the prison had started. And lo, Allison was one of the prisoners most willing to talk. They were left alone with fags and jelly babies for a couple of hours, which gave them time to discuss the book and record an interview for the story.
2. They aimed for 1000 words a week. Each wrote material, and posted it off to the other. They then talked again the following week to agree changes.
3. The book took 23 years to write. This is not true in real terms. It just felt like it.
4. The Kray twins appear in The Last Straight Face. But only very briefly and mainly in the hope that Kray aficionados will buy a copy.
5. Their protagonist is a big Manchester United fan. This may encourage United fans to buy a copy as well. Also ABU (Anyone But United) non-supporters, if only to have a go.
6. Some of the other characters are based on real villains. Both the authors have been around plenty of villains over the years. Allison as a criminal and Jones as an investigative hack specialising in crime. And most writing is autobiographical to some extent. So there are some real villains in there. And one or two bits of real villainy. If pressed, however, the authors would probably prefer to say it's all fiction.
7. They 'cast' characters by looking in Spotlight. Spotlight is the actors' directory, with pictures of all the luvvies in the UK. This was useful – with two writers coming at characters from different directions it helped to look at photos and at least agree on what they looked like. They downside was that volume 2 was missing from Manchester central library, so they only looked at male actors with names beginning A-L. The good news is that Ray Winstone didn't get a look in.
8. Raymond Chandler was a big influence. But then lots of crime writers say that, don't they? Other authors that led them to this way of life include Elmore Leonard, Ian Rankin and Patricia Highsmith, P G Wodehouse, Eric 'Magic Roundabout' Thompson, and former How presented Fred Dineage for his seminal ghosting of Ronnie Kray's life story, shrewdly titled Ronnie Kray: My Story. While writing the Last Straight Faces they start 100 odd crime novels and then saw how far they got through them before they got bored. Any left standing at the end were dissected for clues on how to tell stories and keep readers interested.
9. Lewis Carroll crops up a lot in the book. Specifically Through the Looking Glass. There are plenty of reasons for this – Carroll's looking-glass world is a place where many of the characters Alice meets are not as they first appear. Jacobean and Elizabethan revenge tragedy were also influences for not-dissimilar reasons.
10. Sixties cult classic The Prisoner was another influence. There are various reasons for this, which will become more apparent in the sequel, Fat Blackmail. McGoohan's 17 part series has been dissected by telly wonks for the last forty years and they're still no closer to working out what it all meant. The Last Straight Face isn't so obscure, but there are shared themes of what it means to be an individual.
11. Authenticity was a big deal. While reading all those books we kept coming across writers bottling it when they had to describe a bit of villainous activity. One example had a private eye sitting at a house, thinking that his/her lock picking gear was in the back of the car, and how he/she might have to pick the front door later. Then something happens so he/she doesn't have to. We say – harrumph.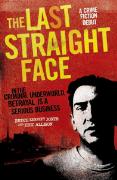 The Last Straight Face
is published by Old Street
June 2008, £11.99 (Trade Paperback Original)