I first met Michael Fuchs buried under a ton of books in the basement of Goldsboro Books, where he was busily signing his life away. What I didn't know at the time was that he was part of the Macmillan New Writers. Since then, I found out that, as well as being a writer, he is an independent consultant and developer of web site and web application projects for clients in Silicon Valley and London. What I didn't know, was his love of guns. God forbid that he and Mike Jecks get together! I asked Michael to explain more about this subject.
Mike Stotter
'I would [buy his book], if I were you. Michael knows lots about guns.'
Dr Ian Hocking, This Writing Life
This, I confess, was the second nicest thing anyone's ever said about my writing. The first nicest was from Kirkus Reviews, when they wrote: 'Fuchs seems to operate on the narrative principle of "When in doubt, put in a firefight".' I know they didn't intend this as a compliment – but, honestly, I couldn't even imagine a blurb that would delight me more. Because, really, what's more fun than a gunfight? The trick, of course, is to get the details right.
When I wrote my first novel, I knew I wanted to include an awful lot of gunplay – including complex shootouts, a variety of weapons, and exacting tactical details. Luckily, I had an unfair advantage in this: I was American, and I owned guns myself. In the end, I simply gave my two main protagonists handguns that I myself already owned. This made getting the details about them right awfully easy. I also hope it gave the guns, the shooters, and the shootouts an authenticity that would otherwise be lacking.
A few years later, after I emigrated to the UK, I learned there are some important differences between what's basically an unarmed society (Britain), and what's basically a heavily armed society (the US). Roughly half of American households have at least one firearm in them; and so most Americans have at some point fired guns, or at a minimum been around them. In the UK, this is not so much the case.
This cultural difference also results in some very palpable differences between writing about guns and gunplay by British authors versus American authors. With American crime and action writers – if you know what to listen for, at any rate – it's easy to get a sense that they are writing from first-hand experience. With Brits, it's equivalently easy to get a sense they are writing straight from research. This is because, generally, at some point in the book, the British writer will let slip one small but enormously glaring boner about the makeup or operations of firearms. When this happens, it's like getting a brief glimpse around the edge of the cardboard building facade in a Hollywood set: nothing else has changed, all the other details are still right. But, suddenly, the whole thing just looks irretrievably fake.
There are of course exceptions to this – most notably the two members of that ill-fated SAS mission in Iraq (Andy McNab and Chris Ryan) who went on to become best-selling action novelists. Obviously, they know their tech and weapons stuff – but even they get lazy with the details sometimes, because they know they can get away with it in the UK.
But, of course, ultimately, it's the details that sell your story – as will attest both Mr Orange's police boss in Reservoir Dogs, and Tom Clancy readers (who shell out millions to read about the minutest details of nuclear subs and aircraft battlegroup tactical operations centres). One really does need to get these things right.
This requirement has been much on my mind as I've begun work on my new book – which is a high-tech actioner about Special Operations Forces. This story is all SOF all the time – and, of course, the weapons requirements go beyond the possibility of my immediate experience. That means research. And while it's easy enough to read a bunch of Special Forces books and find out what weapons these guys were using five years ago … the problems begin when you want to know what they are using today (or tomorrow, or the day after tomorrow). That's because this information is often classified – especially when it deals with black special ops (black SOF are those – such as Delta Force, Seal Team Six, SAS Increment – whose very existence their governments deny. White SOF – such as Green Berets, regular SEALs and SAS – are at least acknowledged to exist, even if nobody official will talk about them).
The trick here seems to involve reading the books, catching references to forthcoming or planned weapons projects – and then going out onto the web, to convert five-year-old information into five-second-old information. It's kind of amazing what gets out onto the web – particularly in the Wikipedia age.
For instance, most military and weapons buffs are familiar with the M4 carbine – which is the cut-down version of the M16. This gun was originally designed for Special Forces use, as was the SOPMOD (Special Operations Peculiar Modification) kit – the rail on the front of the rifle that holds all the cool high-tech attachments (such as optical, point, and holographic sights, IR illuminator/pointers, and laser range finders/markers). Unfortunately, every Tom, Dick, and GI Joe serving in Iraq or Afghanistan has this kit now. What are the super-elite operators of Delta Force and other such units using now? One shudders to think. But I need to know.
And these days I can find out – on the web. The answer turns out to be something called the SCAR – the Special Operations Combat Assault Rifle. This is an extremely cool assault rifle designed from the ground up by SOF for SOF – and it only started rolling off the assembly line a few months ago.


SCAR
So now I know that is the gun the special forces characters in my new book will use – and that I, vicariously, will get to play around with. Getting to use the latest high-tech hardware in the context of fiction is of course the next best thing to being there – and you don't even have anyone shooting at you. Well, with the possible exception of those eagle-eyed sharpshooters amongst my readers out there scanning for the least inconsistency or inaccuracy in the weapons – and who will happily plink me in the leg if they find any.
My insatiable interest in firearms does sometimes threaten to get me in trouble. For instance, my daily run into Kensington Gardens happens to take me right past the front door of the Israeli Consulate. Each morning as I jog by, I find it enormously difficult to suppress the desire to cast around for the micro-Uzis or MTAR-21s or other up-to-the-minute hardware under the jackets of the shaven-headed, dangerously built farm boys from the Negev walking security around the outside of the building. I know that this inquisitiveness on my part probably makes these guys' day more stressful; and that it could conceivably increase my risk of being repeatedly shot – due to being a swarthy-looking guy in all-black surreptitiously checking out their weapons and tactics while talking into the voice recorder on my MP3 player.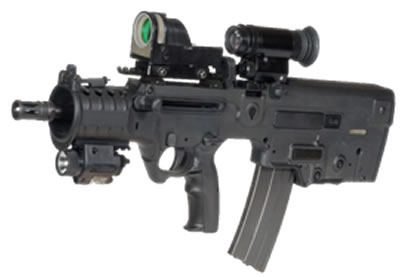 MTAR
But if I do go down in a blaze of (real) gunfire, then that's just the price one pays for art.
Michael Stephen Fuchs is the author of The Manuscript (www.the-manuscript.com) and Pandora's Sisters (www.pandoras-sisters.com), both published by Macmillan; and Don't Shoot Me In The Ass And Other Stories (available for free download on www.michaelfuchs.org/ass).