I first met Charles Cumming in New York at ThrillerFest in 2007. His name had been brought to my attention by fellow spy novel enthusiasts as one to definitely read. At that time, and much to my shame, I hadn't read any of his titles. Well, a few drinks later I said I was going to rectify this. And I have – you can read my review of his new book, TYPHOON.
Charles was born in Ayr, Scotland in 1971. He was educated at Eton and graduated from the University of Edinburgh with First Class Honours in English Literature in 1994. He is a contributing editor of The Week magazine, and occasionally writes book reviews for The Mail on Sunday.
In the summer of 1995, Charles was approached for recruitment by the Secret Intelligence Service (SIS). A year later he moved to Montreal where he began working on a novel based on his experiences with MI6. A Spy By Nature was bought in a two-book deal by Penguin in 1999.
In 2001, Charles moved to Madrid with his wife. His second novel, The Hidden Man, was published in the summer of 2003. A sequel to A Spy By Nature, entitled The Spanish Game, was published in 2006.
Meanwhile, film rights to A Spy By Nature have been bought by Kudos, producers of the acclaimed BBC series Spooks – Mike Stotter.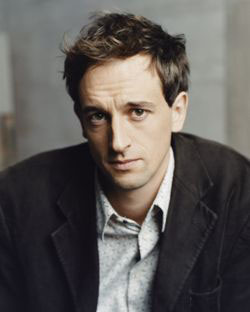 In the summer of 2005, shortly after I had finished working on my third novel, The Spanish Game, I was a guest at a drinks party in Penguin's headquarters on the Strand when I found myself talking to a very senior figure in the company.
"What are you going to write next?" he asked.
I replied that I had an idea for a kidnap drama set in Colombia. His face took on a strange colour and he began shaking his head.
"Colombia? Nobody is interested in novels set in South America." We were in a conference room on the 8th floor. He turned to the window and gestured towards the London skyline. "These are heated political times," he said. "You're one of only two or three British spy novelists who write about contemporary events. You should be doing a book about Iraq, about the Hutton inquiry, about how MI6 and the CIA are dealing with the War on Terror."
At first, I was frustrated. My South American story was all set to go. I felt it would be a great read. But the big cheese was right. This wasn't the time to be writing a book about FARC (Revolutionary Armed Forces of Columbia). However, I wasn't particularly interested in spending two years of my life writing about Iraq, either. There were practical reasons for this, not least that my wife had recently given birth to our first child and I reckoned it would be unwise to head off into a war zone on a life-threatening research trip. The publishing world also seemed weighed down by books about Iraq and al-Qaeda. So what to do? How could I come up with a story that would tackle the major issues of the day, without dealing directly and explicity with what was happening in Basra, Kabul and Baghdad?
The answer was China. At that point, the British press seemed to be running more and more articles about the Chinese economic miracle. The Middle Kingdom was clearly becoming The Next Big Thing and, of course, the Olympic Games were just around the corner. Slowly an idea began to form in my mind. What about a thriller which began in Hong Kong in 1997, on the eve of the handover of power to Beijing? Thematically this was promising: losing Hong Kong was the final sunset of the British Empire. But I also wanted to write a book set in either Beijing or Shanghai, cities which I had longed to visit. With that in mind, I applied for my visa and booked a flight. The trip would take two and a half weeks, beginning in the Chinese capital, taking in Shanghai and Shenzhen, and winding up in Hong Kong. By the time I returned home, I hoped that I would have my story.
In Beijing, I was very fortunate to be introduced to Oliver August, who was then the Chinese correspondent for The Times. Beside a polluted municipal lake in the heat of the afternoon, I told him that I was struggling to find a way of making China interesting and relevant to western readers. China in the 21st century is all about money: the making of it, the spending of it, the corruption that money engenders. And money isn't a particularly interesting subject for a novel. Who cares about a guy whose just trying to get rich? Besides, there were any number of wonderful books about American and European businessmen who had come to China in search of their fortune and ended up with badly burned fingers. Why write another one?
It was Oliver who pointed me towards Xinjiang. "Beijing's greatest fear," he said, "is losing the territorial integrity of China. That's why it's so paranoid about Taiwan and Tibet. They will do anything to keep China together." I discovered that roughly half of the population of Xinjiang was Uighur-Muslim, which chimed with the debate about Islam raging in the West. From this flowed the idea of an American-sponsored coup d'etat in the region. If Bush and Cheney and Rumsfeld were prepared to land-grab Iraq in order to get their hands on Saddam's oil, it followed, at least in a metaphorical sense, that they might be interested in getting their hands on Xinjiang. I had my story.
Two other factors came into play. In November, a glossy magazine sent me to southern Africa to write a travel piece about Namibia. In the evenings I was reading John le Carré's The Constant Gardener and, inspired by this, set myself the task of writing a spy novel that was also a love story; a political thriller that was about a real and pressing contemporary issue. Where le Carré had written about corrupt pharmaceutical companies, I would concentrate on the extreme human rights abuses perpetrated against Uighurs in China.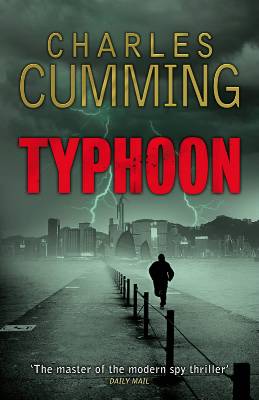 Now all I needed were my central characters. In my Alec Milius novels, A Spy by Nature and The Spanish Game, the so-called Special Relationship between America and the United Kingdom had played a central thematic role. It would be the same with Typhoon: I wanted to find a way of dramatising the relationship between the Blair government and the Bush administration. Thus Miles Coolidge was born. A brash, charismatic, reckless CIA officer, described as "the American of your dreams and nightmares", Miles became the face of neo-conservative America in the age of al-Qaeda. His antagonist would be Joe Lennox, a more cerebral, contemplative British spy under deep cover in Hong Kong. Over the course of the book, Joe and Miles would become friends and fight over Joe's girlfriend, the mysterious Isabella Aubert.
One other thing to mention. Many people who had read The Spanish Game had commented on how unsympathetic they had found Alec Milius. He was too self-involved, too manipulative and cold for some tastes. With Joe, I wanted to set myself the challenge of writing a male character who was the deliberate opposite of Alec: noble, patriotic, selfless – and certainly more intelligent.
So now all I had to do was find a way into the story. I had once had a conversation with a family friend, Peter, who had served as a commander of the Gurkhas in Hong Kong in the 1970s. He had told me the extraordinary true story of a Chinese academic who had swum from mainland China across Starling Inlet in the dead of night in an attempt to defect to British-controlled Hong Kong. Spotted by a young soldier on the beach, he had been brought to see Peter. Articulate, charismatic and charming, the academic had quickly captivated him, and Peter was sorely tempted to set him free. However, rules are rules, and he was sent back to China. To this day, Peter has no idea what became of him.
This story became the opening chapter of Typhoon. This time, however, the academic makes it across to the New Territories and is allowed to progress to Tsim Tsa Shui, albeit in the custody of MI6. Sympathetic to the Uighur cause, he becomes a key figure in a secret American plan to foment a militant uprising in Xinjiang. As Typhoon reaches its climax, a small group of disenfranchised Uighur radicals plan to set off a series of bombs at the Beijing Olympics. Of course I had no idea that, two years later, the Chinese government would claim to have arrested or killed more than a dozen so-called 'terrorists' with that exact plan.
People have asked me whether Typhoon is the start of a series of novels about Joe Lennox. The honest answer is that I haven't yet decided. If the reading public take to the book, I guess I would be crazy not to revisit Joe Lennox, but my next project is going to be a novel about the Cambridge Spies. See you in a couple of years when hopefully I'll be writing for Shots about that.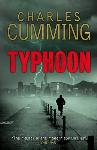 Typhoon is published by Michael Joseph on June 5th (£18.99)
Visit Charles' website: www.charlescumming.co.uk