Cassandra Clark's Hangman Blind is the first book in the Abbess of Meaux medieval crime series and is set in England in the reign of Richard II. Published in hardback (March 08) and paperback (September 08) by John Murray. To be followed by The Red Velvet Turn-shoe in 2009. Shots asked Cassandra about the genesis of the serial and what the future holds for the Abbess.
I've been writing for many years, first as a playwright and then as a writer of genre fiction and have always held the view that writers' block is a figment of the imagination, that is, until I was asked to write a profile about myself. For about ten days now I have been staring at the blank screen, making coffee, walking round the block, opening wine, reading Mister Pip, opening wine and, this morning, again, staring at the blank screen.
The question stalling me is; why have I started writing medieval crime?
I suppose the short answer is it seemed a good idea at the time. And I like the clothes. And the music. The food sounds intriguing. And as for the Rhenish and the Guienne …Done. But this scarcely fills one fraction of a mega mega byte.
The truth is, it started with a dream.
I'm not one of those people who draw up a carefully crafted plan and write pages and pages about their characters before they start. I do, however, like to have everything firmly in my head for some time and only when I've mulled it over do I write straight through. Hangman Blind was different though. It arrived fully formed with no mulling.
This is how it happened. After going through a bad seven years which absolutely nobody would want to know about I was at that stage you must have experienced yourself. It's when your face hasn't actually cracked for sometime. You've forgotten about that thing people call humour. You don't mean to be dour but levity is simply not in your emotional repertoire any more. Well, I astonished myself one night by waking up cackling with laughter. In the dark. In the middle of the night. Alone. Having been sound asleep.
Luckily (or sadly) I sleep alone and it meant I could haul myself out of bed and prowl over to my desk and return to the nest with a notebook and pen without disturbing anybody. The dream that had led to this chortling good humour, this sunbeam through the rain, was vivid. There were characters there, context, dialogue, sight, sound and after scribbling it all down I went back to sleep and woke next morning feeling more light-hearted than I'd felt for years.
When I rolled over I discovered my notes. It was a scene between somebody called 'nun' and two others called Ulf and Roger. My face cracked again. Who were these people invading my dreams? They were so full of rough, northern good will, with a kind of gallows humour, that it made me want to know what they were going to get up to next and, more, what they were doing living away in my head as if they'd been there for years. It was clear they'd been around for some time by the completeness of their back-stories, their looks, the nature of their banter and their manifest purpose.
From that one scene came the novel and from the novel the whole Abbess of Meaux series.
Those first pages of unacceptably northern humour have long been honed. The characters remain though and it was a question of allowing them to step forward, clothed in their capuchons and houpelandes, clutching their endless cups of Rhenish and stoups of ale, the further the action.
Although from the first their habitat was familiar and vivid I was keen to find out the exact geography and historical period. It soon became clear they were living in the late fourteenth century in the East Riding of Yorkshire and that Hildegard – 'nun' in the dream – had connections with what had once been a famous and wealthy abbey near Beverley called Meaux. The series spans the period after the People's Rising of 1381, through Richard II's dramatic and tragic reign, with a planned end shortly after his murder.
I spent my childhood in Yorkshire, running wild in the woods in a village not far from Meaux.
It was one of the great abbeys of the pre-Reformation period, along with Fountains and Rievaulx, and, although I'm in favour of the Reformation and the Enlightenment it preceded, I feel an immense poignancy at the thought that Meaux is now reduced to nothing. The thought of its demise would have been astounding to the abbot and his men in the 1380s. they ran the blue chip company of their day, amassing wealth and power from their involvement in the wool trade. They were great exporters, cosmopolitan, trilingual, litigious and, if the chronicles written around 1395 is anything to go by, as secular as most of us. Almost immediately after the dream I was lucky enough to discover that there was an actual chronicle of the abbey written in exactly the period I was being drawn to. From then on everything began to slot into place. The drama of life in Richard II's reign had me hooked.
I'm not an historian, I'm a philosopher. It means I have to do a lot of ground work to unearth the necessary facts to support the narrative. This is such a pleasure, especially as I'm luck enough to live around the corner from the best library in London. Not the British Library, but the little non-conformist one set up by Dr William's in the nineteenth century.
The librarians there are magicians. Time after time I've gone in with some vague request prefaced by, 'I don't suppose you've got anything connected to…' and within minutes they emerge from their archives with exactly the dusty tome I need.
That's how I got hold of the chronicle, surely unopened since it was first put on the shelf when the library was founded.
There's one other library I use. It's a writer's paradise called St Deninol's in the Welsh Marches and was again a bequest by another magnificent, philanthropic Victorian, Prime Minister Gladstone who bequeathed 132,000 volumes of his own books to star things off. By now it's thoroughly up-to-date and the joy is you can liver there, sleeping yards from your desk in the library, surrounded by all the historical sources you could desire (followed by a glass of Rhenish round a log fire in the evening after a good day's work.)
Apart from haunting libraries my research involves talking to people in churches, galleries, castles, and to professional historians. There are experts everywhere, giving generously of their time and knowledge and liking the idea of getting their knowlesde out to a fiction reading public.
So that's how I do my research: dreaming, asking questions, and ferreting around in those two wonderful archives.
One of the predisposing factors to my writing crime is my fear of having to write about violence. The nastiness in my previous plays and novels was always presented in sepia – secret betrayals, glancing defeats – where no actual blood was drawn. Violence is abhorrent to me. There's too much of it around. One way to deal with it is to keep it safely in the past.
The fourteenth century, like any other, was brutal both in daily life and in its punishment of law-breakers – and there were a lot of laws. Women and the poor were particularly vulnerable. As members of craft guilds women had access to the protection of their livelihoods and the Saxon tradition of strong, self-determining women lived on after the conquest, especially in the North where William was resisted most fiercely and his ethnic cleansing was more thorough than anywhere else. Even so, three hundred years later, it was probably often safer for a woman to be married (your trading debts could be passed on to your husband, for a start).
The only viable alternative was to join one of the many religious orders where you would find a reasonable degree of protection from casual violence as well as a degree of autonomy.
Hence Hildegard, a Cistercian by choice, and privileged by being a member of an international community.
Some of the chronicles make most priories sound like five-star hotels. Of course we have to take into account that these were written by men and therefore possible tainted with envy. It was a sure thing, however, that the nuns were as litigious and hard-headed in business as the monks. With constant visits from the brothers I suspect they had a rollicking time too.
My sleuth, Hildegard, of course, is pure of purpose. A widow, to put paid to the idea that she knows nothing of men, she simply wants to improve things. She's as moved by child poverty, violence, disease and so forth as anyone today and sees her ambition to set up her own small cell somewhere near York as a step into doing something positive.
Despite this, she's as prone to the emotional folly of us all and finds herself inextricably caught up, not only in murder and political intrigue, but with several men, chief being the sexy and lethal Hubert de Courcy, who, as her abbot and possibly a French spy, is as embroiled in political intrigue as she is herself.
It was the time of the Schism when there were two popes. Urban in Rome whom the English rather preferred, and Clement in Avignon, who had the final say in the activities of the Cistercians in England. As well as this political opposition, both Hildegard and Hubert are constrained by the vows of their Order. Any rollicking that goes on is most likely not for them. Hence a certain tristesse in their relationship.
Their context interests me greatly. Is it a case of Big Bad Bolingbroke out to murder the beautiful boy, King Richard? Or a paranoid tyrant King humiliating his good and clever cousin? Who am I to have a view? I'm not an historian as I've said but a view is necessary and one of the intriguing aspects of writing a series is to find a way through the evidence to something like 'the truth'.
As it happens, I'm the sort of person who'll climb on a soap box at the drop of a hat. Currently the box invites me to ran about the way many contemporary historians are writing out of existence the story of the people, in which, of course, I include women. But the more I find out the more I want to know about the lost histories of the ones who survived the initial blood-spurges after the Rising, the so-called peasants, actors in the first great revolt of the English against the corruptions of autocratic government. Their big mistake, with control of London in their grasp in the summer of 1381, was to believe the promises made by the King and his council and imagine that justice had won the day. I want to know what happened to the thousands of those who marched with Wat Tyler and John Ball. Where did they go, these disappeared? There are few records, of course, although some recent archives are being re-examined, and all we have to go on are hints and shadows.
It's different with the leaders of dissent at Oxford when the Archbishop of Canterbury was ordered by Rome to exterminate them as heretics at this same time. It's on the record. We know Richard turned a blind eye. They were not sent to the stake as in France and Germany. They were expected to recant or go to prison for a spell. The records tell us what happened to them after that. But the history of the people, the once forced into outlawry for their temerity to have a say in the way their lives were being run is largely forgotten.
There's something attractive, though doomed, about hoping to restore these lost histories. They can only remain as conjecture, in fiction. But in some sense maybe it's possible to create a sense of the loves of the bonded and newly un-bonded workforce, the burgesses who founded our major towns and cities, the craftsmen and apprentices who risked their lives for freedom of belief and the right to speak as they chose. They paved the way for the end of theocracy and intolerance and set up the idea that democracy is a good thing. We should not forget what they did nor let it lightly slip from our grasp. The sheer courage of those who fought for freedom of speech and belief, the right to read what they wanted, the basis of free press, should not remain in oblivion. For me fiction is a way of keeping them alive and bringing them out of the footnotes of history.
This little rant may seem a far cry from a dream that turned into an historical crime novel. It's quite a journey from a short scene concerning a nun, a lord and a steward to a polemic about democracy. But it should explain why I chose historical fiction. It's nothing to me unless it can stand in a wider, contemporary context and go some way to explaining how we got to where we are now.
So there it is. Why Hangman Blind? Why the Abbess of Meaux? That's where we came in. I had a dream.
And so far I haven't even mentioned the clothes, the food – or the wine.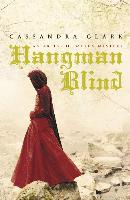 Hangman Blind is published by John Murray


September 2008 pbk £7.99