What makes a novel? What secret ingredients are there lurking inside a writer's mind that he or she might share with the outside world? Well, none, actually. Born with a wildly overactive imagination and a morbid curiosity it's not a huge surprise that I eventually became a crime writer. But I did not begin my writing career as a novelist. For several years I published short stories and was commissioned by BBC Radio to write stories for their Schools programmes as well as selling articles and occasional poems to national magazines. I even wrote a short play.
After beginning my series of novels, I still enjoyed exploring different genres but I did find writing a short story became much more difficult. On two occasions what began life as a short story has ended up becoming a novel. The first of these was a story that I wrote for a crime competition that was part of a weekend 'Criminal Event' in the Black Isle in Scotland. The guest speaker was PD James, a writer I've long admired and whose presence there was just as much a lure as entering the competition itself.
There were other speakers who made a great impact upon me, however; the Chief Constable of Grampian Region, the Procurator Fiscal for that area and a forensic biologist. All three showed the internal workings of a real murder case from their differing perspectives. It was riveting stuff and I left fired up and determined to be a crime writer. I didn't win the short story competition – not even a commendation came my way: thank goodness! For in later years it became the basis for my third novel, Shadows of Sounds – a book centred on Glasgow's classical music scene.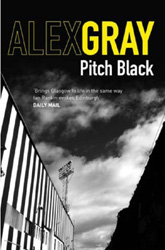 The same thing happened with Pitch Black. I wrote a short story, determined to tackle the genre with more success and, liking what I'd written, entered it for the Scottish Association of Writers competition at their weekend school. Bits of it were read out by the adjudicator and he was most complimentary about the language, etc. I sat, preening myself, delighted to have a mention in dispatches (and a highly commended place in the competition) but suddenly this chap announced, 'Of course it's not a short story at all – this is the first chapter of a novel.'
Yes, I might have known all along that this piece of writing had to continue, that I had to develop the character and plot and bring Detective Chief Inspector Lorimer into the whole affair. And continue it did; with my character becoming a hunted suspect in a murder case that centred upon a Scottish football club.
Now this was a bit of self indulgence on my part since I am a keen football fan. I don't have any great passion for a particular team, excepting our national squad of course, but I do follow the fortunes of our local lads in Paisley, St Mirren FC, and once I had established the novel's parameters I approached their staff for a bit of background information.
It wasn't my first visit behind the scenes at Love Street as, some years before, I had been a guest of one of their greatest saints, goalkeeper and Scottish Internationalist, Billy Thompson. But returning to the club with an eye on what I was about to create (murder and mayhem at a fictional football club) was really exciting. As is my habit, I took a sheet of questions with me and returned with more answers and a goodly number of stories to boot. Could I use them? Well, anything was possible.
Creating my very own club was better than fantasy football. On investigating the senior professional leagues in Scotland, I discovered that there had never been a club named after one of our more famous sons, Lord Kelvin. We have a river and a famous arena plus various streets named after Kelvin, but not a football club. Since Kelvin is based in Glasgow's west end that was where I decided to locate my fantasy club and what should I call its fan base? It came to me in one of those rare moments of inspiration: the Kelvin Keelies! For those who are unfamiliar with the word, a keelie is the name given to someone born and bred in Glasgow and the term 'Glasgow Keelie' has been in use for centuries. It was so much fun after that to create and name my club members from their chairman, Pat Kennedy, right down to the young apprentice, Willie Penny. I became absorbed by watching every game I could see on TV (or from the stand on a Saturday afternoon) my excuse – if I needed one – being that it was all research.
The book is not totally set against a football stadium, however. My character, who began her life in what I thought was going to be a short story, ends up on remand in Cornton Vale Women's Prison and I decided quite early on in the book that I should approach the Prison Governor and ask permission to visit. I've been there several times now as a researcher and have also given classes on creative writing to the inmates. It has been an insightful experience for me and I feel a wee bit more qualified to write about criminals and crimes than I did before. My prison visits have extended to Perth prison where I gave a talk to a group of lifers, real murderers who were as interested in me and my work as I was in their situation. I often say that reading books and surfing the net is fine but that there is no substitute for meeting real people and talking to them. And you never know where it might lead!
At present I am writing the sixth book in the Lorimer series and have already a plan for number seven. This always seems to happen to me. I'm well on the way with one book when another idea pops into my head. The perennial question of where my ideas come from has no easy answer. Possibly my subconscious has gathered material when I wasn't looking, or maybe the real world of crime impinges on my mind in the form of newspaper articles and TV features to the extent that I am impelled to make something of them. Whatever the case may be, I've never been short of ideas to date.
Glasgow is the main backdrop for my books since DCI Lorimer's Divisional Headquarters is based slightly to the west of the city centre. Unlike Inspector Rebus who works out of St Leonard's in Edinburgh, Lorimer's HQ is a fictional building, not based on any particular real-life police station but on all of the ones I know best. (Strathclyde Police, especially some of its CID officers, has been fantastically helpful over the years and continues to be so.) I see my home city as a place of many shifting and overlapping worlds, not as some see it, a gritty post industrial sprawl where danger lurks just around the next dark alley. Of course I have dark alleys and there must be danger in a crime novel, but I do have a missionary's zeal to show Glasgow for what it really is; a vibrant and exciting place full of culture and inspiration. Thus my books have so far included the world of art, then clinical psychology, to music, business, and now football. (The current ms is set against the background of a Scottish secondary school.)
Lorimer himself is a developing character and the more I write about him the more he becomes a real person to me. Lorimer began with a completely different name and I had to work pretty hard to make him into the flesh and blood person the reader meets in my first book, Never Somewhere Else. It was an entirely different experience writing about Dr Solomon Brightman, though. I'd heard other writers taking about characters who 'just came to me like that!' and I'd dismissed it all with a cynical 'yeah, yeah'. That is, until it happened to me and Solly arrived fully formed, sitting (well, almost) perched on my desk one day, his bushy dark beard and twinkling eyes daring me to defy his presence. He even had a name and a background (Jewish, London-born academic). Solomon Brightman. Where, I wondered a long time later, did that name come from? Once I had tried to analyse it, the answer was easy: Solomon the Wise, of course, who was a 'bright man'. Funny how the mind works, isn't it? And, just for the record, DCI Lorimer was in existence well before our local pub was renamed 'Lorimers' (chosen by the clientele after the celebrated Scottish architect). From the first novel I have involved Lorimer's wife, Maggie, who is an English teacher (one of my previous professions), and Dr Rosie Fergusson, a forensic pathologist who is fairly closely based on the lovely ladies I've met in that profession.
Research into Rosie's world drew me to Glasgow City Mortuary. (Yes, I saw a post mortem; no, I didn't faint.) And on a subsequent visit to see my friendly lady pathologist I found myself being encouraged to take a University course in forensic medicine. Rosie's world became much more real to me through that year-long course and gave me fabulous material for many books to come. My characters do not exist in isolation from one another; there are developments in each of their relationships and readers often ask me what is happening between Maggie and Lorimer or Solly and Rosie. I just grin and put my finger to my lips, for I may know what is about to happen to them all, but it will take time for their activities to reach the bookshelves. Hopefully the awful things I do to them in Pitch Black will have my readers turning pages into the wee small hours to see if … but like them, I'm afraid you will have to read it to find out!
PITCH BLACK is published by Sphere (3 April 2008) Hbk £19.99
ISBN-10: 1847440681 ISBN-13: 978-1847440686
Lorimer and Brightman Series:
Never Somewhere Else (2002)
A Small Weeping (2004)
Shadows of Sounds (2005)
The Riverman (2007)
Pitch Black (2008)
CLICK ON IMAGES BELOW TO PURCHASE: