Many of you know of my passion for the works of Thomas Harris, so it was with delight last year, that I was commissioned by Australian literary editor and writer Benjamin Szumskyj to contribute to Dissecting Hannibal Lecter, a comprehensive academic volume [from Australian publisher McFarland] about the work of Thomas Harris which also takes an insightful look at his creation Dr. Hannibal Lecter. To be fair it was a struggle to meet the deadline which I did, considering the commitments in writing some large sections also for Barry Forshaw's Harcourt Encyclopedia of British Crime Fiction, and all my other scribblings including my current [and as yet secret] project.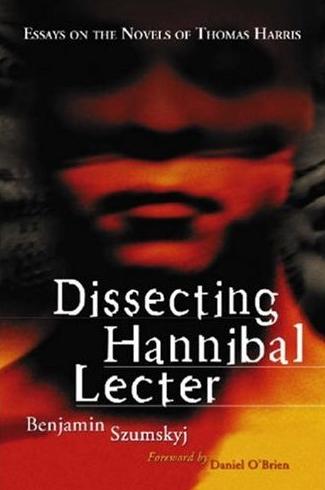 Prior to this work, the only other book about Thomas Harris and Dr Hannibal Lecter was David Sexton's The Strange world of Thomas Harris published in 2001 by Faber and Faber. This was a concise book by the editor of the London Evening Standard who like me is a student of the work of Harris, and details Harris work from Black Sunday through to Hannibal.
Szumskyj's book however is a much heavier tome and bang up-to-date, capturing a dozen essays from various writers and academics dissecting Harris work, right up to Hannibal Rising. Academic Publisher McFarland will be releasing Dissecting Hannibal Lecter this Fall [Autumn] and writes at their website –
This comprehensive study of author Thomas Harris' popular works focuses particularly on Harris's internationally known antihero Hannibal "The Cannibal" Lecter in the classic novels Red Dragon, Silence of the Lambs, and Hannibal. In 12 scholarly essays, the work examines several themes within Harris' trilogy, including the author's artistic exploration of repressed desires, his refinement of neo-noir themes and the serial killer motif, and his developing perceptions of feminine gender roles. Several essays also focus on Harris' works before and after the popular trilogy, examining themes such as gothic romance in Harris's first novel Black Sunday and the making of a monster in the trilogy's 2006 prequel Hannibal Rising.
It contains twelve chapters with contributing writers and scholars including - S.T. Joshi, Davide Mana, Philip L. Simpson, John Goodrich, Charles R. Gramlich, Peter Messent, Robert Waugh, Tony Magistrale among others. I was drafted into the project late, and hence wrote Chapter 9 : 'Hannibal Rising : Look Back in Anger' hence finding myself right up against the deadline. I always rely on that old adage – if you want something critical done, ask a busy man.
The contents of this volume are as follows –
Introduction by Benjamin Szumskyj
Foreword – "Behind the Mask" by Daniel O'Brien
1 "American Gothic: Liminality and the Gothic in Thomas Harris's Hannibal Lecter Novels" by Peter Messent
2. "Hannibal at the Lectern: A Textual Analysis of Dr. Hannibal Lecter's Character and Motivations in Thomas Harris's Red Dragon and The Silence of the Lambs" by John Goodrich
3. "Gothic Romance and Killer Couples in Black Sunday and Hannibal" by Philip L. Simpson
4. "The Butterfly and the Beast: The Imprisoned Soul in Thomas Harris's Lecter Trilogy" by Robert Waugh
5. "This is the Blind Leading the Blind: Noir, Horror & Reality in Thomas Harris' Red Dragon" by Davide Mana
6. "From Red Dragon to Manhunter" by Tony Williams
7. "Suspense vs. Horror: The Case of Thomas Harris" by S.T. Joshi
8. "Transmogrified Gothic: The Novels of Thomas Harris" by Tony Magistrale
9. "Hannibal Rising: Look Back in Anger" by Ali S. Karim
10. "Before Her Lambs Were Silent: Reading Gender and the Feminine in Red Dragon" by Phillip A. Ellis
11. "Black Sunday, Black September: Thomas Harris's Thriller, from Novel to Film, and the Terror of Reality" by Scott D. Briggs
12. "Morbidity of the Soul: An Appreciation of Hannibal" by Benjamin Szumskyj
Afterword – "Mythmaker" by Charles Gramlich
During the process of preparing my thoughts and dissections of Harris' fifth novel for Chapter 9 of this volume, I got to know a little more about Benjamin. As my early reading was Horror, I discovered we share a love of the works of Robert Bloch, Fritz Leiber, H P Lovecraft amongst others. It appears that Benjamin Szumskyj, is a high school teacher and library technician, and is the general editor of the scholarly journal Studies in Fantasy Literature. He is editor of Fritz Leiber: Critical Essays (McFarland, 2007), Fritz Leiber & H.P. Lovecraft: Writers of the Dark (Wildside Press) and Two-Gun Bob: A Centennial Study of Robert E. Howard (Hippocampus Press). He lives in Melville, Western Australia.
To pre-order your copy of "Dissecting Hannibal Lecter" –
click here for UK
click here for America
click here for Canada
click here for Australia and rest of the world