So people always think publicity is a glamorous job - at one point in my career as a publicist [when I was searching for a 24 hr dry cleaner for an author's pants in Nottingham at 1am on a Saturday night], I very much doubted it. However, when I was asked to go to New York on a trip to meet four of Headline's up and coming crime and thriller authors, I knew how lucky I was. In early June, I was bundled on a plane with Headliners including crime and thriller editor Vicki Mellor and publishing director Marion Donaldson along with members of the trade including people from Amazon, Waterstone's, Borders and WH Smiths, on a voyage to meet Headline's stars of the future: Brian Freeman, Scott Frost, Karen Rose and Patrick Quinlan.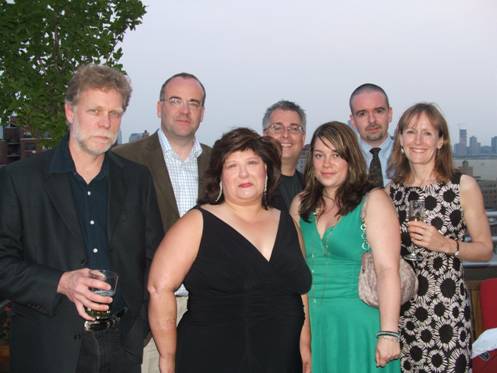 Photo Credit – Becky Fincham
Left to Right [Scott Frost, Kerr MacRae, Karen Rose, Brian Freeman, Vicki Mellor, Patrick Quinlan and Marion Donaldson]
Having been entertained and riveted by each of their books over the previous months, it was rather exciting to get the chance to meet them all in person and lay some of nagging curiosities to rest - who was the inspiration behind Scott Frost's compelling single mother detective Alex Delillo? How did researching in the cold of Duluth intensify the sense of place in Brian Freeman's new novel? How much of Patrick Quinlan's work was derived from his life growing up in the Bronx, who were his influences? And how did Karen Rose keep track of the details of her revolving cast of characters in each novel?
So having worn off the jet lag over an easy dinner, Saturday morning came, and Vicki and I met the lovely and interesting Scott Frost for breakfast in Bryant Park. Having recently moved to Montana after 16 years in LA, Scott told us about his former days as a screenwriter – it seems very much that writing his own novels, with his own actors has given him the autonomy surely every writer desires. Just like Alex Delillo he grew up seeing his actor-father on TV, and that Alex's voice partly comes from the storytelling matriarchy of his family, that she is an extra person in his life when he is mid writing a novel. One point that he made really stayed with me- 'writers write about murderers or presidents without being one, I wonder why in this time of equality should it be such a surprise that a man can write a woman convincingly?'.
Then Marion and I went on to tea at the Waldorf Astoria in the afternoon, to meet Patrick Quinlan, who was just as full of stories as I'd hoped - my personal favourite being about him being pursued across Cuba by some shady fellows, over a misunderstanding about cigars. Having grown up in the Bronx, it seems his writing really is littered with fragments of places he's lived, people he's met, giving it that gritty, realistic atmosphere - but also he seemed to be relieved to have left New York behind, living now as he does in Maine, giving him a distance that compelled him to write about the place he left behind. We also chatted about Patrick's myspace page and his new website.
Pre-dinner, Vicki and I met Karen Rose and her US agent Robin for drinks. Published as a romantic suspense writer in the US, Karen told us that she was very happy with her UK covers which reveal the grittiness of her writing, and was comfortable with both interpretations of the same novels. I left the meeting with the ever-present sense of mystery about how such a friendly, warm and happy woman, could write such dark passionate novels…maybe the killer heels were a clue….!
And so the main event came – namely a dinner in one of New York's most exclusive and chic hotels, the Hotel Gansevoort in the trendy meat packing district. Passing the queues of people waiting to get on the rooftop, we were swished up to Ono restaurant, where nearly 30 of us, agents, book buyers, Headliners devoured courses of Japanese cuisine along side the authors. The dinner was the chance for everyone to get to chat to the big four, all of whom worked hard, moving tables with each course to make sure everyone go the chance to meet them properly- and in true Headline style events were eased along by the free flowing wine!
Then post dinner, we went up to the roof terrace off the Gansevoort penthouse suite which overlooked the Hudson river and gave us the most magnificent view of New York at night, I'd seen yet. It was now that I got chance to have a chat to Brian Freeman, who I'd met previously when he was in London for the book fair. Brian is a particularly ardent social networker and fantastic at meeting new people, and had spent the evening merrily chatting away to everyone. Just before coming to New York his ad campaign for STRIPPED had gone live on all the tubes with the slogan- are you XXXIted? – and so Brian was excited to hear that we'd all seen them on our way over. I can't imagine that ever stops being exciting. And with his third novel STALKED not out until this September I was amazed to hear he was already well under way with his fourth Stride novel.
So as the evening stretched on, it was on to mojitos, then black mojitos when we'd drained the bar of white rum and the authors continued to do such a fantastic job talking to everyone. I think it's certain to say the evening was a success. Everyone came away really chuffed to meet authors, really pleased to have had the chance to talk to them about their books face to face, and to meet the people behind the murder and mystery! And so the evening came to an end- the celebrations which became known as the Miami beach party (there was a pool and dancing) was halted only when the sun started to come up over on the Hudson river, and someone suggested it was time for taxis.
So if you want to know a little more about Headline Publishing's British attack on the crime and thriller market using US writers as ammunition – click here