Prolegomenon
1 ACROSS: Left with a penny.
Sounds right to Nero.(5,6) 2
It began over thirty years ago on a family holiday in Wales, where of course it was raining.
Having no doubt already explored the charms of the region's ales such as Buckley's or Felinfoel (known locally as "Feeling Foul"), our hero, bored and trapped indoors by the unforgiving weather, picked up a detective story which had been left in the holiday home by previous tenants, and began to read.
No one is sure at exactly what point the reader abandoned the book, but abandon it he did, with the words "I can do better than that" (or similar), and, reaching for pen and ink, he did; though for many years he refused to divulge which detective story had inspired him, out of desperation, to do better. 3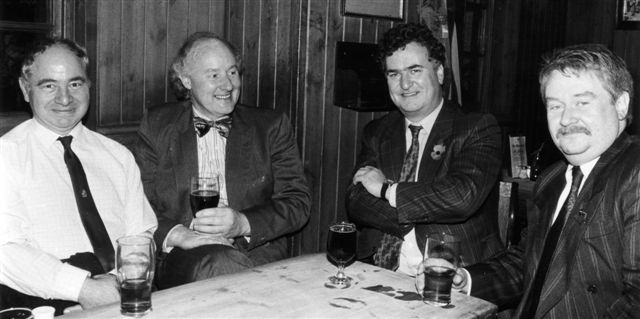 1993 Beer Writers Awards judging panel - Colin Dexter, Rob Humphreys (Bass),
David Young (Times), & Mike Ripley
1.
What travelled home from that wet Welsh holiday with the Dexter family were the first chapters of Last Bus To Woodstock which begins, appropriately enough, on the 29th September; St Michael's Day and also Colin Dexter's birthday (and, ironically, mine too.)
Those chapters were placed in a drawer in the Dexter house in Oxford and promptly forgotten until, perhaps six months later, whilst searching for a cufflink or a sock (the forensics are unclear), they were discovered by the author who read them over and thought to himself: "That's not bad".
And so, dear reader, he finished it, writing in the evenings (but only after The Archers had finished) and when the manuscript was completed to his satisfaction, he parcelled it up and submitted it to publishers William Collins, the home of the legendary Collins Crime Club imprint.
A long six months went by and answer came there none from London.
Feeling somewhat aggrieved, the frustrated author complained and promptly found his manuscript returned, along with a long (some say three pages) critique of why the book and its hero, a certain Inspector Morse, was not a viable publishing opportunity. Mr Dexter is, of course, far too much of a gentleman to reveal who it was at Collins, back in 1974, who turned down his debut novel. 4
Retaining the same packaging, Colin promptly sent the manuscript to another publisher, Macmillan's, then in the process of creating a crime list to rival that of Collins and Victor Gollancz. Within 24 hours (according to some versions of the legend, but certainly with commendable promptitude), he received a phone call from editor George (later Lord) Hardinge and the rest, as they say, is history.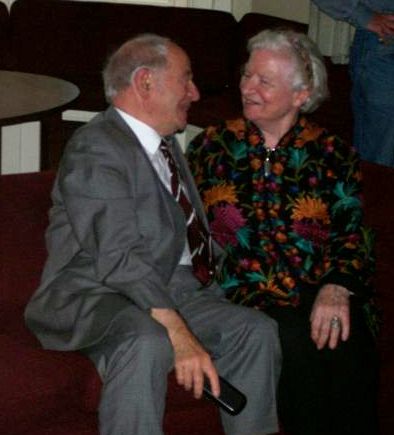 Coiln Dexter & P. D. James
2.
Colin Dexter was born in Stamford, Lincolnshire, in 1930, which makes him a "yellow belly" (a Lincolnshire term of endearment I believe) and, he would say, possibly the third most famous person from that county after Nicholas Parsons and Hereward the Wake.
Although he has been closely associated with Oxford (and some would say directly responsible for the unusually high mortality rate there), he is, as one might have guessed, a Cambridge man, graduating in classics from Christ's College in 1953. His early career was as a classics master, teaching Latin and Greek, but plagued with ill-health and persistent deafness, he switched jobs to take up a post in Oxford in 1966 at the University Examination Board, where he continued to work until retiring in 1988.
Last Bus To Woodstock was published in 1975 and amazingly (now) it was overlooked in the Crime Writers' Association's awards, the Dagger for best debut novel going to Sara George for Acid Drops. Even more amazingly, looking back, is the fact that 1,265 copies of that hardback first edition were remainder just before the book appeared in paperback in 1977. Colin was offered them, by Macmillan's, "if he slipped the van driver a fiver" but turned down the offer due to lack of bookshelf space. In 2006, a first edition was offered for sale by Blackwell's of Oxford, priced £1,500, leaving Colin, as the Americans would say, "to do the Math". 5
<![if !supportFootnotes]><![endif]>
More novels followed and, in 1979, his first CWA Silver Dagger for Service of All the Dead and then, after seven books, television sat up and took notice.
The television version of "Inspector Morse" was determined to break various moulds from the off. Each episode was to be two hours long (then longer than most feature films) and it was to star John Thaw, up until then known best for a series of tough, no-nonsense portrayals of coppers from the "shoot-em-up" school, notably in Redcap and The Sweeney.
Thaw, an accomplished stage actor, was said not to have liked the character of Morse at all on first reading, though he was intrigued by Morse's love of music (which he shared) and no doubt curious about his love of real ale (which he hated) and crossword puzzles (at which he was rubbish!). He was also far from the first choice to play the character as far as the top level of television executives were concerned 6. But what did they know?
Inspector Morse was to become a National Treasure, celebrated on postage stamps, on tourist trails and, fittingly, as the answer to a clue in the Times crossword. Worldwide sales of the entire series (which runs for over 56 hours) are estimated to have reached an audience of possibly one billion over 200 countries.
When the final episode, showing the death of Morse, The Remorseful Day was broadcast, it attracted an audience of 18 millions in the UK. Truly, a nation mourned.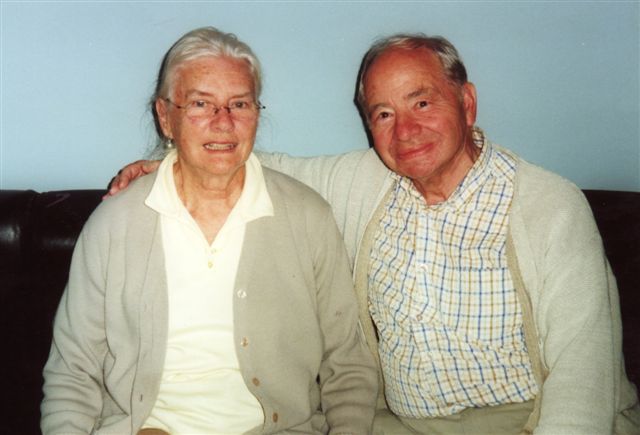 Mr & Mrs Dexter 2007
3.
However, I come not to index Caesar but to praise him, for it is his birthday after all.
I first met Colin in 1989 at the CWA Awards ceremony after my second crime novel, Angel Touch, had won the Last Laugh Award for comedy and Colin's The Wench Is Dead had won him his first Gold Dagger.
Fortunately I had reviewed (favourably) his novel for the Sunday Telegraph and it remains one of my favourites, so much so that in the programme for Bouchercon 26 in Nottingham in 1995, I concocted a light-hearted parody which included a police report containing his wife Dorothy's maiden name, his birthday and the home telephone number of his then editor Maria Rejt. Perhaps three people in the world got the joke, but as long as one of them was Colin, I was happy.
We really got to know each other during the 1990 Bouchercon, the first to be held in London, where I still had a day job in the brewing industry. As this was possibly the only convention of crime writers and fans ever to be organised at a university venue which did not have a bar, I took the initiative and produced (on one sheet of A4) a list of the locations of the nearest pubs to the Aldwych, leaving copies at the convention reception for thirsty arrivals.
Only a handful of these free "Angel" pub guides were circulated before the Bouchercon organisers confiscated them (!) but one did find its way into the hands of Hilary Hale, then the out-going crime editor at Macmillan's, shortly to take up a new post at Little, Brown. She sought me out and asked for advice on which nearby pub served the best beer as she wanted to take Colin Dexter for a drink.
I suggested a Bass pub on the corner of the Aldwych and wangled myself an invitation. I vaguely remember it being a splendidly convivial evening and word soon spread so that the pub quickly filled with Dexter fans and weary American conventioneers exhausted by trying to find the non-existent bars at the Bouchercon.
That was the start of the beer-based side of our friendship, which over the years saw Colin become a regular guest at the Campaign for Real Ale's Good Beer Festival and a judge for the annual British Guild of Beer Writers' Awards.
Even at designated literary events, we always seemed to find time for a beer. At a Shots On The Page convention in Nottingham, I arranged for Colin to pull the ceremonial first pint in a newly refurbished Home Brewery pub, and on one infamous occasion we were both guests of honour at a Boardroom luncheon in the King & Barnes brewery in Horsham in Sussex. Having the same birthday also prompted a joint party at the Nottingham Bouchercon on 29th September 1995.
But Colin was not only good company in private, over a pint of ale. In public he was (and still is) a wonderfully warm, self-effacing speaker who charms an audience with his natural wit and erudition, dealing politely with even the most inane questions from an audience or interviewer (and inane questions he has been asked many, many times previously).
He has a fund of anecdotes and stories which gave the unwary listener the impression that he was just a simple man of simple pleasures (doing the crossword, visiting the Garden Centre at week-ends, listening to The Archers) for whom this whole 'bestselling author' thing all been a bit of a surprise.
Listening to him speak, an unwitting audience could be forgiven for not realising that this was the same man who generates 1,230.000 hits when his name is Googled (as opposed to 970,000 hits for "Inspector Morse"), and though he may have absolutely no idea of what being Googled involves, this is a man who uses words like boustrophedon 7 in a modern detective story (along with an estimated 11,500 other words in a vocabulary roughly 38 times bigger than that of a tabloid newspaper); who claims his favourite writer is Tacitus 8 (he approves of the short, precise sentences), and who has pioneered the use of "the Oxford comma" in modern grammar.
He has long been an advocate of the poetry of A.E. Houseman and has championed the lesser-known work of Lilian Cooper (1904-1981) from whom he borrowed the title of one of his novels:
Espied the god with gloomy soul
The prize that in the casket lay,
Who came with silent tread and stole
The jewel that was ours away.
He has also, famously, appeared Hitchcock-like in virtually every episode of Inspector Morse, though it did take him until 1993 to get a speaking part and there is supposedly one famous episode from which he is missing after his scene was mistakenly left on the cutting-room floor!
His involvement in the TV adaptations has brought him into contact with virtually the entire British acting establishment from Sir John Gielgud to the crime-writing actor Martyn Waites (who played the Duty Constable in the episode Dead On Time) not to mention debutantes Liz Hurley and Rachel Weitz, at least two Dr Who's and half the regular cast of the Harry Potter movies.
Yet none of these brushes with celebrity seem to have turned his head. He is still someone who will politely direct a lost stranger to the railway station, sign an autograph (always legible, always personalised) and will always buy the first round. (Though he never forgets those who avoid buying a round!)
He is also just about the only crime writer I know who has never bitched or complained about television adaptations of his work. He once told me that his philosophy was: "Books is books, telly is telly." Only he probably put it more grammatically than that.
Fame and fortune seem not to have affected him.
In short, he's a really good bloke.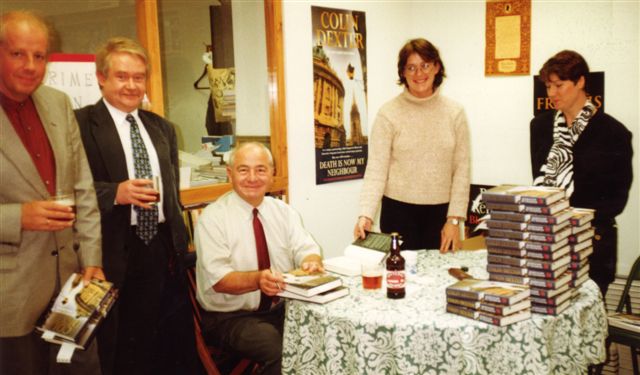 Signing at Crime In Store 1996 with Mike Ripley & Ralph Spurrier
4.
But then I would say that, wouldn't I? Because I think of him as a dear friend.
What larks we have had over the years and not just in pubs.
I was proud to interview him, "Room 101" style at the National Film Theatre some years ago, getting him to list his "Desert Island Hell" when it came to politics, music, art, you name it. I remember the uneasy silence in the theatre when I asked which crime writer really got on his nerves and his answer was Dorothy L. Sayers, whose snobbery he found unforgivable.
Earlier this year I interviewed him again as part of the Essex Book Festival in a double act with the executive producer of Morse, Ted Childs. There was a similar hush in the theatre when I asked why he had "killed off" his hero.
"I did not kill Morse!" thundered the outraged author. "He died of natural causes."
Ironically, since the last Morse novel appeared in 1999, Colin has been busier than ever, constantly in demand as guest speaker and acting as his own secretary answering the piles of fan mail he still gets.
He still finds time for his friends, though, as I can testify.
In 2002 I embarked on a historical thriller set in 1st century AD Roman Britain. By post and telephone, Colin coached me until I managed to remember a few scraps of the Latin I had learned at school, even teaching me Roman military obscenities which I had not encountered thus far in my career as an archaeologist.
When, in early 2003, I suffered a paralysing stroke, Colin's message to the hospital was not only one of the first but possibly the most memorable: "Tell Mike that if I was a religious man, I'd be praying for him; but I'm not, so I won't be."
I determined to finish the book and once again Colin helped to re-teach me the Latin I had forgotten thanks to the stroke and when Boudica and the Lost Roman finally appeared in September 2005, I was able to give him one as a birthday present. He professed to approve of it, despite the fact that one of his Latin jokes had been cut by an unthinking copy editor, something he still does not allow me to forget.
Contrary to popular opinion, though, he did not let me into his greatest secret, that of the missing Christian name – something which kept the nation guessing for 13 years.
He did not need to confide in me for I had, by devious means already discovered that the missing name which so puzzled so many was in fact:
NORMAN.
Why do you look surprised? I thought everybody knew his name was Norman Colin Dexter. What did you think I meant?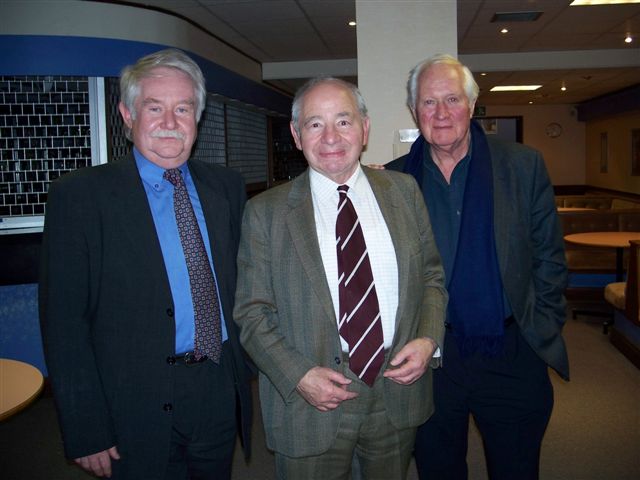 Colin Dexter with Mike Ripley & TV Producer Ted Childs
Epilogue
On a flying visit to Oxford a month ago, my wife and I stopped in for tea at Colin and Dorothy's home and they allowed me to take an 'official' 77th birthday portrait.
Knowing that the worldwide interweb and its mysteries remain an undiscovered country to Colin and that he will never see this, I suppose I could sign off with some cutting remark such about him being "melancholy, sensitive, vulnerable, independent, ungracious and mean-pocketed".
But I simply don't have it in me and anyway, that was how he once described Inspector Morse, so I would only be quoting him. I am not, of course, above doing that when it comes to the covers of my own books.
He once gave me a splendid quote for my "Angel" series: The outrageous, rip-roarious Mr Ripley is an abiding delight.
He followed this up with a note which read: "If anyone tells you that 'rip-roarious' is not a word, tell them Colin Dexter says it is now."
Happy birthday to us, Colin, happy birthday to us.
<![if !supportEndnotes]>

---
<![endif]>

<![if !supportFootnotes]> [1]<![endif]> (Latin) "Mess mate" or old army pal.

<![if !supportFootnotes]> [2]<![endif]> COLIN (L=left with 'coin' (penny) around it. DEXTER is Latin for 'right'.

<![if !supportFootnotes]> [3]<![endif]> It was a "Miss Silver" story by Patricia Wentworth.

<![if !supportFootnotes]> [4]<![endif]> It was Elizabeth Walter, the editor who discovered Lovejoy, and Angel!

<![if !supportFootnotes]> [5]<![endif]> £1,897,500.

<![if !supportFootnotes]> [6]<![endif]> The late Ian Richardson was a front-runner.

<![if !supportFootnotes]> [7]<![endif]> Meaning to sweep from side to side. From the Greek, bou-strophous meaning "ox-turning" (as when ploughing).

<![if !supportFootnotes]> [8]<![endif]> Publius Cornelius Tactitus, Roman historian (AD 56 to 120)