While catching up with my to-be-read pile in Ireland, I had the privilege to read the latest thriller from the award winning and prolific Irish writer Ken Bruen, whose latest - the 6th Jack Taylor PI novel 'Cross' is due for publication in April 2007 from Transworld Publishing [UK]. While in the US his novel 'American Skin' has been released to great acclaim as have several of his other recent releases such as the collaboration with Jason Starr's 'Bust', from Hardcase crime, 'Dublin Noir', 'Calibre' - I could go on and on, such is the massive output from this gentle Irishman. If you wonder how such a gentle and highly educated man could write such dark and disturbing tales, perhaps I should lead you to some articles that could shed some light into the Noir. Bruen would probably like to forget some of these dark memories, but they played a major part in making him the melancholic and dark writer he is today, and indicate how his dark wit makes his work accessible despite the pitch-black subject matter.
The stark truth is that Bruen began writing novels - focusing on what his wife calls 'the stabbing books' - as a cathartic therapy, expunging the nightmares that had haunted him since he was wrongly imprisoned and tortured for four months in Brazil. In 1979, Bruen accepted a teaching post in Rio de Janeiro, but soon after his arrival he was arrested, along with four other Europeans, after a fight broke out in a bar.
'The first night the jailors put my head in a bucket of excrement, just to wake me up. The second night they came for the rape sessions. There's not enough alcohol or Valium in the world to wipe out those memories, and there's the odd night when I'm back in the cell,' Bruen says. 'After a couple of sessions I went into a kind of catatonia and they gave up on me. I was six stone when I came out, very traumatised, and they put me on a plane to London. I tried to keep in contact with the four other guys. But I'm the only one still functioning: two are dead and two are missing.'
After his release, Bruen based himself in Brixton, where he started work on his first novel, 'Funerals', about an Irish boy who attends funerals as if they were football matches. It was published within a year of his return, and he resumed teaching at a school for marginalized children. Three more 'mad, tormented books' followed before he embarked on all-out crime fiction with the White Trilogy, three blackly-comic books about two near-psychotic policemen in Brixton, a kind of anti-Morse world that Channel 4 has optioned as a two-part series. After his release, Bruen based himself in Brixton, where he started work on his first novel, Funerals, about an Irish boy who attends funerals as if they were football matches. It was published within a year of his return, and he resumed teaching at a school for marginalized children. Three more "mad, tormented books" followed before he embarked on all-out crime fiction with the White Trilogy, three blackly comic books about two near-psychotic policemen in Brixton, a kind of anti-Morse world that Channel 4 has optioned as a two-part series.
The edgy, pitch-black humour in all of Bruen's crime novels springs, he is convinced, from a combination of his Irish background and the dark days of his imprisonment. 'What saved me was what they call the bad drop in Ireland,' he says. 'The little drop of bad blood in you that kicks in when you are up against the wall. I didn't know I had it. I seriously considered suicide after I came back from Brazil, but something in me said, "If I do that, those fuckers have won." So I decided to write books, just to prove to myself that I was still alive if nothing else.' Read More about Bruen's past from the Guardian.
I have to first thank novelist Donna Moore who championed 'The Guards' by Bruen - bringing the debut of troubled Irish P.I. Jack Taylor to my attention. I was in Ireland in the summer of 2002 and read an article he penned about his relationship with his young daughter Grace in the Irish Times. It was a very moving piece and my first viewing of Bruen's writing. Shortly after I purchased 'The Guards' and read it in a matter of hours such was the beauty of Bruen's words. The following year at Bouchercon 2003 [Las Vegas] I had the fortunate pleasure of meeting Ken in the flesh at the St Martins Party. A friendship soon flowered between us and that night we clinked glasses. One of the many memorable events in Las Vegas was a night of very serious drinking at The Peppermill with Ken Bruen, Chris Mooney, Eddie Muller and many others. This led to Bruen and I meeting up the following day for a 'pub-crawl' along the Las Vegas strip which culminated in us being questioned and detained by Casino Security and incurring liver damage.
I soon tracked down Bruen's backlist and then interviewed him about his work.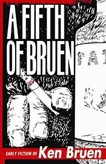 I noticed that Bruen's early work has been collected by Busted Flush Press and released as 'A Fifthof Bruen'. But it has always been his Jack Taylor P.I. series that has struck a particular resonance in me. I guess it has something to do with me spending so much time in Ireland over the years, as I have family there, but perhaps also the way Bruen maps the changes in Ireland which forms a backdrop to this award-winning series is the real reason. Last year Bruen moved from Jim Driver's independent The Do-Not-Press and Pete Ayrton's Serpent's Tail to Transworld Publishing [a division of Random House] taking with him the Troubled Irish P.I. Jack Taylor. The first release from Transworld was 'Priest', a timely investigation cast behind the backdrop of the Roman Catholic Church. This was a dark and moving story and the fifth in the series. The previous being 'The Guards' (2001), 'The Killing of the Tinkers' (2002), 'The Magdalen Martyrs' (2003) and 'The Dramatist' (2004).
Ken Bruen is a larger than life figure within the crime writing genre and knows his Glock from his Jameson - critic and writer Craig McDonald described Bruen as: If you're Irish author Ken Bruen, you immerse yourself in philosophical researches and cool down with American crime novels - the classics and the best of the new crop…Crumley, Pelecanos, Lehane, Mosley, Ellroy and Daniel Woodrell. After penning several mainstream novels that garnered good reviews, but not enough readers, you try your hand at your own crime novel and catch a wave, eventually emerging as the undisputed King (and probably creator) of "Irish noir." You're a stylist - terse and staccato as Ellroy but more sardonic."Read more from the interview exchange" between Bruen and McDonald, and incidentally McDonald appears as a minor character in 'Cross'.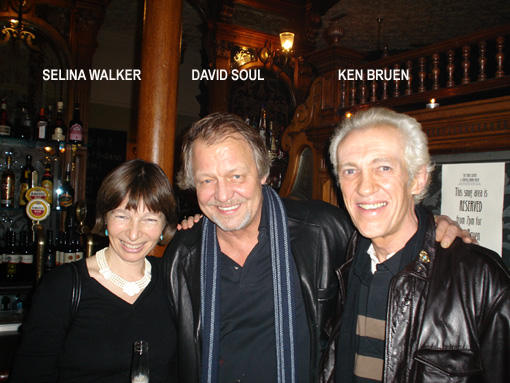 Selina Walker, a Publishing Director at Transworld, organised a launch party in North London last January and many of the mystery community, including actor and friend of Bruen David Soul, congregated to drink Guinness and Bushmills to celebrate Bruen's latest release - 'Priest'. One of Bruen's strengths is his continual championing of new writers because he is an avid reader himself. It was Bruen who first brought to my attention Nick Stone's debut 'Mr Clarinet' which later went on to win the 2006 CWA Ian Fleming Steel Dagger Award. Bruen even wrote about Stone's debut in the special CADS #50 supplement.
Ken Bruen's editor Selina Walker is a big figure within the genre and is often writing on the crime / thriller genre, such as this article about Bouchercon Chicago. For an English editor more used to the staid gentility of the Edinburgh Book Festival, it was awesome. The degree of enthusiasm for UK crime writers was palpable. Ken Bruen and Simon Kernick, an author in the ascendant, were surrounded by fans. Mark Billingham and John Connolly's panel on what annoys them most in fiction was sold out, while Connolly's rant on what he'd like to do to the detective cat who solves crimes was memorable but unprintable, as well as a piece she published in The Times Selina's enthusiasm for the genre is evident from this article published on the eve of the Harrogate Crime Writing Festival last summer: "As successful crime writers know, the genre is one of the most lucrative areas of publishing, accounting for just over 30 per cent of the total fiction market in 2005 (compared with 5 per cent share for romance and sagas, and 8 per cent for sci-fi and fantasy). According to a recent survey by Bookmarketing Ltd, Britons bought 20 million crime novels in 2005, spending £130 million. And they are loyal: half of those purchases are prompted by having read novels by the same author or in the same series. Publishers know that once a crime writer breaks into the bestseller lists, their backlists will enjoy a matching rise in popularity" - Read More.
'Cross' starts right where 'Priest' left off, where P I Jack Taylor is still seeking redemption from the death of a child that fell from a Balcony and the case of the decapitated priest who had the shadow of child abuse hanging over him. The wonderfully terse writing style of Bruen means that even if you've not read the preceding novels in the series, it's what the Irish would call 'No Bother', because you're thrown right slap-bang into the story. Taylor is mooching around his haunts, the bars of Galway city, buying drinks, suffusing himself with the aroma of alcohol and the atmosphere of the pubs, but not letting himself drift back into the grip that alcohol had on his life. Ridge, his old friend from the Garda [aka Guards / Irish Police] tells him that a young boy has been found crucified, while another contact wants to hire him to track down a missing dog. Stark contrast is always a fixture in this P.I.'s life.
Taylor is at a crossroads. The city he called home - Galway is changing fast, like the rest of Ireland. No longer is it a sleepy backwater in Europe but now a bustling gateway, where the tiger-economy, finance, property speculation has transformed completely what was home for Taylor. An influx of immigrants from all over the world is making Irish society bristle from what was a land where people fled to survive; now the Irish see strangers come to their shores to share in the new found wealth. And as a consequence to the changes comes crime in the most brutal of all guises. Bruen's writing has a beguiling quality, written in very intimate first person, we get inside the mind of Taylor and his thoughts. I must admit at the scenes that he describes like walking into the pub and ordering a pint of Guinness and a shot of Irish whiskey made me do the exact same act. While Taylor leaves his drinks on the bar, I had to sip mine while I read Bruen's words. Meanwhile Cody - the kid Taylor considers his surrogate son lies in a hospital ward in a coma, and all the while we peer into Taylor's existential thoughts about life, death and what the word humanity means. I can tell you that happiness is not something that crosses Taylor's path because as he tackles these cases which take over his life, a dark shadow is cast over Taylor's friends. If you like your crime thrillers to challenge the way you think, Bruen's your man.
And if you are still waiting for this disturbing novel to cross your path, why not read one of Bruen's short stories available online at Hardluck Stories - click here for 'To have and to hold'.