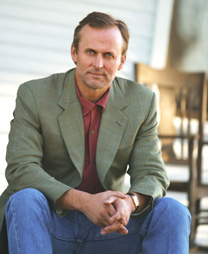 It took me to Ada, Oklahoma many times, to the courthouse and jail and coffee shops around town, to both the old death row and the new one at McAlester, to Asher, where I sat in the bleachers for two hours and talked baseball with Murl Bowen, to the offices of the Innocence Project in New York, to a café in Seminole where I had lunch with Judge Frank Seay, to Yankee Stadium, to the prison in Lexington where I spent time with Tommy Ward, and to Norman, my base, where I hung out with Mark Barrett and talked about the story for hours.
With every visit and every conversation, the story took a different twist. I could've written five thousand pages.
The journey also exposed me to the world of wrongful convictions, something that I, even as a former lawyer, had never spent much time thinking about. This is not a problem peculiar to Oklahoma, far from it. Wrongful convictions occur every month in every state in this country, and the reasons are all varied and all the same—bad police work, junk science, faulty eyewitness identifications, bad defense lawyers, lazy prosecutors, arrogant prosecutors.
John Grisham has flown to the UK from his home in Mississippi on his own private jet to talk for an hour about the terrible miscarriage of justice he chronicles in his first non-fiction work, "The Innocent Man". Then he's going to go on his hols in the Cotswolds.
The venue for his talk is, appropriately, a hanger-sized conference centre on the racecourse at Cheltenham. He is one of the highlights of the first weekend of the Cheltenham Literature Festival – other big-hitters over Saturday and Sunday include Bob Geldof, Gordon Brown and Rupert Everett.
The Innocent Man concerns a murder in Ada, Oklahoma of which two men were falsely accused. One only escaped execution because of DNA evidence that was produced five days before the date of execution. Grisham, a long-time opponent of the death penalty, got hooked on the story when he read the man's obituary.
I can't remember the last time Grisham came to the UK so I'm surprised the venue isn't totally packed. It is pretty full – probably 1,000 people gathered to hear him talk about his new book (for rather a long time) and other aspects of his writing career.
He's a handsome man. His dress sense doesn't seem to have changed much in all the years I've been looking at his back-cover photos: khaki linen jacket, open-necked shirt, t-shirt underneath, dark trousers, casual shoes. He's got a real Southern twang (he was born in Arkansas) and a polite manner with a deadpan sense of humour.
When a student in the audience prefaces his question by remarking that he has bought all Grisham's novels and passed them along to his friends, Grisham jokes that he should not lend his friends books. "Encourage them to buy their own."
Grisham is relaxed and thoughtful on stage - and frank when he's asked a difficult question. A lawyer in the audience (there are a number of them) asks whether he would still be against capital punishment if his daughter were brutally raped and murdered.
"I don't know how to answer that question," he says, after a silence. "I don't know what I would feel."
Someone else asks if he would consider taking political office to argue the case against capital punishment and his answer perhaps gives an insight into why he so rarely appears at festivals. (Aside from the fact he's so rich he doesn't need to promote his books.)
He reminds us that he was elected to the state legislature in 1983 and served there until 1990.
"I couldn't stand the job," he says. "I didn't like the people who voted for me. They felt they had a right to a part of me. Now, I can't imagine anything worse."
Besides, he continues, he isn't a crusader.
"I just hope the book will make you ponder. The fact is that I've dealt with a range of issues in each of my books – the death sentence, racism, Big Tobacco – and every time I'm asked to appear on hundreds of platforms. But I'm always eager to get on with the next book, not dwell on the last one."
In fact, he can't wait to get rid of the book he's just finished.
"Usually when I finish a novel I'm really sick of these people. The guy in The Chamber? I couldn't wait for him to be executed."
His wife is his first editor and severest critic.
"She reads the first draft. If I can survive her editing I'm in pretty good shape. The biggest insult is if she says a scene is really dragging. I'm always conscious of how quickly readers are turning the pages. I'm always conscious of pacing, of how long to make the chapters, how to start and end them."
He wanted The Innocent Man to be a page-turner so he approached it in the same way as his fiction. "Although when I read the obituary I said 'I can't top that'."
He hopes for a strong reaction from his readers.
"If you don't throw this book across the room at least three times I'll be disappointed. And it's okay if doing that spoils it – go buy another one."
Years ago he got into the rhythm of publishing a novel every February. However, this story, and the research and writing of it, took eighteen months.
"Non-fiction is too much like hard work. I'm not used to that. Fact-checking and accuracy is not something I'm used to. I take Mark Twain's approach in my fiction: in one novel he moved an entire state and nobody knew the difference."
He has regular writing habits, though he doesn't write every day as he used to claim to do. "I write in the same place every day. I have a 14 year old computer that is just about to give out and then I don't know what I'm going to do."
When he was a practicing lawyer, working 60-70 hour weeks, he used to get up at 5am to write his novels for a couple of hours before work – the first, A Time To Kill, took three years to complete. Now he gets up at six am and regards the hours between seven and nine as the best time to write.
"For me three to five pages is a great day. At the very end of a novel, when I'm nearly at my deadline, I do seven to nine pages five days a week."
He has never had writer's block. "I have the opposite problem – I have a hard time working slow."
When asked which book defines him, he answers:
"Probably Painted House because it doesn't feature a single lawyer and it's autobiographical. Other than that, Time To Kill and The Rainmaker because at the time I wrote them I too was a struggling lawyer."
Perhaps surprisingly, his favourite author is John Le Carre.
"It's inspiring that at 74 he's still writing great stuff. I hope I can do that."
So do we all.