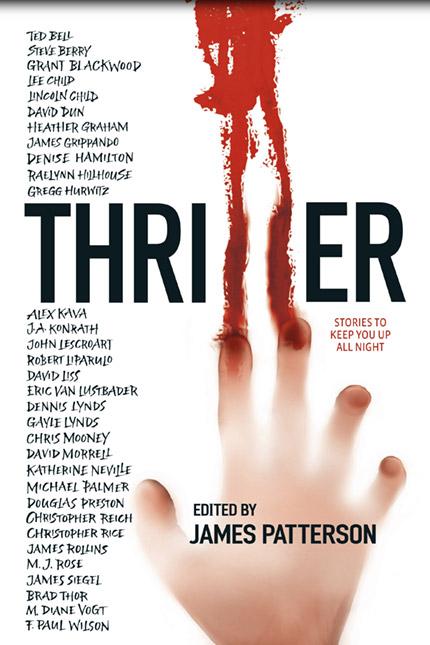 You might have noticed that the Shots team have decided to change our name to SHOTS : The Crime and Thriller Ezine – Why?
Because 'The Thriller' – as novels, short stories and films – is having a huge renaissance and we will be focusing on thrillers in all their various guises from techno, SF, crime, romance, detective, legal, horror, espionage et al, as well as our usual coverage of crime and mystery fiction.
You may well ask "What is a thriller?"I think this article may well help understand more about this genre: http://www.thrillerwriters.org/index.php
Mike Stotter and I have been big followers of espionage thriller fiction for many years and are pleased to report that this sub-genre is very healthy with many great novels appearing. In fact many thought that when the Cold War ended with the break-up of the former USSR, the espionage thriller had had its day. But the reality is that it is thriving because even in the New World Order, there are still threats to our way of life, and protecting us from these threats are the men and women of our intelligence community. The espionage thriller has invaded children's literature too, with Charlie Higson writing the Young Bond series, and James Patterson's Maximum Ride books as well as many others following this trend.
Evidence of this resurgence is apparent in the new awards that have sprung up to reflect the new interest in thrillers and the espionage sub-genre. Firstly the Crime Writers Association [CWA], in conjunction with Ian Fleming publications, started a dedicated award to this sub-genre [first awarded in 2002] – the Ian Fleming Steel Dagger. More information at: http://www.thecwa.co.uk/daggers/index.html#steel
Then following the formation of the International Thriller Writers Inc [ITW] a new series of awards reflecting the thriller were announced last year, with the first shortlists being announced at Left Coast Crime in Bristol earlier this year. The winners are to be announced at Thrillerfest in Phoenix at the end of June. More information about these awards are available: http://www.thrillerwriters.org/awards.html
http://www.thrillerwriters.org/thrillerfest/awards.html
George Easter's excellent Deadly Pleasures magazine has decided also to award a thriller category in its annual Barry Awards which are announced at Bouchercon. A great deal of work by long-time thriller aficionado Larry Gandle has gone to setting up this important award. More information about the Barry Awards is available: http://www.deadlypleasures.com/Barry.htm
http://www.deadlypleasures.com/NEWS.htm
Even the LA Times got into the act this year by awarding the Cold War espionage writer Robert Littell's fourteenth novel Legends its Mystery/Thriller award. I was fortunate to meet up with Robert Littell and published an exclusive interview at January Magazine http://www.januarymagazine.com/profiles/littell.html
So what is new in the thriller world?
A new development in the thriller genre is the first publication [anywhere] of an anthology dedicated to thrillers! With a most apt title from MIRA Publishing and the International Thriller Writers Inc. – Thriller – this exciting new collection is being published both in the US and the UK by MIRA Publishing.
More information about this new book is available from: http://www.thrillerbook.com/
What do the critics think of this new collection?
Undoubtedly the greatest gathering of genre authors in one volume, Thriller is an unprecedented, adrenaline-inducing masterwork — Paul Goat Allen [B&N's Explorations and Ransom Notes Editor]
Outstanding anthology....Lovers of crime fiction in general and well-told action tales in particular will be well rewarded — Publishers Weekly Starred Review
The best of the best storytellers in the business. Thriller has no equal. Action, intrigue, and entertainment at the highest level. Adventure on a grand scale you won't forget — Clive Cussler
Breathless, explosive, exhilarating. The perfect combination of spine-tingling and heart-pounding suspense. Keep your night light on for this one — Sandra Brown
Thriller is like a box of the best chocolates — bite-sized, delicious, and totally addictive. A collection of stories by some of the best writers in the thriller business — what's not to love — Joe Finder
Thriller is entertaining, fast-paced, and just plain fun. It will take you to the most terrifying heights of suspense — Tess Gerritsen
Intrigue and suspense merge in this electrifying collection from an all-star lineup. Thirty stories at 300 miles-per-hour. Prepare to be thrilled from start to finish — Vince Flynn
Thriller will be a classic. This first-ever collection of thriller stories, from the best in the business, has it all. The quality blew me away — Greg Iles
I think you'll agree that this book looks rather exciting and if you're looking for a first edition, I'd order one quick.
What's new in espionage thrillers?
You all know that Mike and I are both devotees of spy thrillers so we thought you'd like to know about two new spy thrillers that should deliver those deadly thrills for devotees of the sub-genre this summer.
And we're really happy to provide you all with a sneak look at both books with a sample chapter [after which I guarantee you'll be heading to your bookstore].
Gayle Lynds – THE LAST SPYMASTER
If you've never read Gayle Lynds, you've missed out on one of the definitive espionage writers working today. I was fortunate to have interviewed her in 2003 and the piece is a fascinating insight into her world of covert operations.
http://archive.shotsmag.co.uk/shots22/intvus_22/lynds1.html
More information on Gayle Lynds is available from www.gaylelynds.com
What's been said about The Last Spymaster?
The Last Spymaster appeals directly to Americans' appetite to know more – a thrilling behind-the-scenes tale showing how a would-be spy is trained in the field under the stern discipline of a great spymaster while at the same time having to face the hard truths of espionage's inherent moral ambiguity, personal costs, and sacrifices as well as the remarkable courage and triumphs of those who seek to do good and are dedicated to serving the country.
Legendary spymaster Jay Tice has vanished from the fortress-like Allenwood Federal Correctional Complex in Pennsylvania. A Cold War icon in world intelligence, Tice was the powerful chief of the CIA's elite clandestine services at the time of his arrest. Convicted of selling secrets that seriously compromised US security, Tice has been serving a life sentence at the maximum security prison – until one dawn the guards find his locked cell empty.
Elaine Cunningham, a top CIA hunter, is assigned to track him down. But as she probes the spymaster's disappearance, she's caught up in a vortex of lies and violence. After narrowly escaping a massacre, Cunningham discovers Tice is now hunting her.
In a stunning reversal, she soon learns much more is at stake than the escape of a traitor – because lurking in the shadows of covert agencies, illegal weapons traders, secret information dealers, and cover-ups are conspiracies far more dangerous than even Tice's crimes.
The Last Spymaster is a relentless global espionage thriller featuring cutting-edge "smart" technology and little-known insider details of the clandestine life. Immensely entertaining, it easily reaffirms Lynds as a leading master of the international spy novel.
The Last Spymaster has fascinating characters, nerve-tingling pace, and a great story. It reminds me of Robert Ludlum at his very best. I promise it will keep you turning the pages well into the night. This latest effort cements Gayle Lynds' reputation as one of the premier espionage authors of our time.
-Vince Flynn
Barry Eisler - THE LAST ASSASSIN
I have known Barry's work since his debut in 2003, and find his series featuring Japanese/American assassin John Rain compelling and one of the best espionage series today; made even more compelling by knowing that Eisler is a former CIA operative.
What is Eisler's The Last Assassin about?
When John Rain, the "contract killer with a conscience," (Entertainment Weekly) learns that his former lover, Midori, has been raising their child in New York, Rain senses a chance for reconciliation, perhaps even for redemption. But Midori and the child are being watched by Rain's enemies, and Rain's sudden appearance puts them in terrible danger. To save them, Rain is forced to use the same deadly talents he had been hoping to leave behind. With the help of Tatsu, his friend and nemesis in the Japanese FBI, and Dox, the ex-marine sniper whose good ol' boy persona masks a killer as deadly as Rain himself, Rain races against time to bring his enemies into the open and eliminate them forever. But to finish the job, he'll need one more ally: Israeli intelligence agent Delilah, a woman for whom Rain's hopes with Midori represent an altogether different kind of threat.
Even for an average citizen, a love triangle is dangerous business. For assassin John Rain—"one of the most compelling lead characters in the genre" (USA Today)—it's going to be downright deadly.
Barry Eisler has been compared to Forsythe, Ludlum, Fleming, le Carré and Graham Greene. But his latest thriller brings Eisler into a league of his own.

So why not read the first chapter? Click here
More information on the work of Barry Eisler is available from www.barryeisler.com and he has a fascinating blog focusing on the political dimension of espionage: www.barryeisler.com/blog.html
What do the critics think of Barry Eisler's The Last Assassin?
...combat scenes full of lovingly detailed descriptions of knives, guns and other martial paraphernalia. Amid the threats to life, limb and loved ones, Rain finds time to enjoy good food, better whiskey and even better sex. —Publishers Weekly
And SHOTS' Fiction Editor loved it!
If there's one overriding theme in the fifth installment of this series, it's that John Rain is seriously getting a sensitive side. But when there's a new child to protect, old and new loves to keep close or hold at a distance, and welcome humor in the form of his sidekick Dox, then it's perfectly understandable, and definitely most welcome. Read this because it's everything a thriller should be, but don't be surprised if it stays with you longer than you might expect. —Sarah Weinman
I trust you enjoyed this special feature and I hope you investigate the world of the thriller, and when you get hooked to the adrenaline surge that these books create, why not have a look at what the International Thriller Writers Inc [ITW] are doing: www.thrillerwriters.org
What is the ITW?
Founded in October 2004 at a meeting called by Gayle Lynds and David Morrell at the Bouchercon World Suspense Conference, ITW has grown quickly into an industry force. It boasts a Who's Who of more than 300 thriller authors, many of whom are New York Times bestsellers. Their worldwide sales exceed an amazing 1.6 billion books. The association's first anthology, Thriller, which Lynds conceived, was published May 30, followed immediately by The Last Spymaster, and then by the world's first international thriller convention, ITW's ThrillerFest in June 2006.