A writer who I have followed since his blistering debut ['Outside the White Lines'], is the softly spoken Chris Simms. Simms has a fevered pitch-black imagination and I managed to down a few beers with him at various events. Simms followed up his debut with the wicked tale of battery chickens and serial killing 'Pecking Order' but hit his stride when he joined the Orion stable. The first of his DI Spicer police procedurals set in Manchester was released last year to great acclaim 'Killing the Beasts' and coming shortly is the follow-up 'Shifting Skin', so I decided to ask Chris to tell us a little about DI Spicer and what we have in store for us with his latest work – Ali Karim
It was during my day job of writing advertising copy that I learned cosmetic procedures are now one of the most common reasons why women approach their bank for a personal loan. It's an interesting statistic when you think about it. Up until recently the main reason people borrowed money was for a domestic face-lift of some sort – 'a fitted kitchen, a spacious conservatory or a snug attic bedroom,' to quote the leaflet. Now it's for facial transformations – blepharoplasties (eye bag removal), rhinoplasties (nose jobs), rhytidectomies (facelifts) - not to mention liposculpture, collagen resurfacing and breast augmentation.
You can draw many conclusions from the West's ever-growing need for cosmetic procedures. Practitioners in the industry – and it's now worth well in excess of £200 million a year in Britain alone – will have you believe it's just a natural extension of enhancing your looks by applying make-up. Others see it as an unhealthy symptom of a modern-day obsession with surface appearances, the need to look youthful, whatever your age. I saw it as a great opportunity to explore the risky and costly business of changing your appearance by means of the knife.
The novel opens with my lead character, DI Jon Spicer, decorating the nursery of the home he shares with his partner Alice. Despite his efforts not to, he's dwelling on his latest case: 'The Butcher of Bellevue'. 'The Butcher' has just claimed his second victim. Like the first, she has been partially skinned and dumped on waste ground, her muscles, tendons and ligaments exposed to view. As Jon spoons a dollop of red emulsion into the paint tray, images of the autopsy flood his mind. The case is getting under his skin.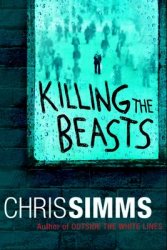 Then a third victim is discovered only this time her entire face has been removed. The hunt begins for someone with surgical skills. However, cosmetic medicine is a rapidly growing, poorly regulated industry. Medical schools are churning out practitioners who are skilled at wielding scalpels. It soon transpires the list of potential suspects is huge.
The case appears to get its first breakthrough when Jon finds a blood- spattered latex glove in the vicinity of the third victim. When it is discovered that the sales rep for the glove manufacturer has been reported missing only that morning, it seems that the case is close to being cracked.
But Jon is soon diverted into a new, more sinister avenue of investigation. One of his wife Alice's colleagues, a woman called Fiona Wilson, approaches him insisting she heard 'The Butcher' claiming his third victim in the neighbouring room of a seedy motel in Belle Vue. But all she has to back up her story is a business card she recovered from the empty room the next morning. It is from a local escort agency and the name 'Alexia' has been scrawled on the back.
The revelation raises as many questions about Fiona as it does about the wider investigation. What was she doing in a motel openly trading as a brothel? How has she suffered the cuts and bruises to her face? Jon's enquiries take him into the twilight world of Manchester's escort agencies and the unscrupulous end of the cosmetic surgery industry - ultimately forcing him to confront the propensity for violence inside every man, including himself.
I mentioned at the start of the article how, until recently, people most often borrowed money to improve their home. Of course, it's not just a room that can undergo a face-lift. Entire buildings, neighbourhoods and even cities can go through the same process. Manchester, where my novels are set, is a spectacular example of this. The process was, literally, sparked by the IRA bomb of '96. By flattening a large chunk of a very run down city centre, the explosion created the need for an enormous rebuilding project. Then the city was awarded the 2002 Commonwealth Games and the process stepped up again.
But, despite its attempts to reinvent itself, many areas on the edge of the city's shining new centre remain neglected. The subjects of Lowry's paintings – mills, warehouses, and factories – loom large and abandoned within a stone's throw of slick new Urban Splash developments. It makes Manchester the ideal backdrop for a story that's all about outer appearances.
More than that, the city serves as a useful metaphor for some of Shifting Skin's more unsettling characters, people who use clean and respectable exteriors to mask dark and violent desires. It's the perfect environment for DI Spicer to delve into the ugly side of man.
© 2006 Chris Simms