I love the way paths cross in this life; especially as many of our paths are virtual ones linked by computers and continents. Last year the American Thriller Writer Anne Frasier and I worked hard with our colleagues at the ITW [More information available from www.thrillerwriters.org] on the inaugural Thriller Awards. It was a very tough beat, judging a huge selection of submissions, with James Siegel and our Chair Alex Kava. During this period, I decided to have a read of Anne's latest thriller Pale Immortal - as it was garnering excellent pre-publication reviews. I asked Anne if she'd let Shots readers know a little about this book, and I am delighted to present this insight into the dark world of Anne Fraser - After reading this piece, grab a copy of the newly released Pale Immortal; then lock the doors securely, put the phone off the hook, order some garlic and wooden crosses and wrap up tight because you will be chilled
Ali Karim
Pale Immortal contains elements of a book I've wanted to write for several years. It's actually a combination of a couple of old proposals, along with a slight shift in focus. Even though it deals with fantasy and the supernatural, I wanted to make the story real when I could make it real. That was very important to me. The core story is a story of abuse and abandonment, loss and regret. It's about the love of a father for a child. The father just happens to have this strange disease. And he might or might not be a vampire, living in a town that might or might not exist. The book went through a couple of revisions, but in the end I decided the new material wasn't working, so I locked myself away and went back to my original version, vision, and concept. Often first ideas are best.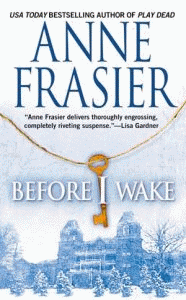 Evan Stroud is allergic to sunlight. His disease isolates him, and isolation is something most of us have dealt with in our lives. Evan is the ultimate outsider, yearning for answers he will never find and a life he can never have. And possibly a love he can never have.
Many of the main characters are trapped by circumstance - a recurring theme in Pale Immortal, and I think something many people have faced. The weight of responsibility. Do you turn your back on the people you love in order to have a different life, the promise of a better life?
This also mirrors the isolation, loss of identity, and sense of displacement that's prevalent in society today. Evan's teenage son figures prominently in the book. I love writing characters who are sixteen. They are so naïve and cocky, innocent and volatile. They think they know everything and approach life that way. They can make you mad and break your heart all at the same time. I have to say that's the easiest age for me to write. Rachel Burton, the town coroner, is forced to return to Tuonela. This ties into the responsibility theme. At first she returns because of an ill parent. Then she didn't want to leave her father by himself. Then the town needed her. But of course deep down the town was calling to her. I've experienced this pull with my own hometown. Something is always calling me back, and I have to fight it because I don't think it's a good place for me. But it's always there, and I sometimes wonder if I should just quit fighting and move back. I think many of us long for the roots and heritage of a quaint town and a life that doesn't exist. And of course with Rachel we have to think that subconsciously she also stayed because of Evan.
Speaking of Evan…. Is he human? That's definitely the big question. Or is he just a victim of subliminal persuasion? Of myth and superstition? Of paranoia? Or is something more going on? nd about that author's note… I wanted people to wonder about it. I wanted them to get up, walk to the bookshelf, and pull out a map to see if they could find Tuonela. I wanted to take the story outside the book and into the reader's own life. That has been a big part of this journey -- adding layers outside the pages.
© 2006 Anne Frasier
Pale Immortal is published by Onyx Books (5 Sep 2006) ISBN: 0451412249
Watch the Pale Immortal video at Youtube : http://www.youtube.com/watch?v=qN8TgpyFqlU&eurl=
Additional information available from http://paleimmortal.blogspot.com/ - Here you'll find the Pale Immortal music video, author introduction, chapters one and two of the uncorrected Pale Immortal page proofs, visual images, mp3s, an iTunes soundtrack specifically created for Pale Immortal, and text to spark the imagination.
www.annefrasier.com -Discover more about her work as well as her regular Blog 'Static'