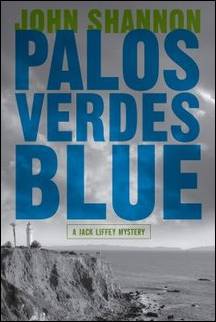 PALOS VERDES BLUE
by John Shannon

Pegasus (
USA
) $25.00 ISBN9781605980379
Palos Verdes Blue is John Shannon's eleventh Jack Liffey novel. Liffey is a 'child-finder' in Los Angeles, living a somewhat dysfunctional life with his Latina cop girlfriend, and dealing with his ex-wife and his rebellious teenage daughter. Jack once worked in the aerospace industry, but lost his job in the inevitable cutbacks, and, we intuit, his suburban world collapsed as a result. Now his ex has a friend whose daughter has gone missing, and she wants Jack to help. What he discovers his the girl, known as Blue, was a do-gooder, trying to save butterflies (the title refers to a butterfly) and help Mexican workers, illegal immigrants, living in shanties hidden on hillsides.

The concerns of the novel are mostly about community. Blue may have been caught in the turf war between the Bayboys, rich kids who surf the best beach in Palos Verdes, and the illegals; there are Aryan brotherhood type gangs involved too. As he investigates, Jack becomes involved with a precocious Mexican teenager, on the run from his home, who actually wants to surf, and his daughter, who seems to use an urge to help his investigations to distract her from her own problems, similarly befriends one of the Aryan surfers, who's discovered he's HIV positive. The story is richly layered, and the search for the missing girl is really just a catalyst for Shannon's careful examination of the layers of class-distinction that permeate his part of California. Shannon, like Liffey, comes from San Pedro, and that town's working class roots are in the background of this story, and a more important part of some of his other Liffey novels.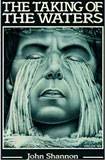 None of which have been published here, although they're published by Pegasus, part of Norton, in the States. Shannon has also written three 'mainstream' novels, two in the 1970s, and Taking Of The Waters (1994), published by a small press, which was a generation saga of a left-wing family. I'd be very interested in reading it, in light of the concerns noted above, and it's also interesting because the only one of his books to appear in the UK seems to be the spy thriller, Broken Codes (1986) published by the estimable left-wing Pluto Press.

Shannon lists Raymond Chandler, Robert Stone, and Jim Harrison as his influences; the Chandler is obvious, and comes through strongest in Palos Verdes Blue in the scenes where Liffey enters the gated communities of the rich and feels out of place. His descriptions of the hollowness of the material world echo Chandler's famous views of LA. I'd imagine you'd see more of Stone in his mainstream work; Courage (1975) is apparently based on his own Peace Corps service in Malawi, and Stone is particularly good on Americans abroad. But Harrison is a very strong influence; Harrison's characters are men trying, with great difficulty, to live up to masculine ideals (think of Legends Of The Fall, his best book, and best-known via the movie), but they, and the author's prose, as rarely as hard-boiled as they ought to be.

My own comparison would be to James Crumley, which at first might sound strange, since Liffey has none of the manic self-destructive energy of Crumley's characters, but again there is that overwhelming sense of a damaged hero, of someone trying to do the right thing, despite the difficulty. Liffey can resist temptation, like Chandler's Marlowe, and unlike Crumley's heroes, but there is a sense in which he moves through this narrative almost as an outsider, whereas Crumley's, and indeed Harrison's protagonists are front and centre.

I say this for two reasons. First, Liffey shares the narrative with his daughter, as she breaks new ground in her coming of age, and she is a more dynamic and sometimes more interesting character. In fact, Liffey himself is at his most interesting not when he is detecting, but when he is trying to deal with his aging and ailing part-coyote dog, Loco. Detectives don't have to be interesting in themselves; my all-time favourite, the Continental Op, is as non-descript as they come and even Marlowe's personality remains backgrounded, but if they are not then the other characters have to be arresting. Which brings me to the second reason I said Liffey is something of an outsider in his own book. Shannon also uses letters to reveal two of the characters; Jaime the Mexican is writing to his sister, not knowing if the letters will get through, and Twitch, the Bayboy being courted by the Aryans, writes to the father who has abandoned his mother and him. As a device, letters can be useful to reveal things that the narrative can't, the back stories of the two boys, one forced to leave, the other forced to stay alone. But the danger is that they violate the golden rule of showing, not telling, and after a while the letters, particularly Jaime's, simply reinforce what we've already seen of the story—we don't need them to reinforce the idea that Liffey is a good guy for a gabacho. I get the feeling Shannon sometimes needs to tell us too cu, and is slightly too forward about it; there are a couple of footnotes in the text, where the author explains things I would rather have the characters or the narrative explain themselves. The letters are being translated by Liffey's daughter Maeve, which implies a continuation of the story; this seems to be a continuous series, but it wasn't difficult to join in progress.

Shannon writes well, and his concerns for the life of working class Americans are very well handled. When he finally brings the elements of this story together, he does create a tight bit of suspense, but the somewhat apocalyptic finale is a bit of an anti-climax. I admire this book for its rendering of its world, but I'll need to see more of Liffey at work before deciding whether the detective holds his series together. Given the quality of this book, that won't be difficult, though it would be easier if a British publisher took some notice!