Focus On
Jo Nesbo
If there is a first division for crime writers who are part of the current Scandinavian boom, Jo Nesbo must surely be at its forefront. There's no template for a hard-boiled Norwegian crime writer, but Nesbo does look a bit like the rock star is also is in his native country, a mix of influences which reflects the cultural openness of a small but intensely literary nation. His novels starring the maverick Oslo police detective Harry Hole, of which five have been published in English, have been incredibly popular in Britain. Possibly this is because they occupy a sort of middle ground between the image of the depressive detective as pioneered by Sweden's Sjowall and Wahloo, and continued by Henning Mankell or Iceland's Arnauldur Indridason, and British variations on the theme, particularly Scots detectives like Ian Rankin's Rebus or his TV cousin, Jim Taggart. But I also see a lot of comparison toMichael Connelly's detective Harry Bosch. Jo was in town in March, to promote The Snowman, the fifth Harry Hole novel published in translation here. It's a book which reminded me very much in tone of John Connolly, so I began by asking about his influences, and if he sees the comparisons...
JN: Actually, I never read much crime fiction, so I can't really say. I've been catching up the last few years; I didn't set out to be a crime writer, I just wanted to write stories. My biggest influences from English were Dickens, Anthony Burgess, Hemingway and Charles Bukowski.
MC: THAT'S AN ECLECTIC MIX
You think so? And a couple of crime writers, because they were good writers: Jim Thompson, Lawrence Block, James Lee Burke.
THAT'S VERY INTERESTING, BECAUSE I CAN SEE A DIRECT LINK BETWEEN THOMPSON AND BUKOWSKI, WHO COULD HAVE BEEN A THOMPSON CHARACTER, OR MIGHT HAVE LIKED TO BE! AND A LITTLE BIT OF BOOKS LIKE POP. 1280 IN HARRY HOLE
Hole is a very moral character who fails terribly. Morally, though, Harry gets back on his own feet. I just saw Werner Herzog's Bad Lieutenant, which is very hard-edged, but there's a lot of that moral redemption in that.
HAVE YOU SEEN THE ORIGINAL, ABEL FERRARA'S BAD LIEUTENANT, WITH HARVEY KEITEL?
No, this is the first I've heard about it. Is it as hard-edged?
OH YES, AND HOW.
Then I'll have to watch it. (INFORMATION IS EXCHANGED THEN THE INTERVIEW RESUMES) And I was influenced more by film and graphic novels. Frank Miller's comics, The Godfather films, Scarface. But I grew up in the Sixties and Seventies, so when I came to those films I thought of them as old rather than brilliant. The pace is so slow, but still it is so good. When you're young you get bored, and you don't realise that you're seeing the origins of what you love. It's like young people today saying The Beatles are not that interesting. They think Michael Jackson invented rock and roll!
AND YOU SHOULD KNOW BECAUSE YOUR OWN ROCK GROUP, DI DERRE (English translation: That There) WAS BIG?
At our peak we were probably the biggest band in Norway, apart from Ah Ha.
(WE THEN SIDETRACK OVER A LONG DISCUSSION OF A HA'S MAGS, WHO WORKED WITH ME IN OSLO ON A TRACK MEET BEFORE HIS BAND BROKE, AND WHO HAS WORKED WITH NESBO—THEN GET BACK TO DI DERRE)
I still play 50-60 gigs a year. Just me and a bass player, except in summer when the full band gets together to play festivals. It's a hobby now, I do it for fun. My music is sort of folk pop, not Norwegian ethnic folk, a bit of zydeco influence, and the songs are telling stories.
BUT YOU DON'T WORK MUCH MUSIC INTO THE HARRY HOLE NOVELS
Ah playlists! I try to be careful about that. I don't want to be one of those writers all giving you their top fives!
IT'S AN INTERESTING MIX OF INFLUENCES, BUT IT IS REFLECTED IN YOUR BOOKS, A COMBINATION OF BLACK AND WHITE MOVIES AND DICKENSIAN PROSE
Well, I try to create an original image, not ready-made movie stories. Milan Kindera said the novel has the right to exist only to the extent of its being able to do so. I don't know if this is totally true, but I look at books like Cormac McCarthy's No Country For Old Men, which doesn't need adaptation, because it seems to reflect a movie, or the movies, yet it works both ways, as novel and film. You try to use the tools you have, but they come from everywhere. For example, you can let the criminal speak without seeing him, and you do that in movies too, especially in horror movies.
IT MAKES FOR A CLASSIC ANTAGONIST IN THE LATEST HOLE NOVEL IN ENGLISH (AT THIS POINT, NOT HAVING THEN FINISHED THE LATEST HOLE NOVEL, THE SNOWMAN, I GUESS AT WHO THE VILLAIN ULTIMATELY WILL TURN OUT TO BE, BUT JO ISN'T TELLING—IT TURNED OUT I WAS RIGHT) BUT AS USUAL, THE BIG CONFLICT IS BETWEEN HARRY AND THE POLICE BUREAUCRACY
Well, everyone is in conflict, and that's where suspense is. The criminal versus the police, and the conflict within the police—not just whether the crimes will be 'solved' but in what WAY they will be solved, what compromises will be made. How much is the hero willing to pay to get the job done? It's the struggle within himself which is almost always of more interest than the struggle against the villain. It has to do with salvation, will the hero get his salvation in. That's why we're interested in The Bad Lieutenant, will he do the right thing in the end? And then there's a third level, which is that personal conflict, especially in the work place, are something anyone can relate to. The work place is unique in that it's where colleagues both cooperate and compete.
IT'S WHAT MADE TOM WELLER SUCH A COMPELLING ADVERSARY FOR HARRY
Exactly. Many readers say they miss him.
ODDLY, YOUR BOOK HAVE BEEN PUBLISHED OUT OF SEQUENCE IN THEIR ENGLISH TRANSLATIONS.
This is the only place that happened. Devil's Star was the book they'd read in the UK, and they liked it, and were sure it would be well received, so they started with that. We didn't offer them the first two novels, partly because the quality of Devil's Star was higher, but mostly because the first one is set in Australia...
AND REFERENCED IN THE LATER BOOKS
Yes, but it's less about the serial killer and more about seeing Australia through the eyes of a Norwegian. And the second is in Bangkok. Because I wanted more to look at Norwegian society, and because that's probably of more interest than Hole's perceptions of Australia, we started in English in the middle. The Redbreast was a bit heavier, maybe not such a good place to start, so that was the second book, and they've gone in order from there.
AND WE'LL LOOK FORWARD TO THE NEXT ONE!
Thanks.
THE HARRY HOLE NOVELS
1. Bat Man (1997)
2. The Cockroaches (1998)
3. The Redbreast (2000—English translation no. 2, 2006)
4. Nemesis (2002—English no. 3, 2008)
5. The Devil's Star (2003—English no 1, 2005)
6. Redeemer (2005—English no 4 2009)
7. The Snowman (2007—English no 5, 2010)
8. The Leopard (2009)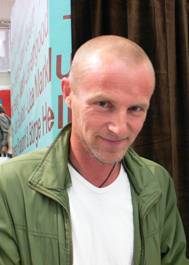 Want to know more about Jo? Visit his website here