S

ara Paretsky was in London to promote her latest novel,

Fire Sale

at the London Book Fair March 2006. SHOTS gets the low-down on the best-selling author.
When Sara Paretsky introduced her private detective V.I. Warshawski in Indemnity Only in 1982, she revolutionized the mystery world. By creating a female investigator who uses her wits as well as her fists, Paretsky challenged a genre in which women traditionally were either vamps or victims. Hailed both by critics and readers, Indemnity Only was followed by ten more best-selling Warshawski novels. The Los Angeles Times says, 'Paretsky is unique among the women writing about women,' while Publishers Weekly claims, 'Among today's P.I.'s, nobody comes close to Warshawski.' Blacklist won the Gold Dagger from the British Crime Writers for best novel of 2004. Paretsky's most recent work is Fire Sale, published in 2005 by Hodder & Stoughton.
Paretsky's deep-rooted concern for social justice, the hallmark of her novels, has carried her voice beyond the world of crime fiction. As a frequent contributor to The New York Times, and a speaker at such places as the Library of Congress and Oxford University, she is an impassioned advocate for those on society's margins.
Not only has Sara Paretsky broken barriers with her own work, she has also helped open doors for other women. Her role in founding Sisters in Crime, an advocacy group for women writers, caused Ms. Magazine to name her Woman of the Year in 1988. In 2002, the British Crime Writers Association awarded her the Cartier Diamond Dagger for lifetime achievement. Paretsky's work is also celebrated in Pamela Beere Brigg's documentary, Women of Mystery.
To give back to the community, Paretsky established the Sara and Two C-Dogs Foundation, which primarily supports girls and women in the arts, letters, and sciences. She has endowed several scholarships at the University of Kansas, and has mentored students in Chicago's inner city schools.
Paretsky grew up in eastern Kansas. She and her brothers attended a two-room country school, which gave Paretsky her life-long love of baseball and under-dogs: she played third base for a school that always finished at the bottom of the rural league. Her first published writing, a story about living through a tornado, appeared in the American Girl magazine when she was eleven. In 1966, Paretsky came to Chicago to do community service in the neighbourhood where Martin Luther King was campaigning. Staying on to make Chicago her home, she received a Ph.D in history and an MBA from the University of Chicago. She lives in the city with her husband, a physics professor at the University of Chicago, their wonder dog Callie, and near their adored granddaughter.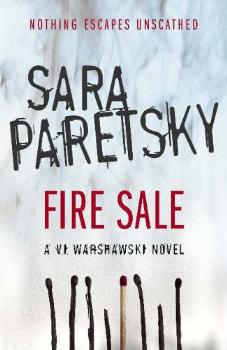 FIRE SALE
By Sara Paretsky
13th March 2006
Hodder & Stoughton Hardback
£12.99
'Packed with social themes and moral energy, held together by humour, compassion and sheer feistiness, this novel shows why Paretsky and her heroine are such enduring figures in American detective fiction'
Publishers Weekly
A dangerous, depressed place reeking of bad memories, South Chicago is a neighbourhood private investigator V.I. Warshawski left a long time ago. But now she's back, drawn to the streets of her childhood once again to do a favour for a friend.
It was never going to be easy - and when the mother of a local girl asks here to look into claims of sabotage at the factory where she works, V.I. quickly finds herself caught up in something far more sinister.
They say home is where the heart is, but now, as she lies by the roadside with a piece of hot, twisted metal embedded in her shoulder, looking up at the factory's smouldering remains, Warshawski is beginning to wonder whether a trip down memory lane was such a good idea after all…
Fire Sale marks the glorious next step for V.I. Warshawski - one of the most complex, compelling characters in modern crime fiction - and confirms Sara Paretsky's position as one of the world's leading crime writers.
---
Fire Sale

  A  V.I. Warshawski Novel
by Sara Paretsky
'What's particularly amazing about the Warshawski books is that, unlike other long-running series, these mysteries have grown richer and more ambitious with age…a thoughtful, high-tension mystery that's not afraid of making enemies.'




Washington Post Book World

on Blacklist
V.I. Warshawski may have left her old South Chicago neighbourhood, but she learns that she cannot escape it. When she takes on coaching the girls' basketball team at her former high school, she faces an ill-equipped, ragtag group of gang-bangers, fundamentalists, and teenage mothers who inevitably draw the detective into their family woes.
Through young Josie Dorrado, V.I. meets her mother, who is frightened by sabotage in the little flag-making plant where she works. The biggest employer on the south side, discount-store behemoth By-Smart, pays even less, and Rose Dorrado doesn't even know how she'll support her family if the flag plant shuts down.
The elder Dorrado's fears are realized when the plant explodes: V.I. is injured and the owner is killed. As V.I. begins to investigate, she finds herself confronting the Bysen family who own By-Smart. Founder William 'Buffalo-Bill' Bysen, now is his eighties, has four sons who quarrel with each other and with him; the oldest, 'Young Mr. William,' is close to sixty and furious that his father doesn't cede him more power. And finally, there's 'Billy the Kid,' young Mr. William's nineteen-year-old son, whose Christian idealism puts him on a collision course with his father and the company as a whole.
When Billy runs away with Josie Dorrado, V.I. is squeezed between the needs of two very different families. As she tries to find the errant teenagers, and to track down a particularly cruel murderer, her own life is almost forfeit in the swamps that lie under the city of Chicago.
Sara Paretsky is the author of thirteen previous books, including eleven V.I. Warshawski novels. The winner of many awards, including the Cartier Diamond Dagger Award for lifetime achievement from the British Crime Writers' Association, she lives in Chicago.
---
Paretsky on Paretsky
Twenty Miles per Week
I like to run- not too far or fast but it's my best way to unwind. I have a lot of joint problems, and running loosens me up, makes me feel more alive. I only go about 20 miles a week, and pretty slowly, but I'll be sad when my body falls apart so much that I can't do it any more.
Her Dog Has ADD
Although we've been doing obedience work together for 2 years, my golden retriever Callie is still too high energy, and too much the victim of ADD, to run with. She's a retriever, and watching her run and swim is great. She's also the main attraction in our house for our granddaughter.
The Pleasure of Old Papers
I like to read, especially fiction, although I did a Ph.D in history, and still enjoy going through old documents. When I wrote Blacklist, I had a lot of fun going through the archives of the Federal Negro project as part of the background for the book. The book I've just started work on, Bleeding Kansas, is taking me to diaries from the 1850's when Kansas was at the centre of one of the bloodiest battles over slavery the nation experienced before the civil war.
In Her Next Life, Paretsky Will Come Back as Audrey Hepburn
I'm in love with clothes. I have several Givenchy pieces in my wardrobe, probably because Givenchy dressed Audrey Hepburn, who I will look like in my next life. My husband says a Polish streetfighter cannot possibly resemble a Parisian gamine, but I keep hoping if I put on the right outfit, people will think I've stumbled out of Charade.
A Shoe Fetish Inspired by her Grandmother
My quest in life, as is true for many women, is for a pair of shoes that look elegant- and that will take me ten miles without hurting my feet. I have a pair of killer heels I bought because they reminded me of the shoes my granny used to wear. She was 4'11, but she had so much energy she projected six feet. She always wore suede high heels, open toed, with rosettes on the toes, so when I saw a pair I bought them. I love these shoes, but I can hardly totter across the room in them, which gives me even more admiration for my granny than I had before.
A Pit Bulldog
My husband calls me his pit bulldog- he says I'll go into the arena against anyone as long as they're at least three times my size. And that's how people in V.I. Warshawski's world react to her, too.
Because of Nature?
Maybe it comes from being the only girl with parents who thought their four sons should go to college and their daughter should stay home to clean and baby-sit, or maybe from being the only Jewish family in a Kansas high school which held mandatory religious revivals at Easter.
Or Nurture?
My father's parents -immigrants from eastern Europe- met walking a picket-line. My mother's family was descended from the colonial preacher Jonathan Edwards, so I grew up with a legacy of speaking up and speaking out.
And a Tradition of Service
My mother's father was the only doctor in a small Illinois town. During the Depression he turned down a job at the Mayo Clinic because he wouldn't leave his community without a doctor. Members of my family served in every war this country fought in, from the French and Indian wars of the 17th century down through Vietnam, and I was brought up to believe that service to the larger community came first. Back in the fifties, my father integrated the bacteriology department at the University of Kansas; my mother was a tireless advocate for open housing.
Where Did Pit Bulldog Start?
I came to Chicago in the summer of 1966 to do community service in the neighbourhood where Martin Luther King, Jr. was campaigning. There were riots in the community that summer, and my two co-workers and I were trying to counsel the small children whose lives were turned upside down by it all. My co-workers and I saved the local Catholic church from being burned.  The priests supported open housing, and while the neighbourhood was out rioting in Marquette park, thugs set fire to the rectory. When we came on the fire, we had to put it out ourselves, because all the area fire engines were at the riot.
And the Roots of V.I. Warshawski
I learned so much that year, about power, and voice, and voicelessness. It seemed to speak to my own sense of not having a voice - at home, or in the community. Although it was many years later that I wrote my first book, that summer gave me a longing to tell the stories of voiceless people.
These Boots Are Made for Marching
I feel passionately about women's right to be full adults, not to have governments or churches tell us when and whether we should have children. I was at last year's March on the Mall for women's lives - and I've taken part in every march for reproductive rights. It's part of the legacy of the sixties, going to Washington to march for social justice.
The Patriot Act Is Way More Than Three Times the Pit Bulldog's Size
It all goes back to the voice and voicelessness. Speech- who gets to talk, what can they say, who decides? It's frightening to be without power at any time, but when the government brings all its resources to silencing us, I start feeling as though I'm being walled into a closet; if I don't speak up, I'll suffocate. That's why I lecture about the Act and the way it threatens our liberties. Some of my lectures are on my website, saraparetsky.com, along with op-ed pieces I've done for The Guardian and The New York Times.
What Can One Person Do Alone, Anyway?
V.I. Warshawski in some ways is that one person alone, trying to make a small bit of the world less scary. A Japanese woman once wrote to say the her electronics firm degraded women engineers; she read my books every morning before she went to work because V.I. gave her the courage to stand up for herself. In Chicago, wives of out-of-work steel workers came to one of my readings and paid me the same high compliment. Hearing stories like these gives me the courage to keep writing and speaking.
A Long Wait for a Public Voice
Although I kept writing throughout my adolescence, and into my twenties, my stories were very private, the expressions of a world of daydreams. It wasn't until I was thirty-two, and working for a big insurance company, that V.I.'s character came to me and I developed the confidence to write for publication.
The Fourth V
I always loved mysteries, but I got tired of reading about women who were vamps - sexually active women had to be evil; or virgins - if they were chaste, they couldn't act at all, but waited around to be rescued; or victims - graphic rape and dismemberment of women continues to titillate readers. With V.I., I created a fourth 'V'- a woman who could solve her own problems. The fact that she had a sex life was just part of her humanity, not a sign of her moral character.
White Collar Criminals
The crimes V.I. investigates are set in the white-collar world, where the bad guys do things on a bigger, more corrupt scale than a mere street punk can imagine. Sometimes, the crimes are so big, I have to stay away from them. Enron, for instance, seemed tailor-made for V.I. but the accounting was so complicated, I knew I'd never figure it out, let alone write a convincing story around it.
V.I.'s Childhood Home V.I. Warshawski's old neighbourhood holds a special fascination for me. Called South Chicago, it lies to the southeast corner of the city, right on Lake Michigan. During the U.S. steel industry's boom time, mills operated there around the clock, employing some 20,000 hands. Since the death of steel, the neighbourhood suffers over forty percent unemployment. It's rife with gangs and drive-by shootings and other sad effects of poverty, but it also holds people of great gallantry. It's the gallant spirit of the community that moves me, and I keep revisiting it, both in my private life and in my novels.
A Neighbourhood of Churches, Not Just Gangs
Storefront churches are the one stabilising element in the community. In the course of writing Fire Sale, I spent a lot of time in these churches. I go to witness altar calls, and the energetic choirs that show up in Chapter 21.
And the Effect of Globalisation
Fire Sale shows two sides of the globalisation story: a family that's getting rich at a level beyond our imagining from their global power, and a family that's struggling to stay afloat. In Fire Sale, the two families meet during a church exchange program, and in reprise of Romeo and Juliet, their two teenage children fall in love. Both families are upset, and V.I. finds herself caught in the middle of their conflict.
V.I.'s Own Tangled Love Life
V.I.'s lover, Morrell, is recovering from wounds he got in Afghanistan. A British journalist, an old lover of his, comes to visit. V.I. is predictably jealous, but she is revisited by an old love of her own- leading her into some domestic fireworks.
The Lonely Marshes
Chicago is built on landfill that covers hundreds of square miles of marshland. South Chicago holds the last remaining open wetlands inside the city. You can watch herons and other water birds fishing in the polluted swamp waters while surrounded by twelve-foot high marsh grasses. Behind them loom the hills created by the city's garbage and the burnt out stacks of the old mills. This murky landscape forms a major part of Fire Sale.
FIRE SALE By Sara Paretsky
Hodder & Stoughton
March 2006