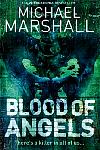 Blood Of Angels Book Jacket
The name Michael Marshall has become a firm fixture in the crime genre over the last few years, but what many readers don't realise is that he has been around for a lot longer than the three Straw Men novels would lead you to believe. And with the publication of BLOOD OF ANGELS, Shots Ezine decided to tell you a little about his real identity – Michael Marshall Smith, the fantasy and horror / SF writer and share some photos of the press launch. The following article formed part of the introduction that I wrote in-conjunction with my editor at January Magazine [Jeff Kingston-Peirce]. The full article and interview is available for reading :- http://www.janmag.com/profiles/mmarshall.html
So Who is Michael Marshall Smith?
Born in Cheshire, England, in 1965, Smith was still an infant when he moved with his family to the United States, settling first in Illinois and then in Florida. His family later relocated again, this time to South Africa and Australia, before returning to England, where Smith studied philosophy, social science and political science at King's College in Cambridge. As an undergraduate, he became involved with the Cambridge Footlights, a comedy revue that had cultivated such talents as the Monty Python players and led Smith to become involved with the BBC Radio 4 show And Now in Color. It was radio that gave him his first taste of writing for a living. He went on to a career in graphic design, scripting corporate vacuum cleaner videos and ultimately organizing a video festival for graphic design professionals. He's since written a number of film scripts.
But the itch to pen his own fiction returned after Smith read The Talisman, a 1984 novel by Stephen King and Peter Straub. He started out writing short stories, some of which met with acclaim. "The Man Who Drew Cats," for instance, won the 1991 British Fantasy Society award for Best Short Story, and "The Dark Land" received that same commendation in the following year. These tales were classified as horror/speculative fiction, so it came as something of a surprise (even to him) when his first novel, Only Forward (1994), turned out to be science fiction. The book is a surreal, very funny and noirish look at one possible future, viewed through the eyes of Stark, a reluctant hero sent out to locate a missing person. Sound like a crime plot? Well, that was only to expected, as Smith is a big fan of crime fiction, and cites Jim Thompson, James Ellroy and James Lee Burke as his pivotal influences. Stark's travels take him through a sprawl of city-size neighborhoods, each catering to a particular variety of resident -- corporate sorts in one neighborhood, deranged criminals in another, etc. The book was well received by readers and critics alike, picking up the August Derleth Award for Best Novel in 1995.
Smith broke new ground with his second novel, Spares (1996), a darkly prophetic tale of human cloning and genetic manipulation that, by fortunate happenstance, was released just as the first cloned animal -- a sheep named Dolly -- made headlines. The story follows Jack Randall and his escape from the "Spares Farm," where clones are kept in case their real "selves" ever need an extra organ or limb. The novel is set in "New Richmond," Virginia, a futuristic city built atop what remained of the former U.S. state capital after two months of riots. It was rumored a few years ago that director Steven Spielberg was interested in filming either Spares or Philip K. Dick's 1956 short story, "Minority Report," as a follow-up to his movie A.I. (I guess you know which production got the green light). Ironically, Smith's Only Forward went on to win the Philip K. Dick Award for Best Novel in 2001 -- the same year it was published in the United States.
After Spares came One of Us (1998), a Dick-type novel about memory and dreams. Its protagonist, Hap Thompson, stumbles upon a conspiracy while working as an REMtemp -- a nocturnal caretaker who looks after other people's bad dreams and remembrances. The plot centers on Hap's search for a missing woman, one of whose dreams involved a real murder that may unlock a far-reaching menace to the history and future of mankind. In the year after this third novel saw print, Smith's award-winning short stories were collected in a volume entitled What You Make It, which was published to much acclaim.
Michael Marshall [Smith] wrote an interesting essay about why he decided to make Blood of Angels the third in a trilogy which we published recently –
http://archive.shotsmag.co.uk/features2005/m_marshall/m_marshall.html
The Launch of The Lonely Dead :-
http://archive.shotsmag.co.uk/shots22/galleries/marshall_gal/marshall.html
Previous Interviews with Shots :-
http://archive.shotsmag.co.uk/shots22/intvus_22/marshall.html