THE LOST ARMY OF CAMBYSES
Paul Sussman
Bantam Press £10.99
Reviewed by MAUREEN CARLYLE
When this book came through my letterbox, and I read the plot summary and the brief cv of the author, I have to confess my principal feeling was one of envy. Here is a young man who has written a successful first novel on one of the subjects dearest to my heart – and he even gets to excavate in Egypt for two months of every year! All the Egyptian locations are areas I know and love, particularly the oases of the Western Desert and the Great Sand Sea.
Sussman's basic plot is a really good idea. Cambyses, a Persian emperor who conquered Egypt, sent his army across the desert in 523 BC to attack the remote oasis of Siwa, site of the Oracle of Ammon, later immortalised by Alexander the Great. They never arrived. No-one knows to this day what became of them, but the most likely theory is that they were overcome and buried by a violent sandstorm. What if traces of the lost army were actually found, and details of the discovery were never reported to the correct authorities in the Antiquities Department? And what if a charismatic fundamentalist got to hear about it, and decided to use it for his own ends? The terrorist leader, Sayf al-Th'ar, bears an uncanny resemblance to Osama Bin Laden. Extraordinarily, this book was written before September 11th.
An English zoologist specialising in poisonous reptiles, Tara Mullray, goes to Egypt to visit her father, from whom she has been estranged for many years. He is a well-known archaeologist working at Saqqara, near Cairo. Because of her difficult relationship with her father, Tara is not at all interested in Egyptian archaeology, although she has had a previous love affair with a young colleague of her father's. When her father doesn't meet her at the airport as expected, Tara goes to his dig house at Saqqara and finds him dead. She meets her ex-lover, Daniel Lacage, and when they are looking through her father's belongings find a "treasure trail" set up by her father before his death – a game they used to play when she was a child – which leads her to a stone fragment covered with hieroglyphs which was intended to be Tara's birthday present. Daniel, of course, can read the hieroglyphs, and they are inexorably drawn into the dangerous world of the terrorists and the equally sinister one of the CIA and MI6.
The true hero is a humble policeman from Luxor, Yusuf Khalifa, who is pursuing inquiries into several grisly, and apparently random, murders. An intelligent and sensitive man, who loves and studies his country's history, he too gradually gets sucked in to the main events of the story. He is by far the best-drawn and most sympathetic character. By comparison the Westerners seem rather one-dimensional, even Sayf al-Th'ar's totally evil henchman, Dravic.
The plot is well carried through, with some excellent twists towards the end. It is sometimes far-fetched – for instance, Khalifa sets off into the Western Desert in a borrowed land-cruiser without any previous experience of desert driving, and only gets stuck in the sand once. There are other instances I can't mention without revealing the plot. But this is Harrison Ford country, so who cares.
Paul Sussman's knowledge of Egypt – past and present – is really impressive. I am sure we haven't heard the last of Yusuf Khalifa.
---


PEL AND THE NICKNAME GAME
Juliet Hebden
Constable £16.99
Reviewed by Luke Croll
This is the seventh in Juliet Hebden's Pel series, since she took over the books from her late father. In this novel, Pel is thrown into a major mystery over the Christmas period. They are warned of an armed robbery, but what should have been a simple operation turns into a tragedy. Paris gets involved in the operation and soon things are going from bad to worse. Can Pel solve the problem and bring harmony back to his beloved Burgundy? These days, English and American police procedurals are easy to find in any bookshop. Those set in other countries are a lot harder to get, especially originally in English, rather than in translation. This was the first French police procedural I had read and was pleasantly surprised. Hebden creates a superb sense of place, really bringing Burgundy alive. She does include a large amount of French words but for those non-Francophones, they are explained or are easy enough to work out. The plot was intriguing and it certainly made me think. I didn't work out what the real plan was and the ending was an interesting surprise, making a sequel entirely possible. Hebden also included some nice little touches, such as snippets of news information - both fact and fiction - to add to the authenticity, and there was also some wry humour which certainly raised a smile. 'Pel And The Nickname Game' is well written, interesting and intensely enjoyable. If you have never tried a French police procedural before, this is certainly a good place to start. Although it is part of a series, you can easily pick it up and it will not spoil the other books too much. Highly recommended.
---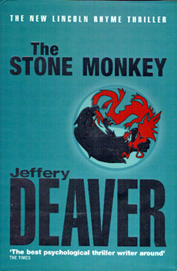 THE STONE MONKEY
Jeffery Deaver
Hodder & Stoughton, £18.99
Reviewed by Mike Jecks
All too often when I read a book by someone who has become famous, I find myself wondering what was the basis of his or her fame.
Deaver is a new name to me. I hadn't read any of his books before The Stone Monkey, and I picked it up with some trepidation, wondering whether reports of the strength of his plots and characterisations were built upon hype and little else.
The two main characters in this book are two whom Deaver has used before. Lincoln Rhyme, a consultant on "Criminalistics" to the NYPD usually, is now being consulted by the FBI and Immigration as well. A leading "snakehead", or transporter of illegal immigrants, was shipping some Chinese to America. Known as a murderer and rapist, all the major agencies want to catch him, but they turn to Rhyme when all their other sources fail. Rhyme is taciturn, ironic, and basically, so far as I could see, mostly pretty obnoxious, but because of that he's also attractive in his eccentricity. In addition he's all but paralysed, able to move only one finger. All his powers have been concentrated in his brain.
Even the best mind needs to have data upon which to work, as Holmes would have said. Holmes could dart about the country with his magnifying glass - that's not an option for Lincoln. Instead he depends more and more upon the delightful Amelia Sachs, a beautiful woman (well, in our novels they always are, aren't they? Writers can dream) who is deeply in love with Lincoln and who is scared that her early onset arthritis is going to cut her career short. For now, she spends her time running crime scenes, and when the Fuzhou Dragon bringing the illegals in towards the coast suddenly explodes, rapidly sinking, she is there, quickly running over the scene and finding, to her surprise, that some of the bodies have been shot.
A part of the human cargo has escaped the ship and made it to land, but now Rhyme and Sachs have another problem. The illegals have to be found. Especially since the snakehead, nicknamed "The Ghost", is tracking them all down and murdering them.
This story was gripping initially, but as I read on, I was really turned off by one big hole in the story. It annoyed me, because I thought that the editor should have noticed such a glaring hole in the logic of the story. Hard? Unfair? Perhaps.
However, there is a good reason for mentioning it. That is that the glaring, obvious, irritating hole in the plot - wasn't. It was wrapped up neatly, in the last few pages (which were, I hasten to add, carefully written, well thought out and rational - not simply added on by an observant editor's comments, such as you sometimes see).
No, this book is strong, clever, well plotted, pacey and compelling. Now I have to get others by him.
Deaver deserves respect.
---


THE BANK ROBBER DIARIES
Danny King
Serpent's Tail, £6.99
Reviewed by Mike Jecks
This was the first book I had to turn to immediately after finishing the latest Jeffrey Deaver book, and going from an international thriller to a parochial English story was surprisingly easy. Perhaps it was facilitated by the Portuguese wine I was drinking (both were reviewed on holiday), but I don't think so. Good writing always grips.
Danny King writes in the first person, and these "diaries" follow the life of a hard man, Chris Benson, all the way from the first robbery with his brother Gavin, to the present day. It's told not as flashbacks, but as separate scenes in a life, and as he progresses, you actually get a feel for the change in him, from semi-adolescent lad to compassionless and amoral murderer. Initially Chris is a lary robber, a bit dim, scared of his violent older brother (with good reason, bearing in mind the thumping he gets on page 7), and gormless. The writing itself feels more slack; tautening up as Chris's life grows more stern and earnest.
By his mid-twenties, he's a known "face", and earning good money. The trouble is, then his brother gets caught. With Gavin inside, Chris finds himself working more with Vince, a psychopath who enjoys killing, who demonstrates his enthusiasm for terminating life at every opportunity. It is clearly only a matter of time before he grows bored with Chris.
There is a marriage for Chris, an affair, unpleasant accidents, double crosses, murders, and it all ramps up nicely to a stunning set of action scenes.
This story is not nicely told, but bloody well told. Don't pick it up if you dislike bad language. The characterisation is - well, superb. All the people in it are believable, whether you like them or not, and the reactions of them and the smaller players is extraordinarily well conceived and compellingly written.
However, I do have one reservation. This is plainly (from the cover) intended to be funny. Now, having glanced over the forgoing comments, I have to remind myself of that. I am no prude. I do believe that you can make murder amusing - look at Peter Guttridge and Simon Brett - both very competent at turning out hilarious books - and yet this misses the mark for me. That's not in any way a derogatory comment, it's just that the humour is too black to be humour for my taste. Believe me, I love black generally - anyone whose favourite film is M.A.S.H. cannot deny the humour inherent in horror and death - but for me the pain was a little too pathetic, the horror too poignant. Anyway, read it and make up your own mind. I certainly never laughed out loud, even if the occasional piece of dialogue made me chuckle.
Basically, if you liked THE SWEENEY and TWO SMOKING BARRELS, you'll like this.
---


DEADLY DIVISIONS: THE SPECTRE CHRONICLES
Paul Ferris and Reg McKay
Mainstream £7.99
Reviewed by Calum Macleod
It seems that an essential attribute for anyone wanting to be published these days is knowledge of how to stab someone. Former East End villains with their whitewashed memoirs, ex-SAS up-dating Boys Own Adventures for the era of the New World Order and retired Glasgow gangsters like Jimmy Boyle and Hugh Collins getting the fiction writing bug.
Paul Ferris, former chief henchman to notorious city crime boss Arthur Thompson, belongs in the latter, drafting in former social worker McKay to help him get things down on paper.
Rumours abound of Ferris's involvement in the killings that marked the downfall of the drug-fuelled Thompson empire and he recently completed a prison sentence for gun smuggling. Shame then that with all that first hand experience to draw, from the characters here - psychotic crime boss, corrupt detective, dim-witted heavies - all seem to have been lifted not from life but from poor copies of crime melodramas we have seen times too often.
The authors try and pull off a good few surprises, not all of which succeed, and the gimmick of a criminal so smart that he may not actually exist is borrowed from "The Usual Suspects" - though the crack addled gunman who becomes so much of a liability that he becomes the subject of a contract is a nice touch. It all meanders to an unsatisfying ending that sets up possible sequels, but on this evidence no-one is going to be too anxious to see volume two of "The Spectre Chronicles."
---


THE BUSINESS OF DYING
Simon Kernick
Transworld Publishing £10.99
Reviewed by Ali Karim
This is a remarkable debut novel that I devoured over two sittings, due principally to its amoral and bizarre story. DS Dennis Milne and his Partner Asif Malik investigate the gruesome murder of teenage prostitute Miriam Fox in the grim underbelly of North London.
The case is complex and despite an obvious suspect giving the police an easy 'collar', Milne is not convinced of the suspect's guilt and decides to investigate further. The real unique angle is that Milne is himself mixed up in some pretty dodgy dealings, which include a multiple killing that he carried out as an 'extra-curricular' activity. This event comes back to haunt Milne as he gets himself embroiled in the case of the murdered teenager, and more worryingly, with a set of pretty strange characters from the girl's background. Add to this melting pot, Metropolitan Police Politics, A motley crew of ruthless London gangsters and soon Dennis Milne is dodging bullets on the mean streets of London by night.
The London canvas is authentic, the crimes and deaths get increasingly more violent and perverted, while the morality becomes blurred as Dennis tries to do the 'right' thing. Kernick's cast of characters are very well delineated, and there is a 'knowing' feel to the book, that carves its prose well above what many debut novels usually achieve. The interaction via the dialogue very well polished, and I felt that the scene when Milne and Malik interview the dead girl's parents a standout scene that really tugs at the emotions. The only downside being the constant reference to Dennis's smoking drove me crazy as I personally struggle with this awful habit. The reference's made me wish for a cigarette throughout the book, which I found very distracting due to the pleasure that Dennis drew from the dreaded weed.
I thoroughly enjoyed the book, grasped with its amorality and its tangled web of flawed characters, but found myself liking Dennis Milne and his persona. I would like to see more of Dennis Milne and would want to explore more of his adventures. Some readers may well find the turn of events toward the resolution pretty hard on the stomach. The body count is high and the climax stunning and even this jaded crime reader didn't twig the conclusion, which was very cathartic in restoring order in Kernick's crazy world. The action set pieces themselves are stunning especially the violent chase sequence when Dennis flees two hitmen, which I list as being a 'standout'.
I look forward with great anticipation to the follow-up, as Dennis Milne is a great character.
---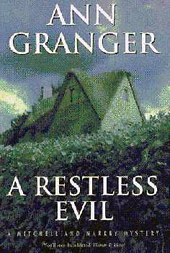 A RESTLESS EVIL
Ann Granger
Headline, £17.99
Reviewed by Mary Andrea Clarke
Ann Granger's new novel focuses on crimes of past and present, in a village where the only concession to time seems to be the fact that its inhabitants have grown a little older.
When house hunting with partner Meredith Mitchell brings them to Lower Stovey, Detective Superintendent Alan Mitchell finds his attention attracted by a police car headed towards Stovey Woods. This is apparently an unusual occurrence in itself. However, when Markby finds the car was responding to the discovery of a small collection of bones, he is confronted with his own past association with the village, a serial rape case of twenty two years earlier which he had been unable to solve. It is a case which has haunted him, being his first on achieving the rank of detective inspector.
Meredith's discovery of a much more recent corpse in the village church hauls matters into the present. However, it seems impossible for Markby to avoid associations with his past case and gradually connections start coming to light. We can see echoes of the uncooperative attitude encountered by Markby on the earlier case when Detective Inspector Dave Pearce expresses his determination to get the residents to talk. Meredith, meanwhile, finds herself blamed for the whole mess by the pub landlord because she is a stranger who happened to find the body.
Ann Granger's plot structure is good and her characterisation excellent. The villagers fit into the stereotypical, "We don't welcome strangers" mould but come across as real people, rather than caricatures, including "Old" Billy Twelvetrees, Lower Stovey's oldest inhabitant and resident gossip. The problems encountered by Mitchell and Markby with their house hunting will no doubt ring true for everybody. I particularly liked Meredith's comparison of Lower Stovey's old Vicarage to "Dracula's weekend retreat".
A tightly plotted, gripping novel. Recommended.
---

FIRST LADY
Michael Malone
Constable, £16.99
Reviewed by Mick Herron
A good long time ago now I picked up Michael Malone's Uncivil Seasons, read the first two sentences ("Two things don't happen very often in Hillston, North Carolina. We don't get much snow, and we hardly ever murder one another.") and knew I'd found a classic of the genre; a novel, as it turned out, as much about the Old South's conflict with the New as a thriller—a recurring theme in Malone's work. Now, a mere eighteen years later, comes the third instalment, and things are grim in Hillston. Cuddy Mangum's police department, once the toast of the New South, is getting whipped in court over a mishandled murder case; Mangum's political enemies are sharpening their knives and messing up crime scenes; an out-of-control rock star "with hair the colour of lions" is in town, causing havoc every drunken step she takes; and dead women are turning up in the woods, dressed in Guess T-shirts, and addressed to Mangum and his chief homicide detective, Justin Savile V. Just to keep life interesting, Mangum announces that he'll quit in two weeks' time—the fourth of July—if the "Guess Who" killer hasn't been caught by then, and this task falls mainly to Savile, Malone's narrator; a man failing to come to terms with the death of his infant son, and just about keeping a grip on his job while losing it on everything else.
This book sparkles from the start: in the writing, the dialogue, the plotting; above all, in the depth and humanity of Malone's characterisation. Hillston comes whole, complete with history—and Malone's eye for the American class system is as sharp as ever—but it's the people he fills it with that make the book sing; chief among them Savile and Mangum, whose relationship continues to evolve, light years from the hero/sidekick formula of the genre. For this alone, First Lady effortlessly outclasses any other crime novel I've read this year.
Constable are about to publish Malone's previous Hillston novels, Uncivil Seasons and the excellent Time's Witness, and new readers should start there. Meanwhile, his American publishers Sourcebooks Landmark have just produced a collection of his multi-award winning short fiction, Red Clay, Blue Cadillac, which includes a number of crime stories. They also publish Malone's very best work, the non-genre Dingley Falls and Handling Sin, two of the most enjoyable novels you'll ever read. Bottom line is, if it has Malone's name on the cover, grab it. This is a writer who keeps you company, rather than passes the time.
---

SCAREDY CAT
Mark Billingham
Little Brown/Time Warner Books £10.99
Reviewed by Ali Karim
This book is that tricky beast - the second novel by a writer who hit his stride on his debut. 'Sleepyhead' was released last summer with much (and well-deserved fanfare). In a crowded genre - it was rather unique in its style, story and cast of protagonists. The team of Serious Crime Group (West) 3 return under the leadership of DI Tom Thorne in this tense, sweaty and disturbing drama. Even though I was very impressed by Billingham's debut last year, this follow-up really illustrates his skills as a crimewriter. The scope of this story has been widened, and his narrative is as smooth as water sprayed on an ice rink. I read it in two sittings as Billingham's style is so easy going, but with a stickiness that kept my fingers flicking the pages late into the night. I also enjoyed the small flourishes of humour that pepper what could have been a dark and emotionally gruelling book. Although written in third person, Billingham makes it almost as if we are in the heads of the characters that he writes about. Tom Thorne is an exceptionally interesting character, with just a layer of vulnerability. He however has an inner strength that even when he's stumbling around (like bashing into coffee table's, getting assaulted, driving a clapped-out car etc etc), you still feel comfortable with his inner strength/control, but it's the vulnerability that makes him so unique and appealing.
Billingham has taken the bold step of not relying on the backstory contained in 'Sleepyhead' but launching straight into the narrative - and what a surreal brew he has cooked this time. Two serial killers are carrying out simultaneous murders across London, and DI Thorne and the team from SCG 3 have the job in tracking down the pair. Thorne is a particularly interesting character, as although having 'baggage' in his life, he doesn't dwell on it, and his angst is kept well in check which was refreshing. The backstory references were kept to a minimum, with only one reference to 'Calvert' (a demon from Thorne's past), and two on the Willett's case that featured in 'Sleepyhead'. The other characters in Thorne's team also etch themselves well into the story. Billingham gives Dave Holland a good meaty role, and Sarah McEvoy is a very interesting character.
The story worms it's way like a meandering river, going back in time to former cases that have bearings to present day, allowing just a enough smoke and mirrors to confuse Thorne and his team. There are some startling flashes of pathos and understanding that really illustrate the writer's skill. The monosyllabic talk to one of the killer's mothers was chilling in its understatement. Holland's deadpan comment on 'nurture vs. nature' in the evolution of a disturbed person cut straight to the heart of the plot. The same was true on the visit to one of the victim's families in Birmingham. The hammering on Thorne's boot by the young witness, Charlie, really clung to my mind as an image.
The pace is pretty frantic, as naturally the pressure is on the team to catch the perps, but things take some rather unexpected turns, and personal issues within the team, an older missing persons case, as well as a series of 'hotel' murders cloud the investigation. This makes Thorne's life, and that of his team much more complex than a standard police procedural.
The climax was a complete ambush. The plot-device(s) employed in the final quarter were really interesting, and just as I thought I'd figured out the resolution, the story took yet another turn well left of field, concluding rather nicely with a few pretty interesting surprises.
I know the book will fall off shelves as it's appeal from a 'word-of-mouth' position will be high, and I am very engrossed in watching the development of Thorne as an important feature in UK crime Fiction. Interestingly it can be easily read as a 'standalone' but I enjoyed it as I have grown comfortable with the world of D I Thorne from his debut last year with 'Sleepyhead'.
---

SOMETHING SACRED
Rupert Morgan
Bantam pbo £6.99
Reviewed by Gwen Moffat
Although Something Sacred opens with a man about to be tried for murder this is not so much a crime novel as an expose of the news media. Nick Carraway (the prisoner) is a reporter initially imbued with cynicism, the product of show biz parents who, as a child, came on his mother after she had cut her wrists in the bath. She had been beautiful, successful, glamorous, and for her son hers was the first sacrifice: a pointer to the theme of this story.
Carraway's own success depends on scoops and he reckons he's made it when he's the first newsman on the scene after a subway shooting. With two men already shot, the person who prevents a massacre is Jamey Gatz, an alluring mystery woman who works in a strip joint. Carraway writes up her story, his editor – who thinks in headlines like LAP DANCER OF DEATH – improves on it and the feeding frenzy starts. That the woman concerned only washed glasses in the strip club and is desperately opposed to publicity is immaterial, the process is set in motion to make her a career celebrity, one of those unfortunate souls who are famous for being famous. Carraway, having fallen hopelessly in love with her, can do nothing, only go with the flow and hope to alleviate some of her suffering. If this is no more than annoyance to begin with, it becomes unbearable when Jamey's disturbed sister, chased by ravening reporters, runs straight under the wheels of a car (there are echoes of Princes Diana).
In shock Jamey takes a terrible revenge on Carraway who she blames for everything, from the initial exposure to the death of her sister. The man who puts him straight on the situation is the newspaper proprietor. When a thinking robot is invented it will resemble this man. It is he who explains to Carraway that the media don't cater to the lowest denominator but to everyone. The mob demands blood and the media are priests: nurturing, delivering and finally destroying human sacrifices: "the world need beautiful martyrs".
This unpleasant character is counter-balanced to some extent by the judge who is to try Carraway: black, middle-aged and honourable. Apart from these, most people in the novel are in shades of grey, as they are in reality. One wonders about the proprietor, the editor, the leading lights in the newsroom; is it possible that the media is really run by figures like these? One hopes not; one fears the worst.
An excellent book. Who will the author expose next?
---

THE PALE COMPANION
Philip Gooden
Constable £16.99
Reviewed by Gwen Moffat
It is the summer of 1599 and a company of actors is travelling to a great house on Salisbury Plain to present a performance of A Midsummer Night's Dream at the wedding of the son and heir. How this expedition turns into a nightmare is recounted by Nick Revill, the dashing young man who plays Lysander, and whose narrative resembles Shakespearean soliloquies (Revill has played Hamlet). Indeed the whole plot smacks of "WS" – as he's affectionately referred to – with its themes of lost and noble sons, of murder and guilt.
A clever novel, it seems to have caught the nuances of the period, even the idiom. There is the grand house, its family and all the feudal appurtenances; and what could be a gulf between aristocrats and players is bridged by the younger son of the house, who is so fascinated by the stage that he is allowed to play Demetrius for this one performance of the Dream. The Shakespearean element is enhanced by a wildman called Robin who inhabits a woodland den, and by a second company of players, albeit down-market, called the Paradise Brothers, who enact biblical fables and preach sedition to the mob. They provide the mayhem while the steamy days and nights of June (and something half-glimpsed and rotting in the great house) give rise to murder.
The denouement is satisfactory, confirming the reader's suspicions of a domestic if noble secret concerning eldest sons and inheritance; the climax, involving a runaway horse and violent death below the monoliths of Stonehenge, is neat.
Revill is Gooden's series character; Sleep of Death and Death of Kings were his previous appearances. The Tudor period was rich, dramatic and glamorous, but modern portrayals tend to concentrate on the upper classes. Gooden, while including the noble element, lifts the curtain to reveal the general populace from players to peasants as they lived and loved and intrigued beyond the grandeur of Elizabeth's court.
---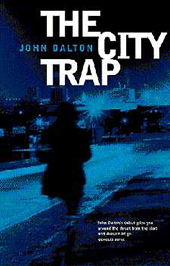 THE CITY TRAP
John Dalton
Tindall Street Press. £7.99
Reviewd by Judith Cutler
Not a lot of us write crime set in Britain's Second City, so I welcomed the arrival of John Dalton's debut novel, The City Trap, with great enthusiasm. It's published by Tindall Street Press, a comparatively new publisher, but one rapidly gaining a reputation for publishing high quality contemporary literary fiction.
Dalton, however, writes in a mainstream noir style, his main character Des McGinley being a traditional no-hope PI. He's been hired by the mother of a murdered prostitute to find who killed her daughter: it seems the West Midlands Police aren't interested in the death of a tom. Des's investigations take him into Birmingham's underworld, with a wide palette of lowlife characters, many, like Des, are black. But not all. And it would have been nice to know before somewhere half way through the book that a druggie was white. Therein lies Dalton's weakness, and one his editor should surely have picked up: of course a writer should show, not tell, but the reader needs some clues – age, build, background – about a book's characters to get to know and empathise with them. There's a similar problem with Dalton's depiction of Birmingham. In fact, he doesn't depict it. The action takes place in a vacuum – all the more surprising, when Tindall Street established itself as a press to promote the best of writing from or about the Midlands. As for the denouement, I'm afraid I thought it a cop-out. As soon as a moneyed industrialist turns up on the scene, you know who's going to be Mr Big.
All in all an interesting debut – but one which could have been lifted from the promising to the vibrant with stronger editing.
---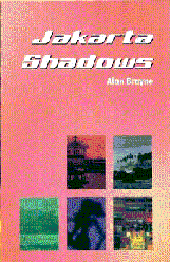 JAKARTA SHADOWS
Alan Brayne
Tindall Street Press £7.99
Reviewed by Judith Cutler
If there are few crime novels set in Birmingham, there are even fewer Black Country crime writers. We're practically an endangered species. So I really worked hard to enjoy Alan Brayne's debut novel.
The novel is less about crime, Brayne establishes in his opening chapter, than about evil. It's populated with characters and situations by Dickens out of Graham Greene, with a mandatory gin-swilling ex-pat threading a world-weary way through a sequence of unpleasant episodes, all set against the background of civil unrest and corruption in Jakarta and Bali, not the idyllic postcard places travel agents would have us believe.
Unfortunately I don't think Brayne knew quite what genre novel he was writing: if it was literary, then he's not yet experienced enough to bring off the bizarrely enigmatic characters, or to engage us with such a downbeat protagonist. If it was crime, then he needs a much more proactive and sympathetic main character and a lot more action to carry the reader along. If it was a travelogue, we need far more of the Far East's sights and sounds; tastes and smells – and again, we need a far more sensitive interpreter.
Too many shadows and not enough Jakarta, I'm afraid. But once Brayne knows where he's going, then I'm sure he'll prove an accomplished writer.
---
A SHAKESPEARE CUPLET
Charlaine Harris Dell $5.99
Reviewed by Kate Slatter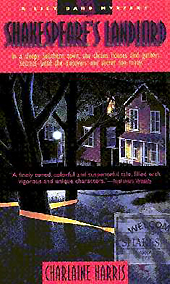 SHAKESPEARE'S LANDLORD
Shakespeare is a small town in Arkansas. It even has it's own Bard – Lily the local cleaning lady. She moved there after a traumatic event, seeking anonymity. However, there is something a little strange about a woman who, wanting to put as much distance between herself and society, takes a job as a cleaner. Lily Bard is in and out of people's houses everyday, privy to their sock drawers, closeted skeletons and all manner of dirty laundry.
The landlord is Pardon Albee, a rather unsavoury individual who makes it his business to collect dirt on his tenants, as well as the rent. Lily gets involved because she sees the murderer (in disguise of course) moving the corpse using her wheelbarrow. Resentful at being involved and wanting to avoid any contact with the police, she follows and retrieves her barrow, but not the body. After an anonymous call to the police, Lily considers her part in the mess finished. She has cleaned up to her satisfaction.
Unfortunately, as she goes about her business, she hears different versions and alibis from her clients. Lily finds that the facts don't fit. The police chief makes contact – suspecting her peripheral involvement - and through his efforts to find out what's going on, Lily is drawn into friendship. She also finds a love interest at her local gym, but that, naturally, provides its own complications and subplots.
It's a short book, only 245 pages, so the murderer is quickly unmasked. Harris' pacing is good. The writing is to the point and quite wry, and she manages to avoid all the clichés of a sleepy southern burgh, kinfolk and the generational ties that bind. Her characterisation is sharp, though sometimes sparse but the reader gets a sense of the people who live in Shakespeare.
Lily can't avoid being drawn into the lives of her neighbours, a cleaning lady apparently being the secular equivalent of a priest. Ironically, the more determined she is to keep her own secrets (even from the reader as the event that changed her is never explained), the more other people confide in her. Lily Bard may be damaged but she is aware of her strengths and as morbid as it sounds, there is nothing like a murder to bring the living dead back to life.
SHAKESPEARE'S CHRISTMAS
The third in Charlaine Harris' tales of Lily Bard, cleaning lady. There are few things that faze the heroine, but she doesn't like Christmas, loathes weddings and is uncomfortable around her own family. It makes sense, then, that she is dreading the return to her childhood home for her sister's yuletide wedding. Fortunately, nuptial and seasonal preparations are interrupted by murder and, as the main suspect seems to be her sister's fiancé, it is up to Lily to mop up the mess. Added to the morass of murder and mistletoe is the complication of an old missing persons case, which brings Lily's boyfriend, Jack the private investigator, to town. For readers wanting to know more about Lily's past, this book is a godsend. The traumatic event that caused her to move to Shakespeare is revealed and Lily's abhorrence of personal involvement explained. Lily has come along way, as conversations with her friends in Shakespeare show, but now she is forced to confront the people who knew her before "it" happened, and whose pity drove her away. Harris artfully crafts her story with the same sharpness and wry humour readers have come to expect. The book is no longer than its predecessors, Shakespeare's Landlord and Shakespeare's Champion, but it is packed with details and excellent characterisation. Unfortunately, given the price of books today, some may head towards Harris' 'thicker' competitors. This is one series that would benefit from being published as a compendium.
---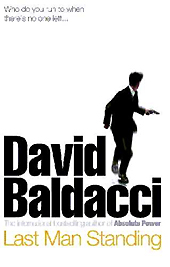 LAST MAN STANDING
David Baldacci
Simon & Schuster £12.99
Reviewed by Kate Slatter
Web London, the protagonist of David Balducci's most recent book, Last Man Standing, is the latest in a long line of troubled heroes. He is the sole survivor of a horrific ambush sprung on his Hostage Rescue Team, haunted by the disappearance of his father, and the subject of an FBI investigation with all the evil bureaucracy that entails. Suspected of cowardice and betrayal, he sets about trying to find the link between the ambush, the disappearance of a crime lord's brother, the escape from prison of neofascist leader Ernest B. Free and the death of a young boy - before his life falls apart completely.
The path leads from Washington to a stud farm in Virginia where all (surprisingly) is not as it seems. Web is aided in his struggle by the requisitely attractive female psychiatrist who takes an interest in him professionally, only to be drawn in by the stoic yet emotionally vulnerable hero. Web also finds an ally in one of his colleagues with whom he bonds, and who helps him untangle the… er … silky form most commonly associated with spiders. Metaphorically speaking, of course!
Balducci has created a sympathetic character in Web London, although readers might find themselves shouting at him in an effort to point out the blatantly obvious. The plot is suitably circuitous with false trails and subtle threads interlaced throughout but something is missing. As tense as situations get, the sense of urgency present in the best crime thrillers is just not there.
Last Man Standing is a good story (and it will probably make a great film) but no one is going to get paper cuts from turning the pages too quickly.
---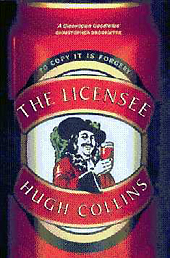 THE LICENSEE
Hugh Collins
Canongate Crime £6.99
Reviewed by Les Hurst
THE LICENSEE is the second in Hugh Collins' trilogy of Glasgow crime novels - NO SMOKE was the first. His two books before that described his imprisonment for murder and his eventual parole - there is a murder mentioned in passing in THE LICENSEE and Collins' offences may have suggested it. Recent other troubles mentioned in the newspapers of the late Spring 2002, though, suggest that while Collins has now moved away from this world (he lives in Edinburgh and sculpts) the criminals of Glasgow are in an inescapable circle of violence and corruption.
THE LICENSEE, set in Glasgow in the early '80s, describes how Pat McGowan manages to frame his gangster rivals, using his corrupt police contacts and drug dependent gophers. Degenerate as they are, those opponents, such as Rab Woods and his wife Angelena and Angelena's mother Kitty, cannot understand the degeneracy of a law that allows them to be fixed up as they are. On the other hand, the polis are able to take them as easily as they do because while the Woods are out dealing drugs they are also high on lines of the white stuff itself, and so are easy prey.
Ironically, too, it is the forces of the law that cause McGowan to become as great a monster as he does, because McGowan has to find new ways to bank the cash that drug sales bring him as money laundering laws become tougher. Having used up all the opportunities of his wife's chain of hairdressers, he takes over the Glasgow garages and repair shops much as Don Corleone moved into Las Vegas, except with more violence. Being a monster, though, does not stop McGowan from showing incredible levels of cunning, though, in ensuring his freedom - his level of plotting is almost incredible.
Hugh Collins' plotting, though, is even greater than McGowan's. On the other hand, it is difficult to tell it because most of the book consists of intense Glaswegian dialect, which made it difficult to read this thriller at the pace it deserved.
From the newspaper accounts of troubles of Glaswegian gangsters still fighting and the death rates due to drugs and the condition of the estates to which asylum seekers have been sent the city is probably worse than it was at the time of THE LICENSEE. McGowan may be another version of Ian Rankin's Big Ger McCafferty, but it is hard not to see another similarity, and that is to Alexander McArthur and H Kingsley Long's NO MEAN CITY. Like a lot of people I read the Corgi paperback, which came without a copyright date and seemed only slightly anachronistic. It was actually first published in 1935, with the sub-title "A Novel of the Glasgow Slums". Now drugs have replaced the strong drink, and guns have replaced the cut-throat razors - life is worse. I can't see how Hugh Collins's final volume can have a happy ending.
---

THE FACE IN THE CEMETERY
Michael Pearce
Harper Collins £6.99pbk
Reviewed by Ayo Onatade
Cairo is feeling the effects of the war in Europe, and Gareth Owen is being kept more than busy. He has been asked to round up all the enemy aliens, some of whom are his friends. In Egypt, where changing your nationality is an occupational hazard, this makes rounding up those concerned all the more difficult for the Mamur Zapt. To make things worse he also has to deal with a pack of gun-toting toughs as well as a heavily armed young woman. Then there are the human corpses desecrating a local cat cemetery. If all this weren't enough, Owen and Zeinab, his long-time girlfriend, have finally put their relationship on a stronger footing. They have decided to move in together. Though this move might be premature, as Owen is considering re-enlisting so that he can fight in the war. Needless to say, Zeinab is less than impressed with his thoughts. As usual this series is rich in atmosphere and the intricacies of the local culture, a real treat for those with a taste for the exotic. Pearce certainly knows his politics, and this book is amusing, droll and as dry as the Sahara!
---

FIRST FRUITS
Penelope Evans
Allison and Busby £6.99
Reviewed by Fiona Shoop
There seems to be a new school of crime novels set in the headily claustrophobic world of adolescents and this is one of the best ones. The atmosphere is beautifully crafted and even the most stereotypical-seeming characters are written in a refreshing way. The fat pupil is strangely serene as thought she sees beyond appearance and she is a pivotal character in the horrific ending of a torturously tense finale. I have rarely read an ending as gripping - or horrifying - as this one.
Kate Carr is the leader of a group of school children. So what that they're misfits, it doesn't matter because she's one too, although she'll never admit it. She has a badly burnt leg, her deformity something of which she has been made to feel ashamed. Just like she is made to feel everything by her overly charismatic preacher father. Her friends worship him and he, like his daughter, knows how to get them to do his bidding. With one exception. Fantastically, if at times overpoweringly, written. I have rarely read such a tense, gripping book but be warned, this is the sort of book that you do have to put down - it's too overwhelming not to.
---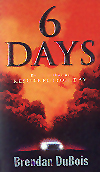 SIX DAYS
Brendan DuBois
TimeWarner £5.99 pbk
Reviewed by Martin Spellman
A couple walking in New Hampshire's White Mountain range stumble upon a secret bunker and a dramatic conspiracy called 'Case Shiloh'. That he is a former special forces operative and she has top computer skills comes in handy during the following days events in this 'by the numbers' thriller. It recalls other renegade conspiracies like Six Days of the Condor (1975) or Twilights Last Gleaming (1977). Others in that vein have been Stanley Kubrick's black comedy Dr Strangelove (1964), films featuring the Kennedy assassination - like Executive Action (1973) and Oliver Stone's JFK (1991) with Kevin Costner. More recently there was The Matrix (1999), but by this time 'they' had actually taken over.
There are problems with conspiracy stories and this book has them all. When you have high-level, Byzantine plots in which the people play no part how do the plotters avoid discovery? Tension is needed but too often the villains seem all-knowing and ever present behind the heroes - 'Damien' like scenarios. They lack flaws and weaknesses and fail because of silly things. American writers too easily fall prey to the scheme that what you have to do to solve it is reveal all to one of the mythic gods of the President; the Justices of the US Supreme Court; the Editor in Chief of the New York Times or, as in this case, the Chairman of the Joint Chiefs of Staff, who need only snap their fingers to put the world to rights, thus proving that there is nothing really wrong - just a little kink that needs straightening out. To fill out the myth this book even has a 'magic bullet' called 'Excalibur'!
Another problem is making the villains convincing, especially as the death count rises. If Nazis and their like were as they are often portrayed in American media it is hard to see how they could gain any support other than from oddball loonies - in which case they would present little danger. While killings can provide interest and momentum too many of them will massacre the story as well as the victims. While the conspiracy is vast there is little appropriate build up toward it through the book. Most of the loose ends are neatly disposed of but one 'sting in the tail' could have been left out as it evokes an 'Oh, no, not you again' reaction rather than closure. And we all need closure.
---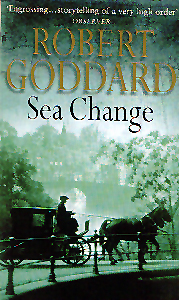 SEA CHANGE
Robert Goddard
Corgi £5.99
Reviewed by Peter Guttridge
British writer Robert Goddard's novels are not easy to categorise. His twelve contemporary and historical bestsellers ­ they include Past Caring, Caught In The Light, Set In Stone and Into The Blue, which made a disappointing TV film several years ago ­ have been variously described as mysteries, crime novels, thrillers and even historical romances.
What they have in common is a strong narrative thrust and ingenious plotting, elements which are robustly evident in Sea Change. This picaresque tale of high adventure and low intrigue takes place in 1721-22, just after the South Sea Bubble has burst. Goddard's novels almost always feature a rather ineffectual protagonist and William Spandrel, the impoverished mapmaker who is the central character here is, by dint of circumstances, extremely ineffectual. Entrusted with the secret delivery to Amsterdam of a great McGuffin ­ an account book whose contents implicate the highest in the land in the corruption surrounding the South Sea Company ­ he swaps debtors prison in London for the threat of the hangman's noose in Holland and thereafter, in an effort to clear himself, embarks on a long, hazardous journey to the Jacobite court in Rome, where he then gets embroiled in further intrigue. He is duped at every turn in every country he passes through by a wonderful cast of crooks, charlatans and real historical characters such as Robert Walpole, the future Chancellor of the Exchequer. In Sea Change the historical period is vividly conjured up and the narrative flows effortlessly. There is more adventure and less mystery in this than in some of Goddard's other books. But the result is engrossing - storytelling of a very high order.
---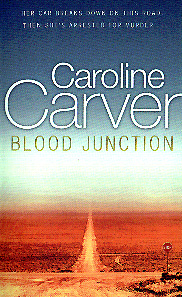 BLOOD JUNCTION
Caroline Carver
Orion £5.99
Reviewed by Mike Stotter
Exotic locations can inspire writers to great heights. That includes the formidable Australian outback. Caroline Carver selects this canvas for her debut novel because it would't have worked had it been set in places like Perth, melbourne or Sydney.
The main thrust of the novel is that India Kane is being set up to take a murder rap in to township of Blood Junction (Cooinda). A town in which she hoped to meet up with a friend who had information about her grandfather, whom she had never met. Lauren (the friend) and a police officer are killed, and India is in the frame for the double murder.
How the heroine deals with this, her association with the local ex-policeman, Mikey (who, needless to say, after much mutual antagonism, realises he is in love with her and she eventually returns the emotion), the story of the 'stolen children', a pharmaceutical company's shenanigans are all ingredients in this plot. The book has everything a thriller needs: a villain, chases, break-ins, shoot-outs, love interest and above all, a happy ending.
This is a very accomplished first novel, and one that deserved to win the CWA Debut Dagger Award. The thriller element is as topical today's cloning or foot-and-mouth disease; whilst the subject of the aboriginal 'lost children' was frightengly educational. the combination of the two themes were perfect. I predict that we have an author here who will be going places in the future.
---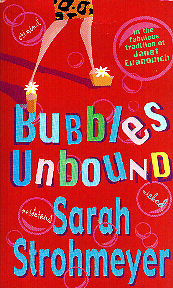 BUBBLES UNBOUND
Sarah Strohmeyer
Headline £5.99 pbk
Reviewed by Ayo Onatade
Bubbles Yablonksy is what is known as a "blonde bimbo" with a weakness for handsome men. She is also the premier hairdresser at Sandy's House of Beauty. Fed up of hairdressing, Bubbles decides to shed her blonde bimbo image and get an education. She decides on a career in journalism and manages to get a job that includes on the job training at her local newspaper. If that isn't stressful enough she also has to deal with her extremely wacky family. These include Jane her precocious teenage daughter, Lulu her gun-toting, shoplifting mother and Dan her social-climbing ex-husband. Instead of getting her dream assignment bubbles finds herself in the middle of a nasty murder and a massive lawsuit. Unsurprisingly, help comes in the form of sexy, but elusive AP photographer Stiletto. (With a name like that you can't but help think of high-heeled shoes!). No doubt there will be a number of comparisons to the Stephanie Plum series. But since Janet Evanovich was her mentor it is not surprising. Even the blurb on the front cover of the book declares it to be "in the fabulous tradition of Janet Evanovich".
While Bubbles Unbound is reminiscent of the Stephanie Plum series to a certain extent it is also very different. One main difference is that it is much faster. No doubt this is what inspired the title. It contains non-stop action, humour and unconventional characters. However as far as I am concerned there is only three words that can describe this book and that is "Over-the-top". I think that my major objection to this book is that it is trying to be a hyperactive version of the Stephanie Plum series and it doesn't work. Bubbles Yablonksy comes across as being too fluffy and dizzy. I found the plotting very thin, the characters totally unbelievable and her relationship with Stiletto extremely ridiculous. Even the bonus of peppering the book with beauty recipes is not much help. I also found this book to be very irritating even for a book containing a ditzy and impulsive blonde. I quickly got bored with the implausible characters and the unconvincing plot line. I would not be surprised if this book has garnered a lot of fans especially amongst the readers of the Stephanie Plum series. But I am certainly not one of them. Having heard so much about this book I was sorely disappointed. I am not sure whether I would go out of my way to read the next one in the series (if there is one). This book had no depth whatsoever. A big disappointment and letdown.
---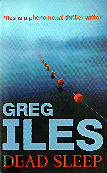 DEAD SLEEP
Greg Iles
Hodder and Stoughton, £5.99pbk
Reviewed By Les Hurst
"I stopped shooting people six months ago, just after I won the Pulitzer Prize". I guessed Jordan Glass's occupation straight away, though it wasn't long before she admitted what she was. On her travels, in an art gallery in Hong Kong, Jordan causes a stir; and pushing through the crowds she discovers the cause. The sleeping nude woman in the portrait could be her. The crowds of Chinese men who surround her cannot believe that a model of someone who looks so dead on canvas can be actually living and in the hall with them. No wonder they riot.
Jordan races back to New York to trace the source of these rare works, anxious to know how someone with her features can appear and more anxious to learn more as she discovers that the gossip is that this is one of a series now appearing in which all the models are not sleeping but assumed to be dead. Painted not from the life, but in the afterlife by some ghoul, who also makes a cool half a million bucks on each canvas. Readers who picked up the value of a fashionable portrait today will also have thought that the dealer handles those works is also in line for a nice little commission. He is Jordan's first stop. Unfortunately for him, Jordan is also his last possible trade. Within a few minutes of their meeting Christopher Wingate is dead and his gallery is in flames. The man following Jordan could make things very bad for her as she escapes alone.
Special Agent John Kaiser, when he reveals himself, though, knows - as Jordan herself does - how her features could appear on that painting, though she has not slept for an artist nor died. Jordan has a missing identical twin, like all the possible models kidnapped in her home city of New Orleans. And then everything changes - slows down - though we are only two-fifths of the way into the book. After all, there can't be that many world class artists living in New Orleans. Those who do live there, though, are an odd bunch and manage to give the police and FBI a run for their money. It is Jordan who recounts this story, so Greg Iles has had to do what Ian Fleming did in The Spy Who Loved Me, give himself a female voice. As the FBI start to meet the suspects they begin to use their profiling skills, identifying how these artists are hiding their psychopathic personae. Greg Iles wears Jordan's characters as easily as his murderer hides his true self, and probably with more scientific accuracy.
---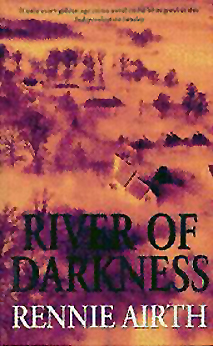 RIVER OF DARKNESS
Rennie Airth
Pan £5.99
Reviewed by Ali Karim
This Edgar nominated novel has finally made it into paperback, and will soon have a legion of fans, such is the narrative strength of this wonderfully unusual novel. Little is known about its author apart from being born in South Africa, and working for Reuters as a journalist. He published two previous novels 'Snatch' in 1969 and 'Once a Thief' in 1981. He is working on a follow-up to 'River of Darkness' entitled 'The Blood Dimmed Tide' due for release in 2003. 'River of Darkness' is a serial killer chase set against the backdrop of Southern England just after WW1, and its evocation of that era is just wonderful. It starts as a historical mystery, with shades of Holmes and Watson, but soon the pace escalates into a chase for a deranged killer. I was amused that the close of the novel is based in Crowborough, a small Sussex town, famous for being the birthplace of Sir Arthur Conan Doyle.
The cast in Airth's book are wonderfully detailed; Inspector Madden - the troubled detective given the case, and his assortment of cronies racing across the southern Home Counties for the madman. Madden is haunted by the trauma of the loss of his wife and child, as well his own hell amongst the mud and dead of the French trenches. It seems that the madman may also be linked to that time when hordes died from mustard gas, bullets and infection in that awful conflict. I found a line from a Wilfred Owen poem that I felt very apt ' These are men whose minds the dead have ravished' and in fact Airth, peppers the novel with references to the conflict either directly - by the poetry of Sassoon, or in the recollections of the characters. The characters of Sinclair, Sampson, Parkhurst and Bennett from Scotland Yard and the politics of the case are handled extremely. The author does the same with the more junior players such as Styles, Proudfoot, and Stackpole, but the skill in his writing is how they interact with Madden - the man at the centre of the nightmare. The love interest with Helen does develop rather fast, but I found that added texture to the book, rather than provide a distraction. The story from the antagonist's angle was very creepy as we learned about it in layers just like an onion being psychologically skinned. This book was a real find. It weaves the rationalised twists of modern serial killer fare with the tapestry of the English historical novel to create a really searing read. It also has a few interesting plot twists that proved the writers metal. My best read for a long time, and now I'm wishing to read the sequel, and cursing the delay in production.
---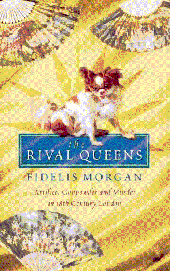 THE RIVAL QUEENS
Fidelis Morgan
Harper Collins £9.99
Reviewed by Deryn Lake
What a truly super series this is turning out to be. I very much enjoyed the first, Unnatural Fire, but the second, The Rival Queens, with its camp theatrical background and use of real-life showbiz people, Colley Cibber for one, I liked even more. Yet it is the three principals who are the most fascinating characters: fascinating in that they are all rather repellent, yet, through Morgan's enormous skill in portraying them, are all so very loveable. Firstly there is the Countess Anastasia Ashby de la Zouche. Fat, bald, waddling, with make-up everywhere except where it should be, she is so endearing, so gloriously brave and silly, so strapped for cash, so intensely human, that one would really like to hug her. Then there is her servant, Alpiew, she of the enormous breasts which seem to have an almost uncontrollable life of their own, yet is so loyal to her mistress, so gallant and bright, that one would like to know her as well. Finally comes Godfrey, the man servant, devoid of teeth and chumbling on his gums. I'm not so sure about befriending him, yet he springs from the pages with a clarity that is breathtaking. The scene in which the gallant trio go into St.James's Park, Godfrey wearing a set of wooden false teeth painted bright snow white, and accidentally trip over a beheaded corpse, is truly hilarious. To reveal the rest of this cracking-paced plot would be churlish. Suffice it to say that there are ne'er-do-well young lords, a theatre groupie who keeps his dead wife mummified at home, a cast of resplendent theatricals, a vicar with the pox, and a horrible little dog, as well as out three heroes. Take my tip and read this book, you'll miss a great treat if you don't.
---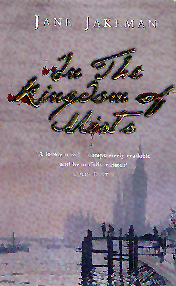 IN THE KINGDOM OF MISTS
Jane Jakeman
Doubleday, £15.00
Reviewed by Mick Herron
The blurb to Jakeman's second novel explains that it's about Claude Monet in London at the time of a series of brutal killings not long after the Whitechapel murders. Even allowing for such brilliances as Underworld and Carter Beats The Devil, I remain a little uneasy about the use of actual historical characters as fictional devices; less from moral/ethical queasiness, to be honest, than out of a suspicion that it's too easy. Write "Frank Sinatra walked into the room", and you've saved a whole lot of work on physical description, characterisation, etc. That doesn't apply so strongly to Monet, obviously, but there's a degree to which the author could be said to be relying on the reader's prior knowledge; she's not starting, so to speak, with a blank canvas. More importantly, I didn't want to find out that Monet was a gifted amateur detective. That was not a story I wanted to read. Anyway, that's the back cover reviewed. The book's much better than that. Monet is no detective, and if his presence has curiously little to do with the rest of the plot, his obsession with light and mist colour proceedings nicely as a large cast of characters go about their business, most of it on or near the Thames. A young diplomat witnesses a body being dragged out of the river, and so becomes entangled in a murder investigation led by an exiled Irish policeman: the plot becomes too involved for precis after that, but it's well written, consistently intriguing, with some genuinely frisson-inducing scenes-particularly those involving the floor of the Savoy given over to mutilated veterans of the Boer War-and in its depiction of a city not yet recovered from the depradations of Jack, it reminded me a little of McDermid's The Mermaids Singing, with its post-Yorkshire Ripper scenario. I only counted one "damme" (when it comes to cod period dialogue, I'm with Blackadder: the first sign of a "hey-nonny" or a "tish", and I'm calling the police) and in general thought this an historical fiction with a modern sensibility. It certainly displays a wide range of interests, taking the time to ponder women's role in medicine, Britain's turn-of-the-century relations with Ireland and France, abortion, and, of course, art. An ambitious novel then, and if it doesn't all hang together quite seamlessly-making me wonder, a little, if Ms Jakeman wouldn't rather have just written about Monet-the atmospherics more than make up for it.
---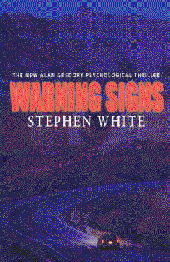 WARNING SIGNS
Stephen White
Little, Brown & Company £5.99pbk
Reviewed by Luke Croll
Alan Gregory is a clinical psychologist who is awoken by the news that the Boulder DA, Royal Peterson has been beaten to death in his house, whilst his invalid wife slept upstairs. A family friend, homicide detective Lucy Tanner is soon the main focus of the investigation. In the meantime, Alan is worried by a new patient. Naomi Bigg seems to think that her child is planning a massacre on the scale of Columbine High School and it soon turns out that the cases are linked. This was the first book by Stephen White that I had read and although it is part of a series starring Alan Gregory, it can easily be read as a standalone book since the books are not dependent on one another. 'Warning Signs' makes highly enjoyable reading, with numerous surprises and White also includes quite a bit of humour, which helps to reduce the tense atmosphere of bombing and murder. In the UK, White is compared with Jonathan Kellerman, whose main character Alex Delaware is also a psychologist. The comparison is reasonable, as the books are similar, as the main characters both have cop friends and both get involved in cases through their patients. Therefore, as the promotion suggests, fans of Kellerman will certainly find something to their own tastes here. White also includes quite a bit of psychological discussion, but he does not concentrate on Gregory all the time, preferring to use different narrators. There are numerous references to the massacre at Columbine High School, along with a discussion about justice and how the legal system works. Therefore, rather than being just a thriller, 'Warning Signs' also raises some questions about the state of the legal system. Enjoyable, interesting reading and I look forward to reading more by this author.